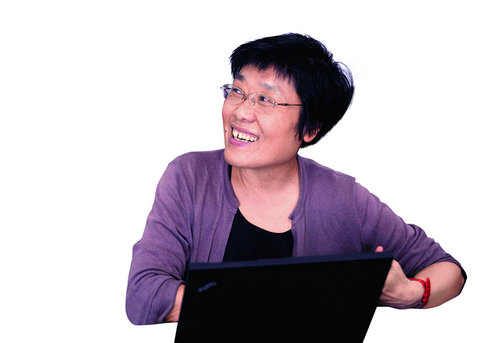 Liu Bohong, a professor at China Women's University [Women of China English Monthly]
The 2010 World Expo was held in Shanghai from May 1 to October 31 in 2010. During the expo, the Forum on Gender Equality and Women's Development was held in the UN Pavilion. What impressed me most were the opinions expressed by some of the journalists from Shanghai. Those journalists believed that Shanghai was the most economically advanced city in China, and that Shanghai's women were comparable to men, in terms of education, healthcare, employment, social welfare, marriage and family and pension security. Therefore, they concluded, gender inequality did not exist in Shanghai and, by extension, women's development was not being hindered in Shanghai. Their meaning, which was hidden between the lines, was that the forum did not suit the situation in Shanghai.
Indeed, Shanghai sets the example in many ways, when it comes to women's development in China. But has Shanghai truly materialized gender equality, as proclaimed by those journalists? I have been asking — and trying to answer — that question for some time. Recently, I watched a few of the episodes of the first season of the highly rated TV drama — Ode to Joy. The drama, set in Shanghai, has been incredibly popular, especially among young urban women. Since I have watched the episodes, I have had some new thoughts on gender issues, especially on how they interplay with the urban development in Shanghai.
The drama features the stories of five young women, each of whom works in Shanghai, and each of whom has a different personality, life experiences and family background. The women, who have visions of better future, feel their way in life and help one another as a group to achieve personal development and success together.
Three of the young women — Fan Shengmei, a single 30-year-old woman from an underprivileged family, Guan Ju'er, a diligent and well-behaved woman from a better-off family, and Qiu Yingying, a na?ve, passionate and big-mouthed woman from a well-off family — share a rented apartment. On the same floor, 22, lives Andy, who is the beautiful and talented CFO (chief finance officer) of a Shanghai-based multinational company. Andy has returned to China from the United States to assume her position in the company. Qu Xiaoxiao, the mischievous daughter of a rich entrepreneur, also lives on the 22th floor.
The five women meet and learn about one another's names because they are neighbors. At first, there are misunderstandings, as the women know little about one another. Gradually, they get to know, understand and accept one another. They deal with varied and different problems in their jobs, lives, relationships and families; but they help each other cope and, as a result, they become better people as individuals, and they eventually become very close friends.
In deed, the plot of the TV drama appears occasionally unnatural; some people in the drama show their worship for big brands and some others show their careless despise of the unprivileged. In any event, the drama can be referred to as "an encyclopedia of urban women," because it is set in the modern society in which we live, it displays the real lives of urban people, and it reveals women's independent spirit and value.
On its surface, the drama is an inspirational show for women, as the characters seem to have achieved parity with the men in their lives. But if you watch further and think more, it becomes clear that each woman's history includes efforts to combat and overcome gender inequality.
Let's take Qu aged 22, for example. She quits school in New York to return to Shanghai. Why? She wants to be the first successor to the family's business. Her stepbrother, Qu Lianjie, is an ignorant and extravagant playboy. Qu Lianjie is the son of Qu Xiaoxiao's father and his ex-wife. As Qu Lianjie is the only son in the family, her father wants him to be the successor to the family's business. However, Qu Lianjie turns out to be the black sheep in the family. After he takes over the family's business, he causes an economic loss of 3 million yuan (US $461,538).
Qu Xiaoxiao is also ignorant, and she tends to idle away her time by hanging out with her friends. And yet she refuses to accept the traditional beliefs that men are superior to women and that men should be the successors to their families' businesses. She tries to apply her wisdom acquired from her complex family background and multi-cultural society to compete with Qu Lianjie, and she finally achieves success in her business and wins the recognition of her parents. In a way, her desire to be treated as equal within her family, and her rejection of the belief that women are inferior to men, motivate Qu Xiaoxiao to become successful both at work and in life.
Andy, a successful CFO who has returned to Shanghai from New York, is respected and admired by others. She is a pretty, intelligent and independent woman. Her deportment, intelligence and accurate speech astonish the people she meets. But beneath her cool appearance and strong work ability is a brooding unhappiness — the byproduct of a bitter childhood and a heart that refuses to open to others.
The aim of Andy's return to China is to find her younger stepbrother. After she finds him, she learns that he suffers from a mental disorder. It is the same condition that afflicted their mother and grandmother. When Andy's father, Wei Guoqiang, married her mother, he had no idea that his wife would some day suffer from mental disease. One day, Andy's mother accidentally fell into a river. She was rescued. But the symptoms of her mental illness began to show after that accident.
Thereafter, Wei abandoned Andy's mother and went to college. Andy's grandfather left his wife and joined Wei. But there was no news of him ever since. Andy lived a miserable life with her mother; she witnessed her mother being molested and bullied by others on the street, and she became an orphan after her mother died while giving birth to her stepbrother. Andy did not know the identity of her stepbrother's father, as the boy had been conceived while her mother was being raped. Andy was adopted by a family when she was 3, and that family took her to the US.
For more than 20 years, Andy was haunted by the bitter experiences in her early life, such as seeing her mother being abandoned, violated and humiliated and discriminated against, and also by the fear that she might one day evolve into a "psycho" who suffered from mental illness. As a result, she pushes herself to become a strong woman, who knows how to protect herself and who resists having a relationship and a marriage.
Fan, a pretty woman from a humble family, hopes to change her destiny by marrying a rich man. She has been oppressed by the traditional belief that men are superior to women. On the one hand, she mingles with upper-class people, joins them for drinks and sleeps with men to whom she is attracted in the hope of finding a rich husband. On the other hand, at the prodding of her mother, she uses her income or borrowed money to buy a house for her parents, pay her brother's debt, take her father to see a doctor and support her family. The audience feels sorry for Fan, who is often hypocritical. They also hate Fan's ignorant and impoverished parents, who spoil their son and who only rely on Fan to support the family.
Qiu and Guan, both from well-off families, also cope with various gender-related issues in their lives. At one point, Qiu was cheated by her boyfriend, who was her superior at work, and then she lost her job. Her next boyfriend said he wanted a virgin as his girlfriend. Guan, meanwhile, coped with the pressure of being referred to as shengnü (a single woman who is older than the average age for marriage). Also, she endured the pressure of looking for a spouse and being a good wife and mother, the traditional role of a woman.
The key point about the drama is: Even though the five women have different life experiences, they are able to unite and discuss and solve the various problems that arise in their lives. For example, the others help Andy deal with her family; they help Qu Xiaoxiao perform better at work than her brother; they help Fan and her family to overcome difficulties; and, they help Qiu break up with her boyfriend. They feel warmth when they are together, and they are happy to be living on the same floor. Nothing can stop them from having strong hearts, even though the road of life is full of both roses and thorns.
The drama reveals that gender inequality affects all generations, and it exists in rural areas, small towns and cities, and in metropolises such as Shanghai. The drama also reveals that gender inequality exists not only in impoverished, ordinary families but in rich families as well. Gender inequality influences our work and lives, and it hinders modernization and urbanization. Only by breaking the thought that men are superior to women, and other forms of gender inequality, can people live a free and happy life and realize the sustainable and harmonious development of society.
The author is Liu Bohong, a professor at China Women's University.
(Source: Women of China English Monthly July 2016 Issue)