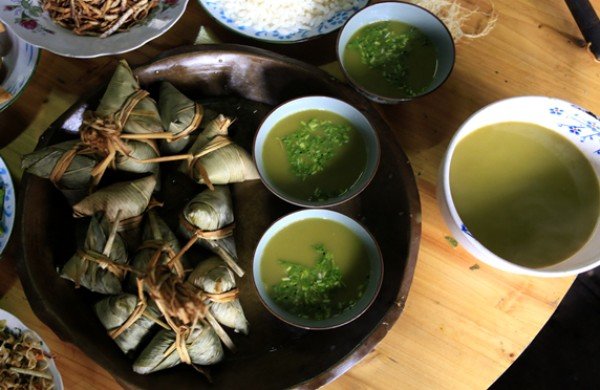 Gongcheng 'oil tea' [China.org.cn]
As a Chinese saying goes, "Taste is actually a memory of childhood". Local specialty food may not be popular among all people, but it offers outsiders a glimpse of local culture and history.
Gongcheng "oil tea" is such a kind of food that would be considered "weird" by many first-time visitors to the remote county in the north of the Guangxi Zhuang autonomous region. Many people dislike its bitter and astringent flavor when they take a sip.
"It felt like drinking Chinese herbal medicine. I never expected that I would gradually accept it afterwards, and even become addicted to it," said a traveler surnamed Zhang who comes from Shijiazhuang in northern China's Hebei province.
Langshan village is said to be the birthplace of Gongcheng "oil tea" whose ideal ingredients are green tea and fermented tea. The village has preserved well its buildings and roads dating back to late Qing Dynasty (1644-1911), as well as its traditional way of making the special tea.
Lin Fengyou, 60, introduced the cooking process. She looks younger than her age, and attributes this to the benefits of drinking "oil tea" throughout the year.
The first procedure is to use a wooden hammer to pound the tea while heating it in an iron pot, and then add edible oil and boiled water afterwards. She filters off the solid residues, and pours the glue-like green tea soup into bowls. Then, she adds salt, caraway seed, green onion, dried rice, fried groundnuts, sliced taro and fried beans.
The taste of the "oil tea" is a mixture of the distinctive flavors of all its ingredients. Local people usually eat it together with glutinous rice balls, rice dumplings and glutinous rice cake.
The villagers consume "oil tea" three times a day. The tea soup is a healthy and refreshing food. "The tea soup to us is coffee to Westerners", said Lin. "But it is tastier."
The village head said Emperor Qianlong of the Qing Dynasty once tasted the "oil tea" during his visit to South China and named it as a "refreshing soup". One of Qianlong's chefs came from Gongcheng. He made some innovations, adding more ingredients such as ginger and garlic that were considered especially good for the emperor's health.
Lin said: "Although every step of the procedure of making tea soup is simple, they have evolved over hundreds of years. The tea soup is an extension of Gongcheng's history and culture."
(Source: China.org.cn)