Tania Romualdo (third, L), Patty Chen (third, R), and Litia Salavuki Tagicakibau (second, R) are amazed by traditional Chinese paper cuttings. [For Women of China/Han Xianbin]
Three foreign diplomats from Cape Verde, Suriname and Fiji were invited by the All-China Women's Federation to inspect the grassroots of Zhengzhou and Luoyang cities in central China's Henan Province, on April 7 -10.
They are Patty Chen, ambassador of the Republic of Suriname to China, Tania Romualdo, ambassador of the Republic of Cape Verde to China and Litia Salavuki Tagicakibau, spouse of ambassador of the Republic of Fiji to China.
During their stay in Zhengzhou, they attended the 13th China Henan International Investment & Trade Fair, which opened on April 8 and attracted exhibitors and businesspeople from all over the world.
They attended business matchmaking for women's projects and communicated with workers at women's federations and outstanding female representatives.
Tania Romualdo said it was her honor to witness the great changes in China, especially the tremendous achievements China has made since its reform and opening-up 40 years ago.
China has established cooperation with Cape Verde, Suriname and Fiji, she said, adding that it was important to maintain and enhance friendly and cooperative relations.
She believed that only by uniting women's organizations in various countries, learning from each other and enhancing exchanges could her country truly achieve the goal of promoting the construction of a human community with a shared future put forward by Chinese President Xi Jinping.
The diplomats all agreed that with the development of the Belt and Road Initiative (BRI), more and more countries have benefited from it and the positive influence brought by the initiative was bound to benefit women's development.
The positive influence involved not only economic and trade cooperation, but also cultural exchange, Tania Romualdo said in an interview.
The BRI offered a platform for the countries involved to learn from each other and carry out exchange activities and have dialogues, she stated.
She hoped to strengthen communication and exchange with Chinese women's federations and launch such organizations to organize similar activities to connect the women in her country.
Yu Hongqiu, Deputy Secretary of CPC Provincial Committee of Henan Province, and Mu Hong, Director-General of the Liaison Department of the ACWF, attended an exhibition aimed at promoting women's economic power and development.
A group of seven speakers, including Meng Man, Part-time Vice-President of the ACWF and professor at Minzu University of China, gave lectures on women's needs, women economy, women's role in cultural tourism, the health industry, e-commerce business, innovative consumption modes, legal service and sports, at a forum during the trade fair.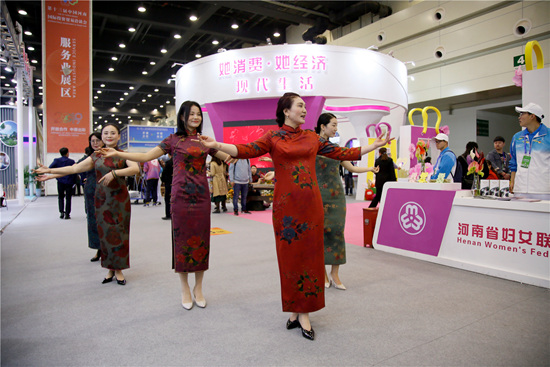 A cheongsam show at the trade fair. [For Women of China/Han Xianbin]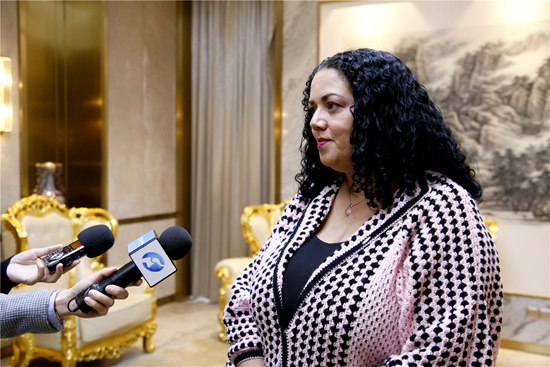 Tania Romualdo gives an interview. [For Women of China/Han Xianbin]
A staff worker demonstrates a handicraft at the trade fair. [For Women of China/Han Xianbin]
(Women of China)