Dean of the Academy of Arts and Design, Tsinghua University, Lu Xiaobo, speaks to a crowded room. [Women of China/Jane]
The inaugural Tsinghua-UNICEF Youth Innovation Forum kicked off last Saturday, igniting discussion from young people in China and the Global South to respond to the needs of disadvantaged children around the world. The symposium featured six keynote speakers who were followed by presentations from young innovators in the morning and a dialogue with an open question-and-answer session by industry leaders in the afternoon.
The event began with a video of Chairperson of the University Council of Tsinghua University Dr. Chen Xu, commending UNICEF on its efforts to lend support to children in China and abroad since the country became the first in Asia to gain assistance from the organization, in 1947. Her remarks were followed by a video of UNICEF Executive Director Anthony Lake, highlighting significant innovations by young people and expressing gratitude and excitement for the convention.
Lu Xiaobo, dean of the Academy of Arts and Design, Tsinghua University, which hosted the event, remarked on the importance of collaboration between the fields of art and science worldwide, in addition to the necessity of more global communication. "As an arts college, we are responsible for raising people's consciousness," he stated, "we have always promoted cross-discipline studies between artists and scientists."
The vice-dean of education at Tsinghua, Shi Jinghuan, contributed to the previous speakers saying "Now we think of the world divided into highly developed and low developed countries, but in the future, we will be divided by the highly innovative and highly educated." She introduced Tsinghua's Hope Project, which is a group aimed at supporting students from impoverished regions, saying "Tsinghua provides a platform to discuss the future, not just for us, but for the whole world, and the key word for that is 'innovation'."
Director of UNICEF Global Innovation Center Sharad Sapra spoke next, emphasizing the great leaps in development made by China. "You saw pictures in the slideshow from when China joined UNICEF in 1947, and look at how it was then and where China is now." He stated that this was not the work of UNICEF, though he was proud the organization was able to provide support, but rather the innovation and changes pushed by a country willing to advance. "China is now in the position to bring about that change all over the world, and especially in Africa," he affirmed.
Following Sapra's words, Director of the Gates Foundation, China, Li Yinuo spoke from a biology background, emphasizing the significance of medical technology to development. She maintained that innovation can seem mundane because of its basis in diligent work, analyzing and extracting scientific results, but that the real, practical results stemming from such monotony are essential. She praised the result of such work through innovations like Shang Run's circumcision machine which can complete the process in five minutes, allowing a person to shower just two days later, and espoused the significance of this device by reminding the audience that circumcision reduces the likelihood of HIV infection by 60 percent. She also praised Chinese innovations which helped maintain vaccine potency through refrigeration sacks which can be adhered to the backs of camels, and a low-cost incubator for premature babies.
Wang Haifeng, vice-president of Baidu, a Chinese search engine comparable to Google, spoke next, affirming the spread of information and technology as a vital resource for human rights. He expounded on efforts the company is making to reach out to new audiences by outlining the innovations made this year by a collaboration with Tsinghua to create a search panel for blind users.
Director of Intel Labs, China, Gansha Wu, continued by stressing the significance of confidence in ones work and of understanding the audience you want to help. He sited an incubator created in Indonesia by Design That Matters which found that some 95 percent of the incubators sent to help premature children on the island were rendered useless after five years for lack of ability to maintain and repair the equipment. However, recognizing the prevalence of local car repair shops, manufacturers were able to structure an incubator with a design more similar to car mechanics so that people would be able to continue to use them. He encouraged young people without much experience by noting the results a major computer mechanics competition in which the top three contenders were still students, or people who had only recently completed a training workshop.
Following the six keynote speakers, a session involving young innovators from China and the Global South commenced, giving each speaker five minutes to introduce their project followed by a question-and-answer session from the above attendees. The panel of judges were quick to provide suggestions and link up the youth with representatives from their own organizations.
The student projects included the Green Pepper mobile app, which monitors traffic and gives real estate suggestions, by Tsinghua student, Jia Yinghao; winner of the Design of UNICEF Challenge, Incubaby, a low cost incubation system for premature babies led by Bassel Kassem of the Lebanese American University; Totohealth, a Kenyan-based health monitoring system which can be used even in rural areas to assist parents from their children's conception to 5 years of age, presented by representative Malele Ngalo; Ruangguru.com, an award-winning online tutor service which has helped supplement a struggling educational system in Indonesia, presented by its CEO Iman Usman; FarmDrive, a SMS-based financial system which helps smallholder farmers in Kenya gain access to credit, presented by its co-founder, Peris Bosire.
Further projects included U-Report, an SMS-based survey system to allow youth a voice in local and national government campaigns which started in Uganda, presented by Carline Barebwoha; and the Medical Concierge Group, which is a project which has conducted around one million doctor and pharmacist consultations via voice calls, SMS, and social media to rural areas in Kenya and Uganda.
Upon reconvening from lunch, there were two panel discussions.
The first featured diverse speakers including Eric Chang, senior director at Microsoft Research Asia who discussed the benefits of technology in ID verification and displayed Microsoft's newest work in video segmentation; Sandra Cortesi, fellow at the Berkman Center for Internet and Society at Harvard University, who introduced her work researching children's response to new technology; Joshua Harvey, lead at the UNICEF Kosovo Innovation Lab, who reported on By Youth For Youth initiatives to raise the living standard of children in Kosovo; and, Dr. Wanjiku Nganga, from UNICEF Burundi, who expounded on her work expanding health education in southern Africa since leaving academia to focus her strengths on more practical vocations. The panel emphasized the importance of understanding audiences, and working with people in need to find solutions for problems.
The final panel brought together Zhaoli Meng, principle economist at Tencent; Guillaume Michels, manager of the UNICEF Innovation Center; David de Ferranti, president and founder of Results for Development Institute; Chang Chengfeng, from Tsinghua's School of Medicine and the Center for Public Health; and Christopher Fabian, Senior Advisor on Innovation at UNICEF. The group discussed initiatives to increase technological literacy and obstacles in their promotions. Michels showed a particularly enlightening video of a man, who was completely literate but had never used a computer, spending over six minutes attempting to use what is commonly considered to one of the most accessible websites, Google. The group consensus was to continue trying to reach people in remote areas and ensure more transparency throughout all such operations.
The forum was hosted at Tsinghua University and continued the next day with more panel discussions and a tech competition for students.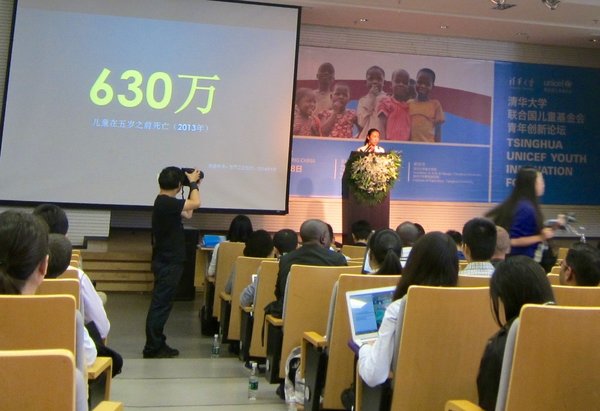 Li Yinuo reports that 63 million children under 5 die each year, most from preventable causes.

[Women of China/Jane]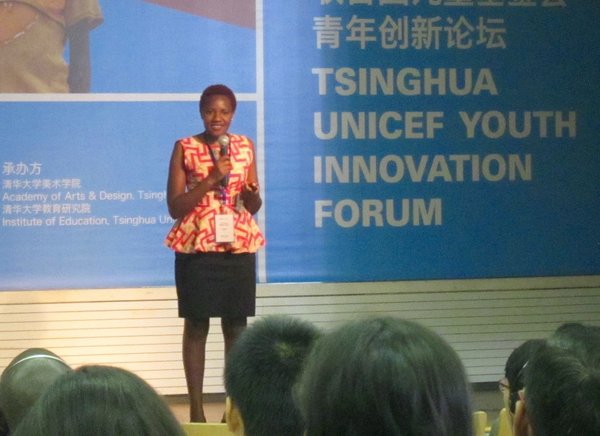 Peris Bosire presents FarmDrive, an initiative to help smallholder farmers gain access to credit.

[Women of China/Jane]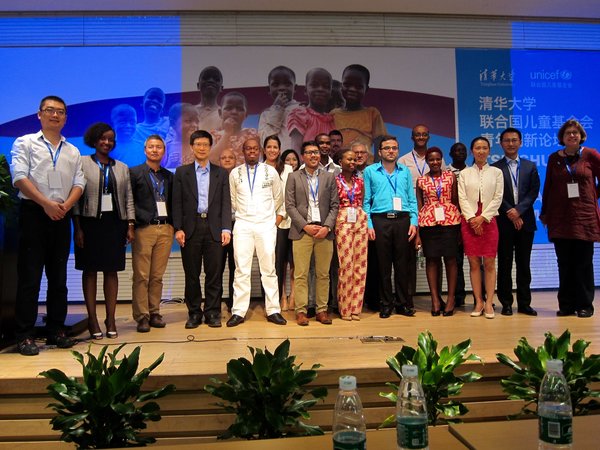 The young innovators and keynote speakers stand onstage for a photo. [Women of China/Jane]
Eric Chang, Senior Researcher at Microsoft Asia, speaks at a panel. (from left to right: host You Linxiang, Sandra Cortesi, Joshua Harvey, and Peris Bosir)

[Women of China/Jane]
(Source/Women of China)