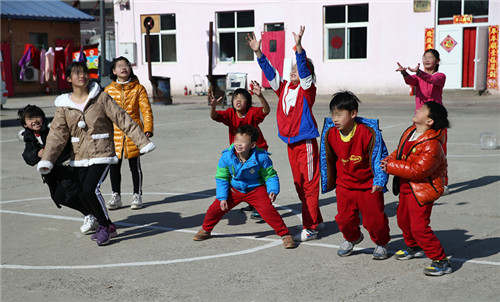 Children play at Sun Village in Shunyi. [China Daily / Zou Hong]
When she heard China's civil affairs authorities had been ordered to help children whose parents are serving prison sentences, Zhang Shuqin, who has helped to provide aid to such children for more than two decades, smiled despite her mixed feelings.
"I'm happy to see government departments playing a role in helping prisoners' children, which is what I have been looking for in the past," said Zhang, the 70-year-old founder of Sun Village, an NGO that offers free aid to the children of inmates.
"But I'm also a little bit upset, as I'm not sure where the Village will go or how it can further help the children."
Welfare institutions must take care of children whose parents are incapable of serving as guardians, according to a regulation promoted by the Ministry of Civil Affairs that came into effect last month.
"Better care for the children of inmates is essential, as it will not only reduce the possibility that they will go wrong, but can also encourage their jailed parents to rehabilitate," said Zhang, who worked as a prison official in Shaanxi province in the early 1990s.
Zhang started the NGO in 1996 after discovering that no law or government department was focusing on such children. Sun Village has nine branches across the country, and has provided aid to about 16,000 children whose parents are in prison.
She said she felt a great sense of achievement, especially when she saw children growing up properly as a result of the aid provided by the NGO, but she also recognizes that it needs to find a new role as more inmates' children are sent to welfare institutions.
"But no matter what I do, I won't stop trying to help others," she said.
Lower Self-esteem
It was while working as a prison official that Zhang decided to try her best to aid the children of inmates.
It began when an imprisoned couple asked her to help look for their five children in Shaanxi. When she arrived at the couple's cave dwelling in a rural village, she was shocked to discover that one of the children had died.
"The other four were helping their grandmother with the wheat harvest," she said. "I burst into tears."
When she went to the local government to find out which department could look after them, she was surprised to learn their care was not covered by any law.
In 1996, Zhang, then 46, left the prison administration and set up the first Sun Village in Xianyang, Shaanxi. She rented a group of buildings to establish a campus-like area where the NGO could care for children whose mothers or fathers were in prison and who had no one to look after them at home.
"Inmates' children demand our attention and aid," Zhang said. "They are more sensitive and have lower self-esteem than others of the same age. If we don't guide and care for them in a timely manner, they may easily go wrong."
A Ministry of Justice report released in 2016 said about 70 percent of prisoners' children committed offenses and 82 percent dropped out of school after their parents were imprisoned.
"It's still a big problem at present, let alone how serious it was 20 years ago," Zhang said. "I cannot say children aided by the organization won't make mistakes when they grow up, but I'm trying to reduce the possibility of them going wrong by offering them more care."
Public Donations
Children can live at a Sun Village branch until their parents are released, or be cared for until they turn 18 if their parents are serving long sentences.
Zhang contacts primary or middle schools near the Villages so that school-age children can receive compulsory education, and also arranges medical treatment for them when they fall sick.
At Sun Village's Beijing branch, which opened in Shunyi district, about 30 kilometers from the city center, in 2000, more than 60 children share eight dormitories, a dining hall and play facilities such as slides and swings. About 20 child care workers look after them.
Zhang said most of the fittings are secondhand or donated by visitors and enterprises. In addition to donations from the public, Zhang has rented a farm 3 km from the branch which she runs to help fund the NGO's operations.
"We plant agricultural products, such as grapes and strawberries, at the farm and sell them to earn money," she said. "The earnings are used to run the organization, pay workers, as well as pay for the tuition and medical fees of the children."
After finishing their compulsory education, most children learn technical skills in vocational schools to ensure they can live independently after they turn 18, "but if someone enter high school or is enrolled by a college, we will also pay his or her major tuition fees", Zhang said.
Looking Ahead
Shao Pengchao was sent to the Beijing branch by a prison in Henan province at the age of 9 after his mother was given a suspended death sentence.
"For me, Sun Village is neither an institution nor a shelter - it is home," said the 24-year-old, who is now a staff member at the branch.
When he was younger, he learned welding skills and helped to repair the facilities. Last year, with encouragement from Zhang, he began receiving guests and running the branch's website.
His New Year's resolution is to learn more about the internet and improve the operation of the website.
He said he has often called his mother, who works at a clothing factory in Zhejiang province, since her release from prison in 2014, but refuses to talk about the past with her.
"I don't hate my mom, who has been punished," he said. "Let the past go. We need to look ahead."
Sun Yue, 26, who works at the NGO's farm after being aided as a child, said he has trouble communicating with his father.
"I don't know what to say or how to talk to him," said Sun, who was sent to the branch at the age of 12 after his mother killed herself and his father was imprisoned. He said he had no idea why his father was imprisoned, as his relatives did not tell him, and he rarely returns home.
"Even though my father was released several years ago, I like staying at the farm because I have a sense of security," he said.
Zhang said volunteers play a key role in Sun Village's operations.
One 43-year-old volunteer, who said he wanted to be known as Xiao Feng, has helped children at the Beijing branch with their math and English homework for 15 years. At the beginning, he spent weekends there, but he later quit his job at a software company and became a full-time volunteer.
"I like being with the children," he said. "Answering their questions is my happiest time."
Xiao Feng said his father did not approve of his life as a volunteer, but he hoped he would understand one day.
Zhao Changxu, 30, who works for Air China, carried 10 boxes of spicy sauce to the children in Beijing from his hometown in Henan after the Spring Festival holiday. After visiting the branch with his colleagues last year, he often comes to play with the children on weekends.
His mother, a psychologist, provides voluntary psychological aid to children at the NGO's Henan branch.
Financial Transparency
Some people have accused Zhang of using Sun Village to make money.
"At first, I was angry with the doubters," she said. "But now I don't care too much. What I need to do is to prove myself and my aid through actions."
Sun Village has also been accused of a lack of financial transparency, but Zhang said she has disclosed audit reports on donations for the past five years online and welcomes public supervision and suggestions.
Although the civil affairs authorities should now be the first choice when it comes to caring for inmates' children, Zhang said she plans to develop the NGO and transform the form of aid it provides.
In recent years, she has put more effort into working with prisons to offer indirect financial aid instead of looking after children at the branches. "Prisons collect information about children in need, and we offer them tuition or stationery," she said.
But Zhang said the branches' buildings and facilities will not be abandoned. "Maybe I can provide job opportunities for ex-inmates or retired people to continue my aid to others," she said.
(Source: China Daily)