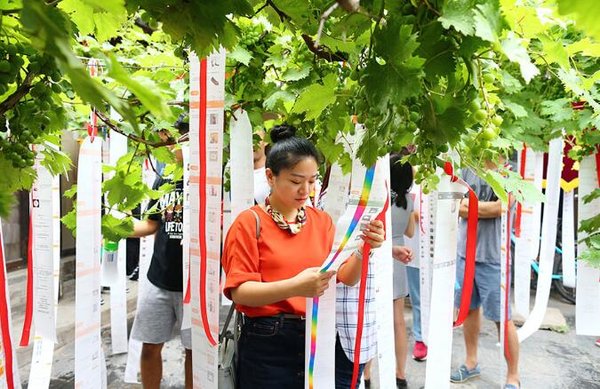 Young people look through printed screenshots of participants' shopping lists in Taobao, the biggest e-commerce platform in China, at a matchmaking market in Beijing. [Photo by Niu Jing/For China Daily]
Booths offering matchmaking services are propping up across several parks in Beijing, as parents of the unmarried continue to search nationwide for an ideal partner for their children.
At the Temple of Heaven in Beijing's Dongcheng district, one can spot hundreds of greying men and women huddled behind two long rows of paper leaflets wrapped in plastic cases, listing the basic qualifications of their children.
Hundreds more are seen moving along, skimming and scanning the leaflets. They pause every few steps to take notes of in-law prospects and toss out questions to confirm age, weight and height, occupation and places of household registration.
This spot for seeking spouses, formed by parents spontaneously at least 10 years ago, has morphed into a well-organized market held four times a week. It also attracts attention as a must-see tourist spot, said a park official who did not want his name to be disclosed.
"When I was on patrol over the holidays, some people would ask me directly — where is the so-called matchmaking market?" the official said. "To me, it looks more like a farmers market with rowdy vendors," he added.
Last year, Sichuan province and Guangxi Zhuang autonomous region saw unabated passion for matchmaking at public parks during the annual seven-day holiday, according to media reports.
"Rain or shine, the matchmaking market here is open on weekends, and more frequent sessions are held during the National Day holiday," said a regular surnamed Huang at the market in Nanning in South China's Guangxi Zhuang autonomous region.
Huang said to a local news portal in Guangxi that on the first day of the holiday last year, more than 500 people visited the market, double the usual number of visitors.
Difficult Choices
A sudden camera flash put Zhang Wen on alert.
Zhang, the father of a 33-year-old bachelor, visited the matchmaking market at the Temple of Heaven with his wife as part of their morning exercises. He resented being pictured at the market for fear of disgracing his son.
"He didn't complain about me going to the market, but I know he doesn't like this method and he never nods to the dates I have selected for him from the park," he said.
Zhang said matchmaking markets in public parks, including the Temple of Heaven, Beijing Zhongshan Park, and Beijing Chaoyang Park, are always filled with the elderly. A rare appearance of a juvenile face will immediately draw inquisitive eyes.
"I know the basic requests of my son. He likes slender, tall women who are three to five years younger than him," Zhang said.
"I also talk with other parents to see if we can get along," he said. "If they are not congenial, there are slim chances of our kids pairing up."
Zhang has introduced a handful of prospects to his son through the market by exchanging phone numbers with their parents. Together, they put their offspring in touch. But eventually, his son rejected them as they were "not his type".
"I find the younger generation strange in that they don't settle with a person who misses their criteria by one inch. They want perfection; while in my days, we are happy with a basic match," he said.
Data released by the Ministry of Civil Affairs in August show that the marriage rate dropped for four consecutive years from 9.6 percent in 2014 to 7.7 percent in 2017, and the rate of separated couples has been climbing since 2010, reaching 3.2 percent last year.
For the unmarried, nearly 50 percent of them are "in no rush" to get married and less than one third are free from working overtime, a report jointly issued in August last year by professional networking website LinkedIn and online matchmaking platform Zhenai said.
"I understand that the chances of finding a daughter-in-law in a market like this is extremely low, but it doesn't hurt to try my luck and try his luck," Zhang said.
Changing Mindsets
Ma Lili, 25, an assistant accountant for a foreign company in Beijing, disagrees on vetting prospective spouses at matchmaking markets in parks.
Ma said the market conveys a feeling of desperation from "the leftover" — a term used to classify those who remain unmarried into their late 20s and beyond.
"Parents endeavor to find an ideal spouse for us, but we have many more choices to meet our future husband or wife instead of a method that feels like putting ourselves up for sale," she said.
She added that matchmaking markets in parks represent the traditional parent-dominated marriage arrangements that are losing grip on young people's mindset.
Instead, a variety of online services have sprung up to turn explicit matchmaking into networking events that aim at expanding social circles and encouraging interaction.
Research shows that 23 percent of unmarried working professionals prefer business networking to find life partners, 20 percent of them rely on matchmaking websites, and another 26 percent turn to matchmaking events and alumni gatherings, according to the report issued by LinkedIn and Zhenai last year.
"On weekdays after I log off from work, or weekends and holidays, I am willing to meet prospects introduced by my friends, colleagues or online matchmakers," Ma said. "It feels more relaxed, more of a casual gathering, rather than an intentional matchmaking attempt," she said.
The mounting pressure during holidays also prompted Jiang Shihui, a 28-year-old white-collar worker in Shaoxing, Zhejiang province, to seek help from an online matchmaker.
"My parents pulled a stern face around 11 pm in the living room and began a serious discussion on my marital status. I was petrified," Jiang sent this message via the instant-messaging app WeChat to Chen Yuting, a local matchmaker, on Oct 3 last year.
Jiang said at that point, he also felt lonely as his friends were away with their girlfriends, leaving him alone at home.
"I reached out to Chen because she is around my age, she knows a lot of local girls and I feel more at ease describing my dream girl to her," he said.
Jiang joined in parties organized by Chen. These events, though titled "matchmaking gatherings", are primarily about harmless chitchats and ice-breaking games that helped lower his guard.
"I don't see myself as a strong competitor in the realm of matchmaking. I feel nervous in most occasions but not at a gathering held by Chen," he said.
Jiang made a couple of new friends and met a woman. He was engaged recently.
Making Connections
Chen Yuting has gained popularity among youngsters in Shaoxing, a city with a population of 5 million in East China, for her gift for pairing up couples. She has been connecting more than 8,000 single men and women via WeChat.
"I have been telling my customers repeatedly that you will be quite frustrated if fixated on finding marriage materials through my services," she said.
Chen, born into the post-90 generation, said the unmarried are burdened with repetitive requests from older generations.
"When it comes to holidays, such as the Spring Festival and the National Day, I see a surge in customer inquiries because parents nag more during these times."
But the matchmaking market is a futile attempt, in her opinion.
"The single are not commodities. I don't peddle them, haggle over prices, or auction them off. Matchmaking is not only assigning a match for you, but also to expand your networks," she said. Chen prides herself on encouraging communication between young people.
"Some people rule a prospect out by attaching labels. One bachelor working in the IT sector told me his English teacher always scolded him in high school, so it's impossible for him to date an English teacher," she said. "Well, he actually fell in love with a middle school English teacher at an event this May."
"I nudged him to approach her because I saw a good match in every other aspect. His fear for the English teacher was not that important," she said.
Li Tonggui, a professor of the psychology department at Peking University, said that matchmaking markets across Beijing cater to the older generations' requirements that primarily stress salary levels.
"Young people emphasize romantic feelings at the beginning of a relationship. They tend to enjoy the process of falling in love before considering tangible requirements like salaries and housing," he said.
He added that a sense of security and warm feelings are key to developing an intimate relationship. "I suggest parents encourage their children to engage in outdoor activates, such as jogging, trekking or going on a picnic," Li said.
"Young people should grab every opportunity to meet and connect with others in person to increase their chances of finding an ideal husband or wife."
(Source: China Daily)