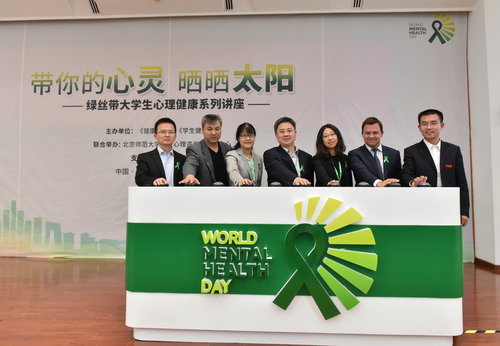 Guests launch a lecture series to help university students stay mentally fit to mark the 10th World Mental Health Day falling on Wednesday. [China Daily]
A lecture series aiming to help university students stay mentally fit was launched in Beijing to mark the 10th World Mental Health Day falling on Wednesday.
According to the World Health Organization (WHO), China is home to more than 54 million people suffering from depression and a quarter of the country's university students said they have depression problems caused by their school work, job, family and personal concerns. Students in deep depression may dropout from school or even commit suicide.
Yang Fude, president of Beijing Huilongguan Hospital and key speaker at the event, said the clinical symptoms include sad mood, lack of interest in everything around, slow action or response, tiredness, unwillingness to be social, accompanied by impaired cognitive function like decreased attention, memory, and executive function. Yang urged frequent self-rating based on the mentioned symptoms and immediate resort to professional advice and medical treatment if necessary.
However, only two of the 10 depression sufferers seek medical care in China. According to Lu Yazhou, director of Depression Treatment Center Ward of Beijing Anding Hospital, depression is a preventable and treatable in early stages with psychological counseling, stress management, or physical exercise while patients with moderate or severe depression should turn to drug treatment.
The country's health administration issued a guideline to strengthen mental health service in which students' mental health service is highlighted to prevent from suicide in 2017.
Health News, China's major health press and organizer of the event, founded the Student Health News to target the student group. Yang Qiulan, deputy editor-in-chief of Health News, urged more attention and care to depression and more knowledge promotion of the disease.
Lundbeck, century-old global pharmaceutical company specializing in psychiatric and neurological disorders headquartered in Denmark, is committed to doing its part to help world mental health patients. Søren Kjeld Kristensen, president and GM of Lundbeck China, said they will work persistently to improve and optimize depression treatment to provide patients with better service and care.
(Source: China Daily)