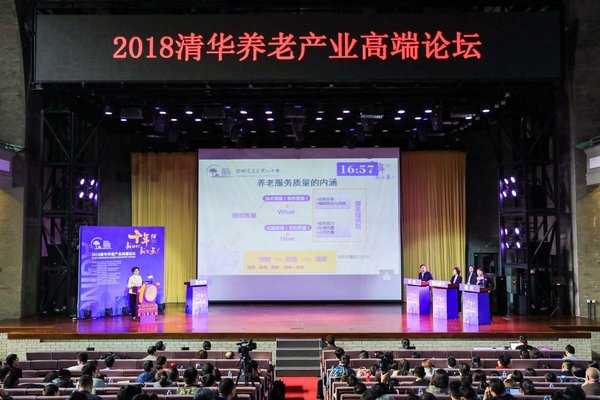 The 2018 Tsinghua Aging Industry Forum is held in Tsinghua University from April 22-23. [Photo provided to chinadaily.com.cn]
"The advancement of the development of the aging industry should coordinate all social resources to set up a smooth channel among governments, enterprises and individuals, instead of relying on the government alone," said Yuan Xin, executive chairman of Tsinghua Health (Aging) Industry Union.
Yuan's remark was made at the 2018 Tsinghua Aging Industry Forum, an influential event hosted by Tsinghua University. This year, it was held from April 22-23 and attracted more than 800 guests and 40 experts in the aging industry from all over the world.
An anniversary event for the 10th year, this year's forum focused on searching for new opportunities and expanding new horizons in the new era and consisted of forums and seminars on industrial development and a product show with an experiential approach.
The forum was co-organized by a couple of schools of Tsinghua University and Tsinghua Tongheng Urban Planning & Design Institute (THUPDI), a subsidiary of Tsinghua Holdings Habitat Development Group and THUPDI's aging industry experts committee and health science research institute.
Experts at the forum believe that healthcare and serious disease prevention will be the next step to improve services for seniors.
"Tsinghua University's School of Architecture will pull out all its stops to lay a solid foundation for the planning, design and construction of buildings and environments for aging people," said the school's Deputy-Dean Zhang Yue.
Zhang also sent out his invitation to more professionals from governments, academia and enterprises to further explore and develop the care industry.
Statistics shows that the number of seniors over 60 years old had reached 240 million by the end of 2017, accounting for 17.3 percent of China's total population. Research also suggests that 60 percent to 80 percent of these elders have medical problems.
"The development of the care industry is more than a service model for the elders; it's also a solution for them to overcome difficulties and improve their life quality," said Liu Weilin, chairman of the China Association of Gerontology and Geriatrics.
Interconnection and communication requires a network featuring close cooperation among governments, market and society, and more exploration in the care industry, pointed out Yin Zhi, executive deputy-dean of Tsinghua University's China's new-type urbanization research institute.
A highlight of the event was the sharing of her ideas and plans for the improvement of buildings and environments for the aged by Professor Zhou Yanmin of Tsinghua University's School of Architecture.
Other experts sharing their views on the development of the aging industry and their plans for solutions included Cheng Xiaoqing, vice-professor of Tsinghua University's School of Architecture, Pei Xiaomei, professor of Tsinghua University's School of Social Sciences, and Jingjun, a doctor of Anthropology of Harvard University and the director of the Tsinghua University Public Health Research Center. A product show was also held during the event.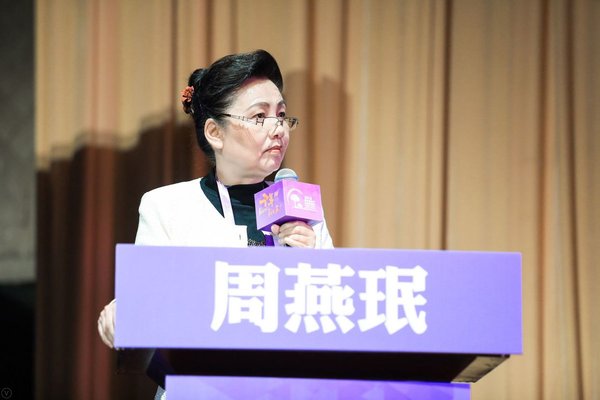 Zhou Yanmin, professor of Tsinghua University's School of Architecture gives a speech during the event. [Photo provided to chinadaily.com.cn]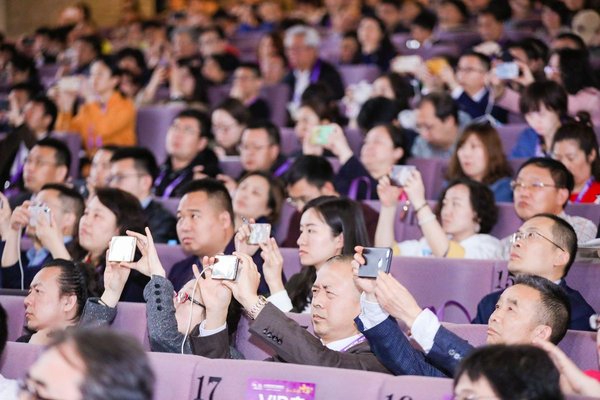 The event attracts a large number of guests, including more than 40 experts from around the world. [Photo provided to chinadaily.com.cn]
(Source: China Daily)