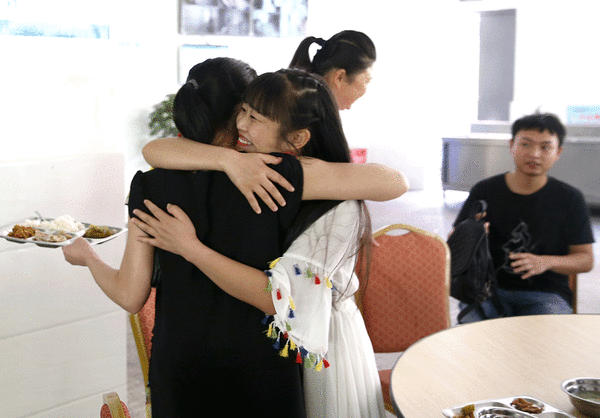 Li Hong (in white) hugs her "Ankang mother", Cao Weiping, who took care of her at the Ankang Home in Chengdu, Sichuan province, after the 2008 Wenchuan earthquake. The home helped those orphaned in the disaster, including Li, who lost her father. She is now a kindergarten teacher. [Zou Hong/China Daily]
After spotting each other across a crowded dining room on Sunday, Cao Weiping and Li Hong fell into an emotional embrace.
"Mom," Li said, with tears in her eyes, before placing bags of fruit she had brought as gifts into Cao's hands. She had come to introduce her boyfriend, she said, "because I want mom to see how happy I am".
Cao is not her biological mother. She is the woman who helped Li pick up the pieces after her life was torn apart by the Wenchuan earthquake 10 years ago.
Li was just 12 when the magnitude 8 quake devastated Wenchuan county, Sichuan province, on May 12, 2008. Her home was destroyed and her father, who had been raising her alone, was among the more than 87,000 people dead or missing.
With nowhere to go, Li, along with hundreds of other young people, was sent to live at the Ankang Home, a project started by the China Children and Teenagers' Fund and Rizhao Steel Group to help those orphaned in the disaster.
Initially, the home was in Rizhao — a city in Shandong province 1,500 kilometers from Wenchuan — and occupied several dormitories previously used by steelworkers.
After about a year, the home was relocated to a complex built for that purpose in Chengdu, Sichuan's capital.
Li stayed at Ankang until 2013, when she enrolled at a vocational college. She has kept in regular contact with her "mom", Cao, who was among 86 caregivers employed to run the facility in 2009. The 22-year-old returned to the home on Sunday to mark the 10th anniversary of the Wenchuan quake.
"No matter how far I go or how long I am away, Ankang will always be my home," she said. "It made me secure and independent, and it taught me how to love again after suffering so much in the disaster."
Counseling Provided
Some 712 young people aged 4 to 19 were resettled at the home in Rizhao within weeks of the earthquake, including those from the worst-hit areas of the Aba Tibetan and Qiang autonomous prefecture. Once there, they began to receive counseling on how to cope with the trauma.
In August 2009, 672 of them were moved to the new Ankang complex in Chengdu's Shuangliu district, about an hour's drive from downtown. It had dorms, recreational areas and a dining room. The other 40 went to live with relatives.
"They're all Sichuan natives, so caring for them and educating them in their home province sounded like the best choice," said Qi Jianxin, manager of the Rizhao facility, which was shut down once all the residents were transferred.
Unlike in Rizhao, where the spouses of steel company employees made up most of the 128 volunteers, the facility in Shuangliu was staffed with 86 professional caregivers as well as 34 administrators and security guards.
The district civil affairs authority, which took over running the home, placed the children in schools, while Rizhao Steel offered to cover the cost of tuition for older residents going onto higher education.
"The aim was to ensure everyone got an education after they returned to Sichuan," Qi said. Hu Yuanzhong, manager of the Shuangliu home, added: "Child safety was also a priority. Like parents, our caregivers take the young people to see doctors as well as encourage them to do their homework."
Hu said 624 residents have moved out since 2009, with 282 starting university and 342 finding jobs after training at vocational schools. With only 48 residents left, the youngest 13 years old, the number of caregivers has been reduced to seven.
Restoring Trust
Li said she knows the home will not exist forever, "but it will be always in my heart because it made me feel secure when I was at my lowest point".
Before the quake, she lived in Maerkang. She had never met her biological mother, and when her father was killed, she recalled feeling terrified.
"I didn't know who I could depend on," Li said, adding that despite being an outgoing child, at the Rizhao home she would cry herself to sleep most nights. "I thought no one cared. But hearing my cries, the psychologists came to me and repeatedly told me I wasn't alone."
She learned to trust the caregivers at the home, especially after they celebrated her first birthday since the disaster and gave her a toy bear as a gift. "From then on, I knew I could depend on the people at the home."
Once she transferred to Shuangliu, Li began growing more confident, with Cao often applauding her ideas and encouraging her to pursue her dreams. Equally important, Cao would admonish Li when she made mistakes or argued with roommates.
"I felt cared for when Cao prepared snacks for me after school, and I felt a sense of achievement when she asked me for advice on how to make traditional handicrafts (from Aba prefecture)," Li said.
"Loving children doesn't mean spoiling them," added Cao, who has a son Li's age.
After leaving school, Li decided to study at North Sichuan College of Preschool Education, in Guangyuan, and now works as a kindergarten teacher in downtown Chengdu. Her career choice was made not only because she likes children, she said, "but also because the home taught me how to love".
Former resident Du Chao, 16, who now attends boarding school, returns to Ankang every weekend. Hu is teaching him guitar.
"Playing the guitar helps me to get along easily with classmates and even makes me popular with girls," he said with a shy smile.
When asked to contemplate Ankang's future, Hu looked sad.
"It's been touching to see the children grow up and have their own careers or families," he said. "Five years from now, when the last child has left, the home may have accomplished its mission, but it will be a pity if it's closed." Hu suggested the government may want to keep it open to help more people in need.
(Source: China Daily)