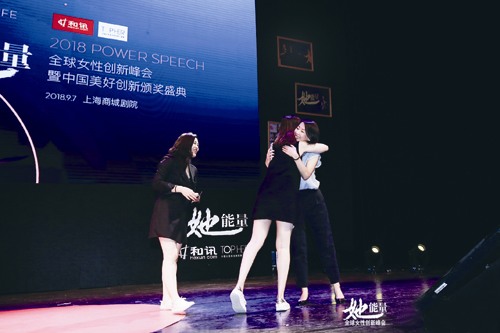 Participants at the event. [Fnews.cc]
Financial information website Hexun.com and women's business media company Top Her recently organized the 2018 Power Speech Global Women's Innovation Summit in Shanghai on the theme of "Beautiful Life and Innovation".
The summit featured experts and thinkers in consumption and innovation, who discussed their predictions about future trends.
In recent years, China's consumers have significantly shifted their habits. They prefer products with high quality, cost performance and personalization; and pay more attention to experiential consumption.
Guests at the event said brands should not blindly pursue impractical comprehensive development, but dig deep to acquire the needs of users.
Attendees proposed that, along with such changes, consumers have gradually reduced brand loyalty these days.
Collision between new and classic brands has become more intense due to the use of big data and technologies, such as artificial intelligence, to upgrade service efficiency.
Wu Sheng, the founder of commercial intellectual property innovation and strategic design platform Context Lab, expounded some trends on female-centered business in his speech.
He believes that women today generally pay more attention to their feelings instead of material qualities.
Gu Minman, managing director of Zhen Fund, also delivered a speech concerning women's consumption habits in the new age. She said the market for female-centered consumption has greatly changed in recent years.
She also talked about women's cognitive changes, their increased pursuit of individuality and growing respect for science.
As a professional investor in the venture capital circle, Gu also shared some cases in which Zhen Fund invested. She suggests that entrepreneurs attach great importance to concretely satisfying women's needs in the market, because this group has become more independent and self-conscious.
Reaching this goal will surely lead to great success in business, Gu concluded.
(Source: Fnews.cc/ Translated and edited by Women of China)