An online celebrity poses during a livestream in Dongguan, Guangdong Province. [For China Daily/Chen Fan]
Muk-bang, a South Korean trend where audiences watch people binge eat online, is satisfying audience appetites in China.
On May 22, Cao Ting from Changsha, Hunan province, ordered an extra-large helping of spicy, dry cut-noodles and some spicy chicken wings. Then, the 23-year-old filmed herself sitting in front of two large bowls, swallowing mouthfuls of noodles and biting into the chicken.
Looking as cute as the Japanese cartoon character Momoko Sakura, Cao smacked her lips and wore a satisfied expression while binge eating. In addition to her appetite, Cao's fans were impressed by her beauty, and many commented on her slender figure, makeup and the tattoo on her wrist.
When she had finally eaten all the food, Cao posted the footage on Kuaishou, a popular short-video app. Within 20 hours, the post had received about 150,000 views. The top comments included: "Help! I feel so hungry now"; "Why are you still slim after eating this much?"; "Hang in there, guys. We can have breakfast in a few hours"; and "You are so cute".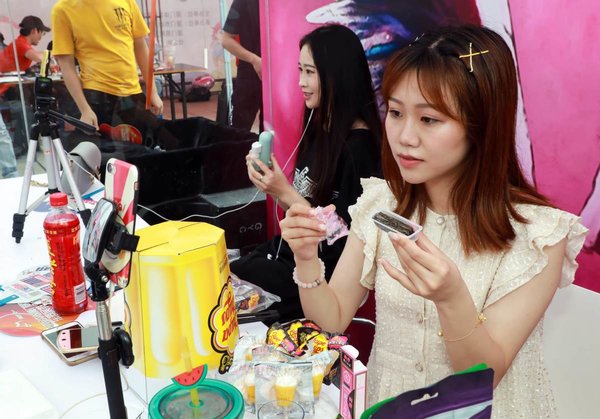 Foodies in Xiamen, Fujian Province, demonstrate methods for eating snacks. [For China Daily]
Food sales
About five years ago, a trend developed in South Korea in which viewers watched good-looking people eating online. The phenomenon, dubbed muk-bang ("eating broadcasts") in Korean, has now been taken up in China, where it is attracting a growing audience.
Last year, 1.6 billion people watched eating broadcasts on Taobao, the world's largest e-commerce website, and sales of related foodstuffs on the platform quadrupled year-on-year, according to a survey conducted by Alibaba, Taobao's parent company.
However, Taobao isn't the only platform showing muk-bang, and it has become a major element on short-video app giants such as Douyin, Bilibili and Kuaishou.
The Alibaba survey said the average age of the audience is 33, with 65 percent being female, and most people watch the videos after 7 pm.
It concluded that watching muk-bang can stimulate viewers' appetites, and noted how an unnamed online eater sold 10,000 bags of spicy instant noodles within 10 minutes of a broadcast on Taobao.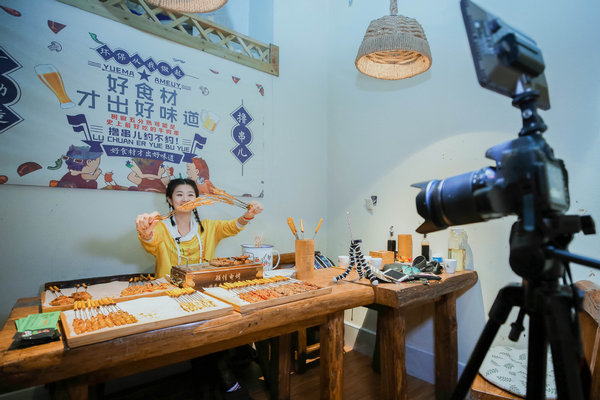 An online host in Beijing films herself with barbequed food to attract viewers to her social media platform. [For China Daily/Zhang Qichen]
Problem solver
Gao Yuanyuan, a 31-year-old manicurist in Beijing, had eating disorders for several years. She is convinced that watching muk-bang helped solve her problem.
"I used to spend five or six hours a day watching 'big stomach kings' (renowned online eaters) tucking into stir-fried squid or hot pot. It usually made me feel hungry, so I ordered the same takeout and ate along with them," she said.
"Now I don't have eating disorders. However, I quit watching the broadcasts because I was afraid I might not be able to control my appetite and I would eat too much."
As a former muk-bang fan, Gao has one strict requirement for hosts-they must have good table manners.
"More is not necessarily better. I don't like hosts gobbling up food or getting sauce all over their mouths. That's dirty and unattractive," she said.
Sun Ying, a 32-year-old writer from Suifenhe, Heilongjiang province, said she watches eating broadcasts for the attractive images, and, more important, to enjoy the sounds made by the hosts as they eat.
"I usually watch the short videos at night. The sound of the hosts eating makes me feel relaxed. I like the noise a pretty girl makes when she is crunching pickled radish," she said.
Sun's workplace doesn't have a canteen, and she has trouble choosing restaurants for lunch. To solve her problem, she watches the most recent videos of her eating idols and follows suit.
"It is tiring to decide what to eat every day, especially when I am busy with work. So I find inspiration in the videos, and my appetite has really improved. Now, eating is more interesting than before, because I have higher expectations and more respect for food," she said.
Vicarious living
While many viewers feel the urge to eat more, those on diets "eat" vicariously through the hosts.
Yan Yuying, a foodie from Yushu, Jilin province, said it is a marvel that the young male and female hosts remain slender, despite constantly eating enormous amounts of food. To stay slim, Yan only eats three pieces of her favorite braised pork with soy sauce a day.
The 30-year-old accountant said her work is repetitive, so she pursues pleasure and life goals after work. One of her ambitions is to become beautiful by losing weight.
"I like to watch the hosts eat large chunks of braised meat, especially when I am on a diet and feeling hungry. That makes me feel full along with the hosts in the video. It sounds like self-torture, but it does work," she said.
Though Sun, the writer, always has lunch, she usually skips dinner and eats vicariously through online hosts.
"Most hosts chat while they eat. They describe the taste of the food and explain recipes and ingredients. It's a gratifying visual experience, and it is as if I am also enjoying the meal," she said.
Virtual companions
With the exception of a few hosts who don't speak, but try to attract an audience through exaggerated noises and odd table manners, most of the broadcasters chat with their audience while eating. To their fans, who are mostly introverts, the hosts are more than eating idols; they are virtual companions.
Wang Xiaoshan, a 30-year-old engineer in Beijing, spends much of her leisure time watching muk-bang. However, she is never bored, because the hosts communicate via real-time comments.
The single mother lives alone in the capital, while her son stays with his grandparents in Wuyuan, Jiangxi province. Wang is a foodie and she always has takeout in the virtual company of an online eater at weekends.
"I like malatang, a Sichuan snack of meat and vegetables cooked in spicy broth. My favorite broadcast was when a young woman compared meals from two famous malatang brands by eating them bite for bite. Her expression was impressive and funny," she said.
"I plan to do eating broadcasts myself, and I am expecting many viewers to come into my living room. I want people to be with me, even it's only a virtual meeting."
Wang is typical of the type of viewer who watches to dispel feelings of loneliness and to promote nostalgia. Having realized that this kind of viewer exists, the hosts have invented various video formats to attract followers.
For example, Cao Ting allowed her young son to appear in her most recent video. Cao ate in front of the camera, while the little boy ate in the corner of the frame in the background. Sometimes, he jumped up and down to steal his mother's thunder and amuse viewers.
In another video format, a broadcaster who calls herself "Grandmother" and lives in a remote rural village always begins her videos by picking fresh vegetables in her garden. Then, she shows a montage of herself cooking old-time farm dishes before she eats them in an old-fashioned room.
Then, there is a young girl who is depicted as a farmer. In the first part of her videos, she is always busy with farm work and looks extremely tired. In part two, when she returns home, her first line is usually "Mom, I am hungry." Her mother prepares more than 10 bowls of meat and the girl eats them all.
Zhang Juan, a 22-year-old college student, said she enjoys this kind of video because eating broadcasts have simple plots. Moreover, because there are plenty of short eating videos, she can always find one to watch whenever she unlocks her phone.
She said she is an indoor girl, who spends most of time in the library.
"It costs too much money to hang out with classmates. During my leisure time, I don't like watching TV dramas because each episode takes too long and the plots are complicated and sensationalized.
"Whenever I have free time, I like to watch videos of people eating seafood, which relaxes my mind and gives me a chance to see how people live outside school. I feel my heart is empty after I lock my phone," she said.
(Source: China Daily)