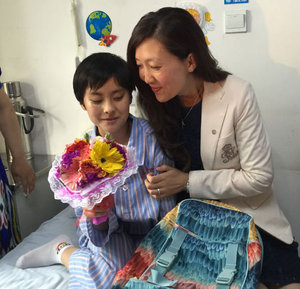 Zhou Bingyi, vice-president of Public Relatioins and Corporate Communications of Jaguar and Land Rover China (R) visits Mai Di Nai (L) after she recovers from an eye surgery in a hospital in Urumqi, Xinjiang Uighur Autonomous Region on May 12th, 2015. [CRIENGLISH.com]
A charity campaign is taking place in China's northwest Xinjiang Uighur Autonomous Region right now, designed to give special care and attention to the younger generation's eyesight.
Eleven-year-old Mai Di Nai is a Uighur girl. She just had an eye surgery in Urumqi, the capital of northwest China's Xinjiang Uighur Autonomous Region that allows her to see. Now, sitting in her bed with flowers and gifts around, she is eager to share her happiness.
"I am happy, very happy. I dreamed of seeing the brightness of the world. Now I can see it. It means I can now walk independently everywhere. Now I can even step downstairs all by myself. Before, I dared not take a step without others telling me it's OK."
Born with eye disease, Mai Di Nai could only sense light, but couldn't see the actual world, until a few days ago.
As part of a charity campaign to protect children's eyesight initiated by automaker Jaguar and Land Rover, doctors and nurses went to Mai Di Nai's school and examined the eyes of all her schoolmates. Mai Di Nai was singled out for treatment first, and received surgery immediately.
The surgery was performed by Ke La La, chief of the local eye hospital. The 55-year-old veteran surgeon is now practicing more medical check-ups in a primary school in Turpan, four hours' drive from Urumqi.
"I'm looking at the ocular fundus and other areas to see whether there's any problem. If necessary, I'll suggest follow-up treatment."
Ke La La spends ten months a year on trips covering a large part of the Xinjiang Uighur Autonomous Region, from the northern mountainous area, to the southern desert, to carry out check-ups and operations for children living in the remote areas.
Among China's 300 million children, about 12 million are weak-sighted. In Xinjiang, the situation is especially serious. Frequent sandstorms bring threat to children's eye hygiene. Unhealthy living habits lead to a high rate of eye problems. In many cases, minor diseases are overlooked, which result in more serious ones developing, even the complete loss of eyesight. Lack of medical access makes it even harder to cure them.
Six million yuan, or about one million US dollars will be put into the campaign this year, to check up 30 thousand children in Xinjiang. Three thousand of them will be given high-quality glasses to remediate their refractive errors. 600 will get surgeries or equipment assistance that they need to regain their vision.
Zhou Bingyi is the Vice President of Public Relations and Communications Jaguar and Land Rover China. She says the charity work is helpful in more ways than one.
"Through doing this charity work, we're not only giving help and care to others, but also refreshing our own spirit, learning our own lessons and feeling life in a different way."
Last year, the program went to southwest China's Yunnan Province. In the future, similar projects will cover more remote areas such as Guizhou and Sichuan.
(Source: CRIENGLISH.com)