Meng Xiaosi (R) presents a donation certificate to Tian Guoli. [Women of China/Fan Wenjun]
The China Women's Development Foundation (CWDF) held a promotion activity for its Health Express for Mothers project on December 12 in Beijing in association with China Construction Bank (CCB).
During the event, Meng Xiaosi, director-general of the CWDF and member of the standing committee of Chinese People's Political Consultative Committee, received a donation of 8 million yuan (U.S.$ 1,210,287) from CCB and presented a donation certificate to Tian Guoli, president of the bank.
Attending officials distributed symbolic "golden keys" of the donated mobile medical service vehicles to representatives of women's federations from beneficiary areas.
With the departure order given by Tian, 56 vehicles set off for seven Chinese provinces, autonomous regions and municipalities – northwest China's Shaanxi and Ningxia; southwest China's Guizhou and Chongqing; east China's Jiangxi and Shandong; and, south China's Guangdong – as well as two neighboring countries, Cambodia and Laos.
Containing medical aid equipment such as beds, oxygen, fetal heart monitors and cardiac compression pumps, these vehicles will give free health advice, check-ups and treatment to women in impoverished and hard-to-reach areas, as well as care services for pregnant women and new mothers in these regions.
Officials will also distribute free medicine and educational materials; transport pregnant women to hospital for free; and, offer training to grassroots medical workers.
In her speech during the activity, Tan Lin, vice-president and member of the Secretariat of the All-China Women's Federation, thanked CCB for its devotion to women and children.
Chen Ya, a doctor from the central hospital of Mengding Town in southwest China's Yunnan Province, said: "Since our hospital was equipped with the vehicles four years ago, it has become more convenient for pregnant women living in our province's remote mountainous areas to receive emergency treatment or deliver babies."
The Health Express for Mothers Project, sponsored by the ACWF and the National Working Committee for Children and Women under the State Council, is undertaken by CWDF to improve access to medical care in poverty-stricken areas. The program's medical vehicles are supported by local women's federations and hospitals.
So far, CCB has donated 45 million yuan (U.S.$ 6,809,721) to support the project, buying 303 vehicles which altogether benefited 909,500 people from 21 Chinese provinces, autonomous regions and municipalities, and from Cambodia and Laos.
Prior to the activity, Shen Yueyue, president of the ACWF, met with CCB officials and thanked them for vigorously supporting the cause of women's public welfare.
Meng Xiaosi (R) receives a donation from CCB. [Women of China/Fan Wenjun]
Tan Lin speaks at the activity. [Women of China/Fan Wenjun]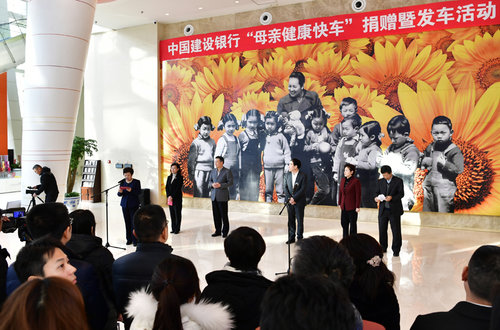 Tan Lin speaks at the activity. [Women of China/Fan Wenjun]
Representatives from women's federations in benefited areas receive keys of mobile clinics. [Women of China/Fan Wenjun]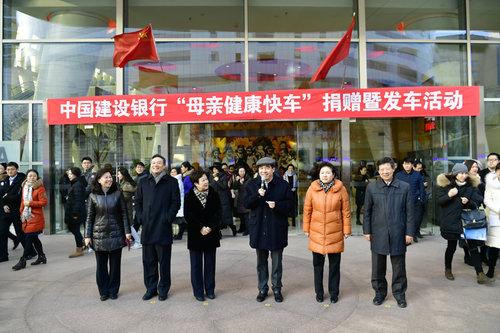 Tian Guoli gives his departure order to donated vehicles. [Women of China/Fan Wenjun]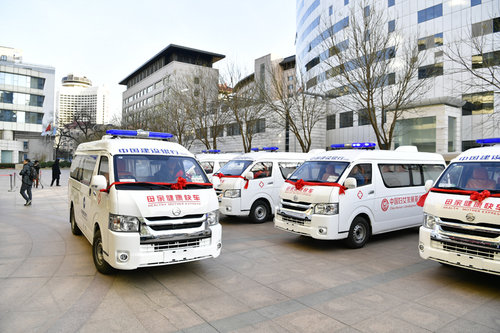 Medical vehicles set off during the departure ceremony. [Women of China/Fan Wenjun]
(Women of China)