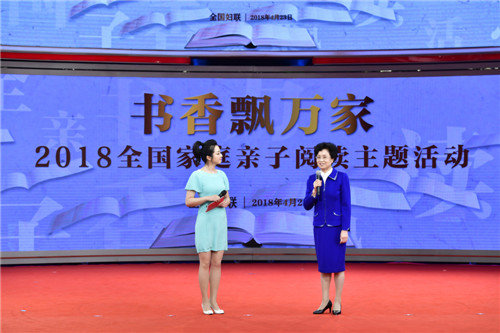 Vice President of the ACWF Song Xiuyan (R) attends the ceremony to kick off the 2018 Parent-Child Reading Campaign in Beijing. [Women of China / Fan Wenjun]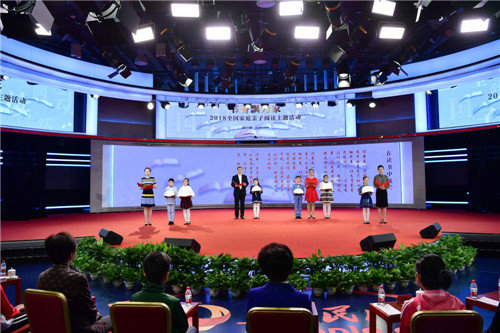 Representatives of parents and children perform at the ceremony. [Women of China / Fan Wenjun]
The All-China Women's Federation (ACWF) launched the 2018 Parent-Child Reading Campaign in Beijing on World Book and Copyright Day, which fell on April 23.
Song Xiuyan, Vice-President and First Member of the Secretariat of the ACWF, attended the event and delivered a speech.
Song said she hoped all families develop a habit of reading and gain pleasure from it.
"This activity aims to give parents and children suggestions on reading and carry forward good family traditions," she added.
It is reported that the Department of Family and Children's Affairs of the ACWF has conducted an investigation in recent days.
The findings revealed that some parents were urging the government to make more public reading facilities available, while others were expecting useful book selection suggestions.
With regard to this, the ACWF announced the list of an initial 80 parent-child reading bases.
The organization also recommended some 201 books for children of different ages.
The campaign has been expanding its influence since it was launched in 2016.
Last year, over 80,000 parent-child activities were organized across the country and as many as 32 million people participated in them.
The event this year was broadcast live, with about 85 million people watching.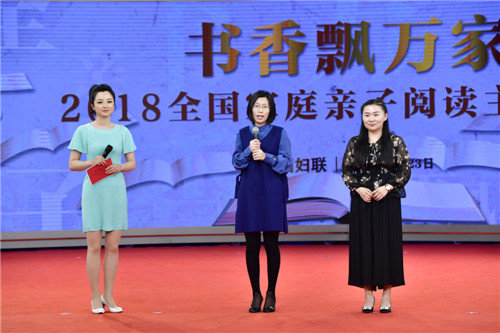 Representatives from two public reading bases share their experiences at the event. [Women of China / Fan Wenjun]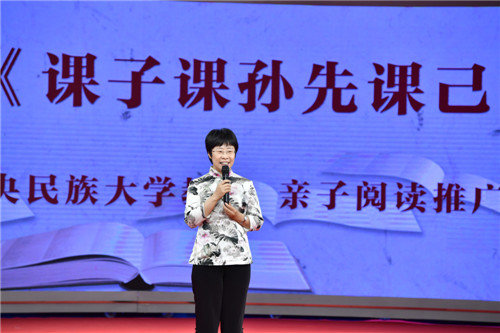 Meng Man, professor at Minzu University of China, gives a speech about the aim and methods of parent-child reading. [Women of China / Fan Wenjun]
The audience at the ceremony [Women of China / Fan Wenjun]