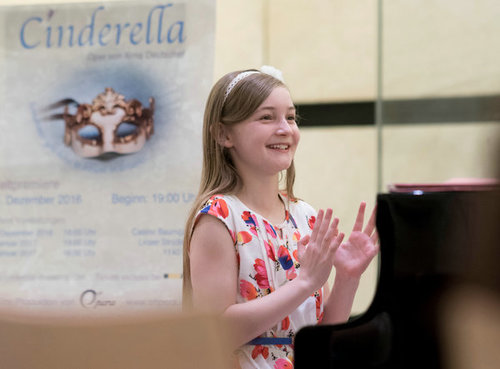 Alma Deutscher, 11, from England performs The Wiener Musikverein in Vienna on Oct 6. An opera the girl wrote, Cinderella, will premiere in the city on Dec 29. [Google]
With help from her jump rope instead of a metronome, Alma Deutscher has written an opera that's being staged this Christmas in Vienna, the capital of classical music. Not bad when you're aged 11.
"I sometimes think that if I had a beard and I was old and fat, then people might take me a bit more seriously," the English wunderkind said as she played excerpts of the work on the piano.
But this attitude, she added, has changed since preparations began in this hallowed former stamping ground of Mozart and Schubert for the Dec 29 premiere of Cinderella.
She started writing the two-hour opera when she was 8. In composing the music, she has given the traditional folk tale her own twist, setting it in an opera house.
Thus the eponymous heroine writes a tune that perfectly fits the handsome prince's poem, while the evil stepsisters are "pompous prima donnas", the young composer explained.
It takes place in an imaginary country she calls Transylvanian, populated by imaginary composers.
Her favorite, Antonin Yellowsink, wrote one of the more melancholy melodies-"and I stole it", she joked.
But according to Anna Voshege, an Australian singer who plays one of the stepsisters, what Alma composes is anything but childish.
"I heard the music before I knew she was 11. I was really quite shocked. Some of the nuances in that music are really very special, very intricate," Voshege said.
"It's very beautiful music and she is far beyond her years," she said.
Alma's father, Guy Deutscher, first realized his daughter was out of the ordinary when she asked, at age 2 or 3, "'How can music be so beautiful?'" he recalled.
"When she was about 4, when she started inventing her own melodies, I think that's when we noticed there was really something special," he said in Vienna, where the family from southern England has been spending time ahead of the premiere.
At 6, she composed her first full piano sonata, at 7 a mini-opera called The Sweeper of Dreams, and at 9 a concerto for violin and orchestra.
A chamber music rendition of Cinderella was performed in Israel last year, but the Vienna version, with Indian conductor maestro Zubin Mehta as patron, is much longer and will be a proper opera.
She has won praise from renowned conductors like Daniel Barenboim and a "bowled over" Simon Rattle. Last year, she appeared at a Google Zeitgeist conference with the likes of Stephen Hawking.
But, her dad said, Alma also has a normal life. "She loves climbing trees and running around like every other child," he said.
Modern music, though, is "too loud" and not her thing, she says-not even Justin Bieber or the Beatles. "Oh no, I don't know any of them!"
(Source: China Daily)