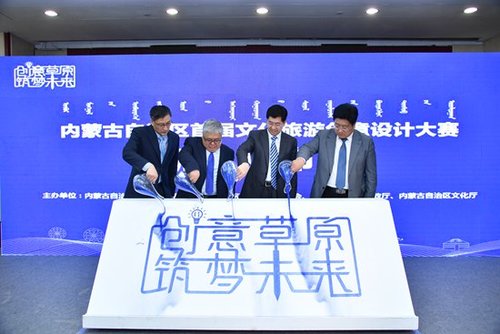 Organizers hold a press conference for the first Cultural Tourism Creative Design Contest in Inner Mongolia Autonomous Region on April 11. [Xinhua]
Organizers has held a press conference in Beijing for the first Cultural Tourism Creative Design Contest in North China's Inner Mongolia Autonomous Region on April 11 on the theme of "Creative Grassland, Building a Dream" .
The conference was run by the Publicity Department of the Inner Mongolia Autonomous Region Party Committee.
Han Yunxiang, vice-director of the department, stated at the event that he hopes to create a batch of high-quality cultural tourism brands with ethnic characteristics in Inner Mongolia through the contest and improve the development of cultural tourism.
He also hopes that the Inner Mongolia Cultural Tourism Creative Design Service Platform will be established to promote the application of the outstanding works, the creativity can be applied to the market, and high-quality design talents can take advantage of business opportunities.
The contest is scheduled to open for entries from April 11 to July 10, divided into four categories: cultural tourism image communication design, cultural tourism product design, cultural tourism public space design, and special design works.
The total prize is up to 1.1 million yuan.
At the same time, the organizers will also carry out a series of highlighted activities, such as the launch of the Cultural and Creative Colleges Tour activity to encourage young students to participate and inject new vitality into the integration of culture and travel in Inner Mongolia.
The organizer will also implement domestic and foreign design agency-oriented cooperation plans to enhance the influence of the contest on a global scale.
Outstanding designers will be invited to carry out creative designs for scenic spots, museum tourism images and tourism products in Inner Mongolia.
In addition, the outstanding works from the contest will be displayed during the Inner Mongolia Cultural Fair in 2018, when the organizers will organize scenic museums, universities, enterprises, and government cooperation to actively promote the further industrial hatching of outstanding works.
(Source: Xinhua/Translated and edited by Women of China)