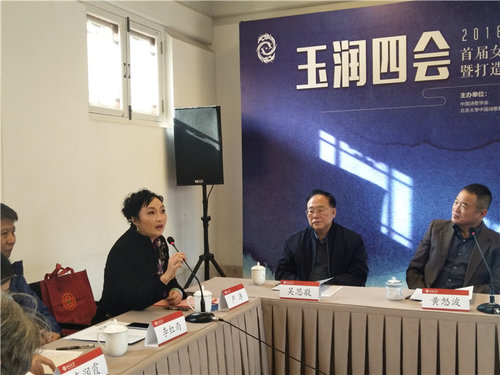 Organizers hold a press conference at China Poetry Research Institute of Peking University on November 8. [Xinhua]
Organizers held a press conference in Beijing at the China Poetry Research Institute of Peking University on November 8 to promote the upcoming Women's Poetry Week and formally establish a new Women's Poetry Writing Base.
The first Women's Poetry Week will take place in the city of Sihui, south China's Guangdong province, from December 18, according to the announcement.
Nearly 100 female poets, critics and scholars around the world will gather at the cultural event to celebrate poetry, scholarship and live recitals.
During the week, organizers will reveal the winners of the Female Poetry Award and launch a poetry writing base in the city.
As the largest jade processing city in China, Sihui has long been known as the City of Jade Virtues.
Organizers hope the poetry week can integrate the oriental charm represented by jade and the "perfect temperament" of Chinese women.
Experts are expected to discuss the status quo and trends in women's poetry writing at home and abroad at a high-level forum, encompassing all-round, in-depth exchanges on cross-cultural issues.
The experts and scholars present will also give themed lectures and talks. From the perspective of research, the scholars attending the event will look deep into the classical and foreign literature resources that have an important influence on current poetry creation in China.
The Classic Recitation section will invite professional recital teams to stage an evening performance of over 20 representative poems created by female, accompanied by varieties of musical performances.
The Cultural Investigation section will pay tribute to Chinese classical culture.
Jade art is an important part of the Oriental Culture, whilst the world-famous "Hongshan Culture" is an epitome of "jade civilization" in the ancient times. In its long history, jade has been closely linked to Oriental etiquette and moreover extend to the female realm.
Hence, such cultural explorations at the event would aim to revisit the most delicate and finest qualities of Chinese classical female literature, said a spokesperson.
(Source: Xinhua/Translated and edited by Women of China)