A volunteer helps a local try out paper-cutting at the Chinese booth at the 6th Nairobi International Cultural Festival, May 12, 2018. [Photo by Liu Hongjie/China Daily]
The 6th Nairobi International Cultural Festival was held on Saturday at the National Museum of Kenya in Nairobi.
Twelve countries participated in the event: Thailand, Mexico, Botswana, Japan, Republic of Korea, Somali, Switzerland, Iran, Germany, Turkey, Sudan and China. They set up booths to display their home cultural products.
Speaking at the event, Li Xuhang, charge d'affairs of the Chinese Embassy in Kenya, said the International Cultural Festival offers an opportunity to foster friendly relations and understanding between locals and the international community.
"It has become an important international event in Nairobi, which serves to demonstrate the diversity and inclusiveness of Kenya," he said.
Strengthening the people-to-people bond is one of the five major elements of the Belt and Road Initiative proposed by Chinese President Xi Jinping, he said, adding that the event offers a good opportunity to further promote cultural exchanges and mutual understanding not only between China and Kenya, but also between Kenya and many others.
The Confucius Institute at the University of Nairobi, the first of its kind on the African Continent, staged a performance of the lion dance and Chinese traditional dance at the festival.
According to Xiao Shan, the Chinese director of the Confucius Institute, this was the third time the institute had participated in the event and the second time that the Chinese embassy had a presence at the event.
Visitors experienced Chinese culture by trying on Chinese folk clothes, reading books on Chinese history and culture, tasting Chinese food and learning Chinese calligraphy, painting and paper-cutting under the guidance of volunteers.
The products for sale at the Chinese booth included knitted items by the Kenya-Chinese Women's Association, blue-and-white porcelain spoons and pens, books, paper-cuts and souvenirs.
"The money raised from the sales will be donated to the Children's Home," Xiao said.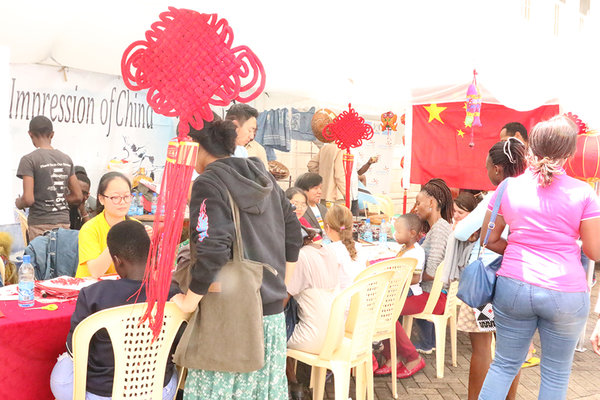 The Chinese booth and it's displays, including typical Chinese decorations, attract many visitors people eager to try traditional crafts at the 6th Nairobi International Cultural Festival, May 12, 2018. [Photo by Liu Hongjie/China Daily]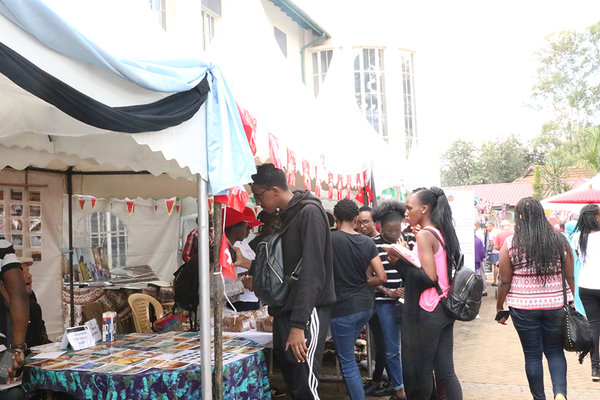 Visitors peruse the items on display at one of the booths at the 6th Nairobi International Cultural Festival at the National Musuem of Kenya, May 12, 2018. [Photo by Liu Hongjie/China Daily]
(Source: China Daily)