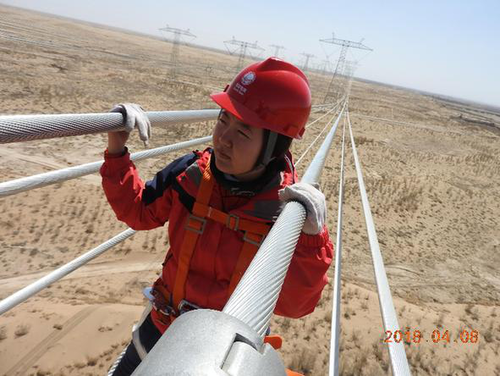 A female worker of the State Grid Shanxi Construction Company [Xinhua]
After the self-inspection of construction and supervision companies, the State Grid Shanxi Construction Company organized a large-scale inspection before the launch of the Gan-6 bid section, in Northwest China's Gansu Province, on April 8.
Zhang Yu and Song Xueqian, both born after 1990, participated in the inspection, and became the first batch of female electricians in the system of the UHV (Ultra High Voltage) power grid and conducted aerial work on the highest transmission line from the ground.
This is the hardest and most dangerous job in the entire electrical power system. Working on such a line tower is a huge challenge even for the men, not to mention women.
"When we work at such heights, the necessary tools we carry are about five kilograms and all various protective gear weighs 2 kilos. It is not easy to move on the ladder of the tower," Zhang said.
The main task for them was to check whether the various parts of the line installation are correct, whether the quality meets the engineering design requirements, and whether there was any damage to the components during the installation process.
During the work, they must go down to the wire drifting with the wind which was a big challenge for the women working at this height for the first time.
"When I was up there, time went so slowly, like freezing, and I don't know how long it took me to finish the string that was not too long," said Zhang.
Overpassing the conducting wire was the most difficult and dangerous part of their work.
Aerial work is different from the ground in sense of time and space. The distance between the two towers seems very close. "It's about 100 meters, and it doesn't take much time," Song said.
In fact, the line tower they boarded that day was 70 meters high and it ranges over 400 meters. The two women worked for five hours like other engineers.
The total length of the Gan-6 bid section is 141.758 kilometers. It is located in the interlaced area between the Gobi desert and the desert, one of the most severe natural environments and construction conditions from Changji to Guquan throughout all ±1100 kV UHV projects.
Each UHV line tower weighs 70 to 80 tons and is 90 to 120 meters high. It takes a 25-person team a whole week to assemble such a tower.
The furthest distance between the project department and construction site can reach 890 kilometers.
Every day, the workers have to leave for the construction site very early, and work until very late at night there.
From May 30, 2016, the project was formally started, and on December 31, 2017, the entire line was finished. The company did a great job by completing 271 base castings, 271 base towers and 141.751 kilometers of wire construction in 581 days.
(Source: Xinhua/Translated and edited by Women of China)