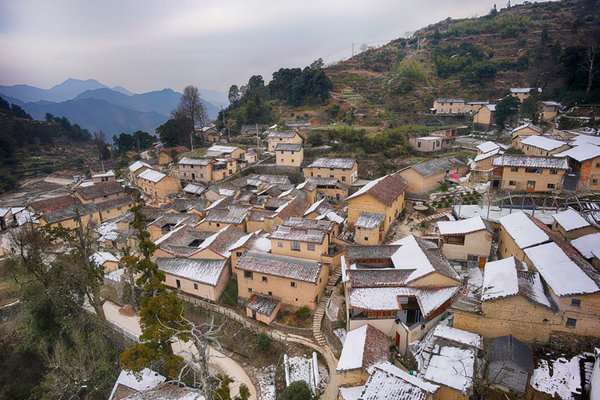 Pingtian village. [Photo provided to China Daily]
When Ye Liqin visited the village of Pingtian for the first time four years ago, the welcoming committee that greeted her was decidedly hostile - a group of barking dogs.
Her next encounter, with a group of gray-haired old people sitting outside soaking up the sun was a little less hostile, but they were not exactly effusive either, with fixed stares that seemed to ask what such a young woman could be doing in the village, nestled in a mountain in Songyang county, Zhejiang province.
Ye, then 26, says she despaired at being the only young person in the village, to which she had traveled to run several homestay hotels and a restaurant, at a time when the hospitality business in rural China was beginning to thrive.
The village of about 100 inhabitants has no public transport connections with the nearby county of Songyang, but in that regard it has much in common with hundreds of other villages in the mountains - villages that people have abandoned in their droves, heading for greener pastures and leaving behind them those rooted to their birthplace: by and large elderly folk.
In fact, Ye herself had left another village in the area to work in a clothing shop in the provincial capital, Hangzhou, before quitting that job to get into the hospitality business with a friend, a Pingtian local, who had also moved to the city.
The pair rented several vacant houses that Ye says were run down and unfit for human habitation. With the help of the local government, architecture professors at Hong Kong University, Tsinghua University and the Central Academy of Fine Arts renovated the houses, turning them into homestay hotels.
The first hotel guests were friends of Ye from Shanghai, she says, who joked that they had to yell to each other living in different rooms if they want to communicate because of bad communication service.
With Pingtian's picturesque setting and its now more than adequate, modern accommodation, it suddenly became a tourist magnet, and more and more people began to visit it and stay there.
That influx led to thriving business for villagers selling local produce and homemade food to the visitors, which in turn resulted in some of the locals who had long abandoned their village returning to live.
Another two enthusiastic entrepreneurs then arrived, swelling the ranks of the village's young people, and opening a shop selling tie-dyed products.
Ye says that before she arrived on the scene Pingtian was a decidedly sleepy place, most villagers going to bed at 6 pm. The village now has a coffee shop and a community center built with government funding that have added a modicum of nightlife possibilities.
"The village is alive again," Ye says.
After living in the village for four years, she says, she has developed a connection with it, and she is keen on helping it restore elements of its culture and traditions that seem to have been lost.
Ye is an exemplar of local government efforts to attract young people back to rural areas to revitalize them as China has invested heavily in the countryside in recent years.
Meng Xuefen, 31, a single mother, says she decided to return to Damushan tea valley, 27 kilometers from Pingtian, running a teahouse designed by Xu Tiantian, an architect in Beijing, after saying goodbye to her life in the city fascinating with luxury brands.
"I fell in love with the teahouse at first sight," she says. "The environment is gorgeous."
The teahouse is in a tea garden in the Damushan area.
Although most villagers in the area work in the tea industry, no one had explored and promoted local tea culture or. Meng thus became the first person to do so, using the teahouse as the venue for a training center in the art of tea.
She invited professors from colleges to provide training courses for locals, sometimes free for farmers.
The training center has gained a good reputation, and as a result many tea lovers traveling in the area have turned up wanting training.
Last year Meng came up with the idea of reviving a local tea brand that employs handcraft tea skills and calls for tea leaves picked from tea trees at least 20 years old. To find the best quality tea Meng says she has visited all the villages in the area, and her brand has become popular among the young.
"I know some people have come back to the village to get into the tea industry and learn traditional tea production skills, all of which used to be done by the old."
It is just a matter of time before more young people take up residence in the village, giving it yet more vitality, she says.
Ye Guofu, 63, also believes that in three to five years young people will come back to Daitou village, located on a mountain at an attitude of nearly 1,000 meters.
Ye is one of the youngest in Daitou village, most of whose fewer than 100 inhabitants are in their 70s or 80s, and most of whom used to live higher up in the mountains.
Old people seldom go out of the village, the nearest county being about 23 kilometers away, and there is no public transport.
Last year terraced rice fields attracted thousands of tourists on a single day when the village staged a farm activities event.
In 2014 the village introduced a kind of rice suitable for growing at high-attitude, and it has become very popular. Each year when the rice goes on sale at harvest time it quickly sells out, even at 40 yuan ($6.27) a kilogram, four times the normal market price.
"The only people who do rice farming are old folk, which is why production is so low," Ye says.
Some middle-aged villagers have said they plan to return from cities, but Ye says the village needs young people to set up a brand and help sell their products through e-commerce.
"I'm confident more people, including the young, will come back," he says.
(Source: China Daily)