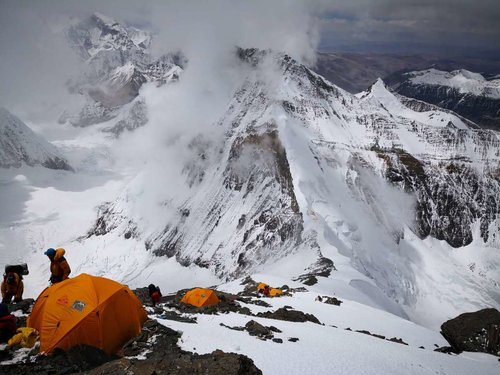 Climbers from Peking University get ready for their push to the top. [China Daily]
A team of mountaineers from Peking University reached the top of the world's highest mountain on Tuesday in celebration of the university's 120th anniversary.
Fourteen climbers-seven students, from the Mountaineering Association of Peking University, two teachers and five alumni-made it to the top of Qomolangma at around 10 am. The youngest was 21 and the oldest 55, the university said on its WeChat account.
They had trained rigorously for two years for their climb to the summit, known as Mount Everest in the West.
The team left the university on March 31 and arrived at Qomolangma's north base camp at an altitude of 5,200 meters in the Tibet autonomous region on April 9.
Established in 1989, the association has become the most prominent amateur mountaineering club in China. In 1998, three members conquered the 8,201-meter Mount Cho Oyu on the China-Nepal border, the world's sixth-highest mountain, as part of the celebration of the university's 100th anniversary.
Peking University alumnus Huang Nubo, who led the team, said reaching the summit of the mountain was not the only goal.
"It's more important to focus on how the team overcomes difficulties when climbing high, which reflects the spirit of the university," he said.
An avalanche in August 2002 killed five students in a 15-member team from the university, which attempted to climb the 8,012-meter Shishapangma, the world's 14th-highest mountain, in Tibet. The tragedy attracted a great deal of media attention and sparked a heated debate on the development of amateur mountaineering in China.
In 2012, four climbers from China University of Geosciences (Beijing) and CUG (Wuhan) reached the top of Qomolangma, becoming the first amateur team from a Chinese university to do so.
Climbers from Peking University scale an ice-covered cliff. [China Daily]
(Source: China Daily)