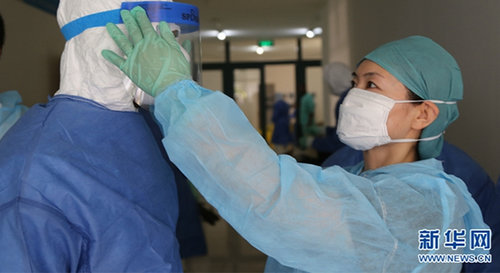 Wang Xinhua works in Sierra Leone. [Xinhua]
Wang Xinhua, head nurse of the Obstetrics and Gynaecology Department of the PLA 302 Hospital, has invariably rushed to the forefront for the fight against infectious diseases such as SARS and Influenza A (H1N1).
Wang carries forward the spirit of Florence Nightingale and demonstrates the charms of Chinese soldiers and nurses to the world.
Since her graduation in 1991, Wang has nursed patients suffering 60 kinds of infectious diseases and 39 notifiable diseases.
In 2014, there was an outbreak of the severe and fatal Ebola Hemorrhagic Fever in West Africa. As a member of the first batch of medical aid teams in Sierra Leone, facing a fatality rate of 50 to 90 percent, Wang and her teammates worked for 60 days non-stop there, treating nearly 300 Ebola patients, saving more than 100 lives and achieving zero infection rates among Chinese and local medical staff.
In the spring of 2003, the PLA 302 Hospital became the main battlefield in the fight against the SARS epidemic. Wang volunteered to work on the SARS wards.
During 106 days and nights, she cared for more than 30 severe SARS patients and eventually all those patients recovered and were discharged from hospital.
On May 12, 2008, an earthquake jolted Wenchuan County, southwest China's Sichuan Province. Wang, along with her teammates, worked for more than 100 days, and their efforts ensured that there was no pandemic after the disaster and protected health of 80,000 soldiers.
In 2009, Influenza A (H1N1) wreaked havoc all over the world. Wang worked in the special wards for the disease for three months and, eventually, more than 20 patients recovered and were released from hospital.
Wang has won honorary titles such as "Capital's Top 10 Angels in White," and has been awarded three-class merits twice and the 45th Nightingale Medal in 2015, amongst other awards.
(Source: Xinhua/Translated and edited by Women of China)