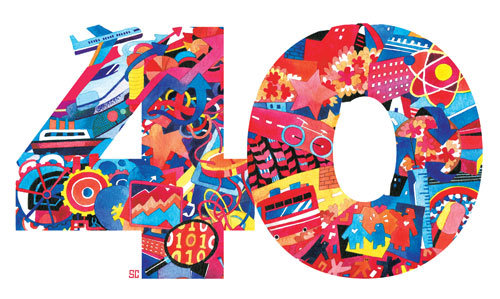 China's 40th anniversary of reform and opening-up [China Daily]
When I was growing up all I know about the Chinese people was their famous "kung fu" martial arts movies. However, in the past decades, I have watched closely as prosperity transformed the "Middle Kingdom" into a land of high-speed trains, skyscrapers, and billionaires.
As the Chinese people mark the 40th anniversary of its groundbreaking reform and opening-up, they are willing to build a community with a shared future for mankind. The long-held policy not only brings China speedy and sustainable development but allows China to contribute greater momentum to the world economy; for that reason, China is referred to as the leading champion of development among emerging economies.
Over the past four decades, China's GDP has averaged a yearly growth rate of over 9 percent. In terms of foreign trade, China has registered a yearly growth of over 14 percent. China has opened up a market of more than $1.7 trillion to foreign investment and invested more than $1.2 trillion abroad. In the last 10 years, with China's strength in the workforce, capital, market, and technology, the nation on average contributed 30 percent of the global economic growth yearly, sharing the benefits of China's development with the world.
Also, China's share in the global economy augmented from 2.7 to 16 percent; China's per capita GDP soared from about $100 to over $8000; 800 million Chinese are now living a poverty-free life – which amounts to over 70 percent of global poverty reduction making China the first developing nation to meet the Millennium Development Goals set by the United Nations – an unparalleled accomplishment.
The fact is that, what had taken the Western industrialized nations several hundreds of years to accomplish, had taken China four decades to accomplish; this is truly a miracle in human history.
As the largest emerging economy, China is shifting from high-speed growth to high-quality growth. For that reason, China has kept a medium-high economic growth rate of 6.9 percent in 2017 and 6.8 percent in the first quarter of 2018, contributing nearly one-third of world economic growth and continuously acting as the largest contributor to the world economy.
In doing so, China has promised to further open its economy with concrete measures to promote the shared prosperity of China and the global economy.
During President Xi Jinping's speech at the BOAO meeting this year, he said, "China will improve the investment environments for overseas investors, significantly lower the import tariffs for vehicles and lessen import tariffs for some other merchandises". Xi said, "China will take the initiative to expand import because China has a genuine desire to upsurge imports and attain a greater balance of international payment under the present account".
Finally, he said, "the Chinese people will continue to upsurge openness and expand cooperation with the global economy by paying equal attention to "bringing in" and "going global"." China's four decades of reform have met its citizen's aspiration for innovation, better standard of living, and development. Speaking of innovation, China has moved to 17th place in innovation quality, making it the leader among middle-income economies in this category, followed by India which has overtaken Brazil.
Presently, China is more confident and capable than at any time in history to actualize national rejuvenation as the nation presses ahead on the journey of reform and opening-up afresh. Notably, an open China is in a better position to share the benefits of its reform and development with the world in general and African economies in particular so that China and the world can work together to attain shared prosperity.
Also, the reform meets worldwide trend towards peace, cooperation, and development. China's four decades of scoring an extraordinary success in its reform and opening-up indicate that China has positively motivated economic globalization. It is broadly acknowledged that China's comprehensive deepening in the past four decades has offered the global economy with a major locomotive, as it has given new impetus to the world economy via a set of pragmatic programs, of which the most representative one is the Belt and Road Initiative.
China's impressive development trajectory offers an alternative development model for African economies where China's presence has grown immensely over the years. That is why if we have to connect China's four decades of reform and opening-up with the awakening of African economies we will discover that China has contributed enormously in transforming the continent's economic tale from "hopeless continent" to a "rising continent".
According to Agenda 2063, building world-class infrastructure together with trade facilitation should see intra-African trade growing from less than 12 percent currently to about 50 percent by 2045 as well as seeing African share of global trade soaring from 2 percent to 12 percent. To accomplish this, Africa needs to address the continent's infrastructure gaps in order to completely attain Goal 9 of the SDGs and Aspiration 2 of Agenda 2063.
The Chinese government has been accelerating and intensifying their effort to make a substantial contribution towards the provision of hard infrastructure across Africa, ranging from distribution grids to pipelines, airports, ports, roads, refineries, railroads and power generation which is having a huge multiplier effect on African economies. For example, Djibouti is the gateway to landlocked Ethiopia, Africa's fastest growing economy. Already, over 90 percent of Ethiopia's trade passes through Djibouti.
Due to China's substantial contribution towards the provision of hard infrastructure, the trade that once took three days by road has been cut to nearly 12 hours. Also, East Africa's largest economy – Kenya has maintained a growth rate of about 6 percent as a result of the infrastructure boom across the continent.
Looking at previous China's economic growth in Africa between the year 1990 and 2013, Africa's economy grew speedily and remarkably well. It averaged more than 5 percent. In 2012, the average GDP growth of Africa was 6.6 percent, even though at that time developing nations were facing serious economic problems. China's infrastructure development model has helped African growth – underpinning the "Africa rising" narrative that has emerged in recent years.
During the past four decades, China's large population has been the engine for its impressive growth rate. If African economies were to go through similar economic miracle as China, African leaders need to sufficiently invest in the development of Africa's greatest assets: its young population; because success without a successor is a failure. There is need to develop the high workforce needed to compete in the global knowledge-based economy.
However, China-Africa knowledge sharing cooperation can become a new way of bolstering a mutually beneficial cooperation model, speed up Africa's industrialization and improve its independent development capacity, while bringing Chinese equipment, technologies, and products to African nations through industrial capacity cooperation. In the past decades, China has catapulted from being a relatively small investor in Africa to becoming Africa's largest economic partner.
China's trade with African countries rose nearly one-fifth in the first quarter of 2017 from a year earlier, surging 19 percent. While its direct investment in the continent soared 64 percent, making it appear like the dragon is now the new king of the African jungle. China has expanded its commitment to peacekeeping missions and strengthened its military presence in Africa as well.
There are estimated to be over 10,000 Chinese companies in Africa that have created employment for numerous Africans. These Chinese companies have displayed remarkable prowess in sectors such as infrastructure, agriculture, telecommunication, information communication technology, service, and manufacturing. This economic stimulus continues to have a significant economic impact in communities. In December 2015, Xi ushered in a new era of "win-win co-operation" between China and Africa, a strategy formulated to create mutual prosperity.
China has backed up this proposal with a $60 billion investment in major capital projects, which are tied to developing local economic capacity. This is in the knowledge that for win-win co-operation to be sustainable, it is crucial to develop the local economy, by putting in place real knowledge transfer. The leaps and bounds in China-Africa cooperation is clear evidence of the interdependence and mutually beneficial cooperation between China and Africa.
So, as the Chinese people celebrate their four decades of reform and opening-up, African leaders will want to remind the West of their appreciation of China's snowballing significance as their leading development partner. African leaders will like to remind the West that there is room for cooperation between Africa, China, and the United States as well.
The author is the Executive Director of the Center for Nigerian Studies at the Institute of African Studies, Zhejiang Normal University.
(Source: China Daily)