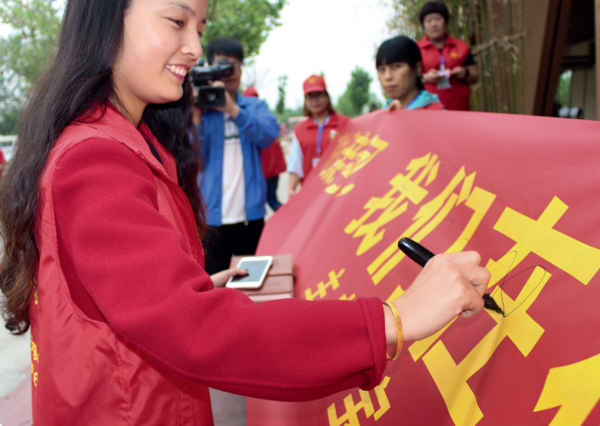 Ma Lina, one of the founders of the Yijiaqin Youth Voluntary Service Group [Women of China]
Ma Lina, from Baodi District, in North China's Tianjin Municipality, is one of the founders of the Yijiaqin Youth Voluntary Service Group.
In 2014, she learned from a TV report that many migrant workers in Baodi couldn't return home for the Spring Festival because they were unable to get train tickets during the annual travel rush. Ma, who was born in the 1990s, and who has been enthusiastic about charitable activities, decided to do something for them.
"Some of my friends and I initiated an activity to help migrant workers book tickets online. We used our own money to book the tickets, and when the workers came to get their tickets, they paid us back," Ma says.
During the past five years, Ma and her friends have booked 32,000 tickets (worth some 4.8 million yuan [US $716,418]) for migrant workers.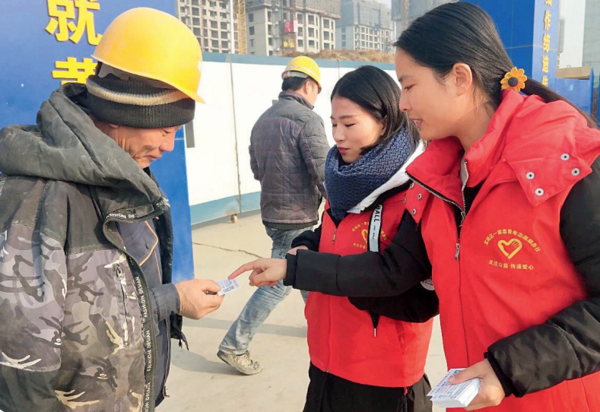 Volunteers help migrant workers book tickets. [Women of China]
"We offered the ticket-booking service after we finished our work. We had to stare at our cell phones all of the time, even during meals, and we booked with the app on the phone as quickly as possible whenever there were tickets available online," Ma says.
Wang Zhiwen, who hadn't returned home for eight years, got his ticket with the help of Ma. "I feel so happy. It was like I was already at the door of my house when I got the ticket," he says.
While communicating with migrant workers, Ma noticed they had needs other than booking tickets. To offer diverse, long-term services to the migrant workers, Ma and her partners established Yijiaqin, meaning "being close as one family," in 2015. The group was the first volunteer-service organization in Baodi. Many local people knew nothing about volunteer services at that time.
As volunteers of the group often explained the meaning of volunteer services to residents during their activities, more people have joined the group's events, such as donating down jackets to migrant workers in winter.
Yijiaqin established a special-service team, whose members helped patients register and/or check the results of their examinations at the district people's hospital every Saturday. It also founded, by raising money from society, the first nonprofit parent-child library in Tianjin. Some 4,000 people had used the library within six months.
The fast development of the Internet has facilitated growth of volunteer groups. Yijiaqin recruits and registers volunteers online. It has used new media to improve its services.
"We set up the new-media department to run our WeChat and Weibo accounts and websites. We publish relevant information online before and after we organize each activity. We hope this will make people realize that volunteer services are around them," Ma says.
In March 2018, Yijiaqin initiated a program, to care for rural disabled children. Travelling over 2,600 kilometers, its volunteers visited 150 villages and collected the basic information of 300 children. They posted the children's personal dreams online, and they called on the public to help the children improve their lives and realize their dreams. So far, with the participation of 700 volunteers, the program has helped 241 children achieve their dreams.
Yijiaqin now has 1,700 volunteers, who form 12 teams that provide services in areas including elderly care, education aid and environmental protection.
"The Internet supports the development of volunteer services and harnesses more positive energy. Everyone can start (charitable work) by helping those in need… and brightening their lives with the spirit of mutual assistance," Ma says.
(Women of China)