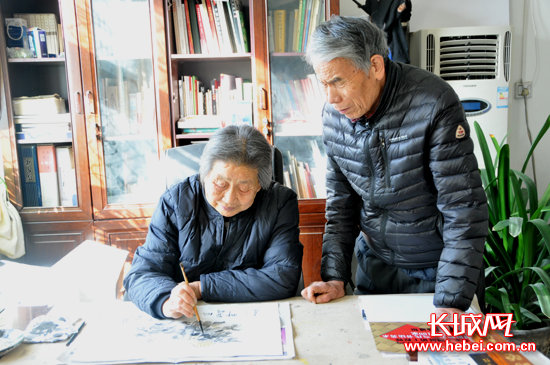 Li Qing'ai and her husband Chen Yuli [hebei.com.cn]
Even though she's almost 76, Li Qing'ai can still vividly remember the day more than 40 years ago, when she was captured by her neighbors and locked in a cell for torture.

She still carries scars from her suffering during the Cultural Revolution (1966-76) all over her body, from her breasts to her legs. But she doesn't have much hate, she says. She and her husband Chen Yuli, based in Qiuxian county, Hebei Province, are trying to portray everything they went through by drawing comics.

They are the founders of Frog Comics, which has produced many comics that contributed to anti-corruption campaigns, as well as portrayals of farmers' lives during different periods in history. Born and raised in Qiuxian, the couple strives to change the township by recording their life's experiences as farmers and artists there.
Artists in the Countryside

The Frog Comics team started with only the couple drawing comics. Chen, who used the pen name Chen Bozi (meaning "limp"), is now a white-haired, skinny man who just turned 80. He spoke with a heavy accent, and his hand shakes violently due to Parkinson's disease.

He was born with a hip bone fracture, which developed into a permanent limp because his family didn't have the money to treat it. He adopted his disability as his pen name to show he won't forget the sufferings in the past as well as staying true to himself.

His wife Li was also from Qiuxian. Chen was teaching at that time and Li worked at the Qiuxian Culture Museum. They both were interested in comics and drew comics out of interest.

At first, their comics mostly focused on propaganda for rural development, as was compulsory for artists at the time.

During the Great Leap Forward (1958-60), the couple organized a comic team with four other fellow villagers and started painting on the walls on the street, like graffiti.

In 1960, both Chen and Li were admitted to the Hebei Art Academy to learn art. Three year later, they were married and started using the pen name "Chen and Li" to draw in their free time.

Later on, Chen and Li started drawing a series called Farmer Li Liu, where they drew stories from their own experience and portrayed how farmers lived in certain periods.

The suffering that the couple endured later in the Cultural Revolution served as material for the Li Liu series.
Black and White

In 1968, the waves of madness sweeping the country during the Cultural Revolution overtook Qiuxian. A "Revolution Committee" from the local village, made up of workers, farmers and student representatives, accused thousands of people of being secret Kuomintang agents, repeating a pattern common throughout the country. Within a year, 3,835 people were accused of being Kuomintang members and tortured, and 734 died.

Even though Chen and Li's earlier comics focused on propaganda, during the Cultural Revolution they were condemned simply because they could draw. The neighbors got to Li first, because she came from a family of relatively well-off farmers. They slandered Li and Chen to be in the Kuomintang and forced them to admit their "crimes" through torture.

When Li was locked in the cell, she only had her 1-year-old son with her, who was also said to be a Kuomintang member.

"They told me to admit that I joined the Kuomintang 20 years ago, but I was only 8 then," Li said.

She refused to lie or to accuse and "expose" others and was forced to sharpen bricks into blades then lie on them for hours, leaving her flesh ragged and the bones exposed.

Her torturers burned her nipples with a torch made from her comics. Her breasts turned an ashen color and the room smelled of burnt flesh. She still bears the scars.

More than 400 means of torture were used by the committee, such as pouring boiling water over their victims' heads, burning their nipples, or forcing them to kneel on bricks. Methods of torture were often copied between "revolutionary" groups during the Cultural Revolution.

Even though they were released six months later, they faced discrimination until the Cultural Revolution ended. In the village, the neighbors all called them names, even the children.

One of the Li Liu cartoon series tells the true story of Li running into someone wearing a red armband, one of the symbols of the Red Guards, who is sexually harassing a woman in the suburbs. Li caught the culprit and turned him in to the Revolution Committee. But later, Li was accused of slandering the man she caught.

"It shows the essence of the Cultural Revolution. It flips black and white," she said. "That's my most satisfactory work."

Chen remembers a relative who couldn't take the suffering anymore and attempted suicide by jumping into a well. Others rushed to rescue him, but he pushed away his helpers and jumped back to his death. Chen said it showed how desperate people had become during that period.
Cartoon Revival

Their suffering in the Cultural Revolution made both even more determined to carry on with their comics. In 1976, after the Cultural Revolution ended, the couple started working at the Qiuxian Culture Center and began drawing again. They still use "Chen and Li" as their pen name.

Li links the cruelty to the lack of education in Qiuxian township at that time and wants to use her Frog Comics team to spread some knowledge about art.

In 1982, Chen and Li met with artists such as Hua Junwu and Fang Cheng, who encouraged them to create comics based on rural events. They then started taking on students. The second year, the Frog Comics team was established.

Hao Zengmao, a student of the couple from 1983, told the Global Times that he heard about the couple from friends and wanted to learn how to draw comics. He is a full-time farmer and draws in his free time out of interest.

There were about 13 people in the class at that time, all of whom lived at culture center. Chen and Li worked in the morning and started tutoring sessions in the afternoon and on weekends.

Hao learned how to structure the drawings from scratch, but moreover, he learned how to find issues within his own life and present them in a comical manner.

More than 1,000 people have taken lessons from the couple. Many of the cartoons have been published in newspapers as well as shown in exhibitions.

Now, Chen and Li have more than 100 comics in draft form. The hope is to eventually publish these comics as a monument to history, Li said.

"We don't have much time, he's 81, I'm 76 this year. We are racing against time to finish this task," she said.
(Source: globaltimes.cn)