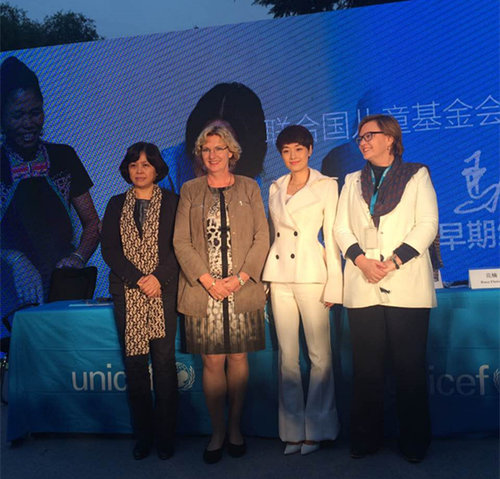 Chinese actress Ma Yili (R2) poses for a photo with Karin Hulshof, UNICEF regional director for East Asia and Pacific, Rana Flowers, UNICEF representative to China and Yang Qi, assistant director of the National Centre for Women and Children's Health, at a press conference held in the UNICEF China office, on October 20. [China.org.cn/Zhang Rui]
Renowned Chinese actress Ma Yili recently shared her experiences of a visit to Liping County in southwest China's Guizhou Province to learn about the integrated approaches to United Nations Children's Fund (UNICEF) Early Childhood Development (ECD) project for youngsters up to three years of age.
Ma made the field trip in September, which was her first after her appointment as UNICEF Ambassador for China.
"I was so impressed by these active young children. They were so engaged, stimulated and thriving," she told a press conference held in the UNICEF China office in Beijing on Thursday. " As a mother, I realize how important it is for parents and communities to learn about ECD. Children need good nutrition, healthcare, stimulation, responsive caring and a safe environment starting from the earliest period of their lives."
Ma visited the local health clinic in Huanggang Village of Liping County, where families with young children have received primary healthcare services including child growth monitoring, development screening, counseling and nutritional intervention.
"In the village, I met a few mothers breastfeeding their babies. I was so happy to see that breastfeeding is a popular practice in rural areas. Some of the babies are more than one or two years of age."
Located in the southeast of Guizhou Province, Liping County is one of the four national-level poverty-stricken counties where UNICEF is working with the National Health and Family Planning Commission (NHFPC), the Ministry of Civil Affairs (MCA) and the All-China Women's Federation (ACWF) to provide a comprehensive package of community-based ECD services including health, nutrition, early stimulation and child protection for youngsters.
Latest global evidence shows that, in the first 1,000 days of life from conception, there is an early window of opportunity to provide nurturing care (nutrition, early learning, responsive care, hygiene, sanitation and security) that children need for their brains to develop fully and to help fulfill their potential.
Ma was also impressed by the outreach and support provided by social workers to the most vulnerable families with young children. "I learned the social worker often makes home visits, talking to parents and learning about the difficult situation of the poor families."
"They help identify the urgent needs of children and support the families to receive critical social assistance through such means as medical insurance or low-income subsidy. I think the role of the social worker is very important here."
Since 2013, the project has covered 80 villages in Guizhou and north China's Shanxi Provinces. Forty community-based integrated ECD centers have been set up in disadvantaged rural areas, providing a child-friendly and safe space for carers to play with their children and develop knowledge and skills in child rearing.
In the center, one early stimulation volunteer worker works with parents, grandparents or carers, as well as the children. A parenting portal is available for parents to access information on all aspects of child development up to the age of six; an app is also available.
"The parents and grandparents I met were so actively engaged in the interaction with the children. I can tell there has been a huge change in the perception of ECD among local people," said Ma. "I never expected the project could reach such a remote and poor area."
"A child's first few years are an unprecedented opportunity to ensure the establishment of good development practices and programs that provide the foundation for life-long thriving," said Rana Flowers, UNICEF Representative to China. "It requires a mix of integrated interventions and multi-sectoral involvement to ensure every child has access to good healthcare and nutrition, clean water, sanitation and hygiene, early stimulation and protection from violence, abuse and neglect."
"Early Childhood Development is also the foundation for realizing the Sustainable Development Goals set for 2030," explained Karin Hulshof, UNICEF Regional Director for East Asia and Pacific.
"This is my first visit to China and I'm so encouraged to see that China is leading the way on a comprehensive approach to ECD for the young. Investing in early childhood development is one of the most critical and cost-effective ways to improve adult health, education and productivity. It also empowers women, reduces violence, promotes environmental sensitivity, and can break the cycle of poverty to create a more sustainable and prosperous world."
Ma added, "What the child needs for growing up is not only food and clothes. They also have psychological and emotional needs. They need to live in a caring, protective and safe environment. These are all crucial to the whole life of the child."
"The first three years are very important for children's growth and development. You cannot miss it, for the window of opportunity is irreversible."
Chinese actress Ma Yili during a visit to Liping County of Guizhou Province to learn about integrated approaches to United Nations Children's Fund (UNICEF) Early Childhood Development (ECD) project for children 0-3. [Women of China/Zhang Yuan]

(Source: China.org.cn)