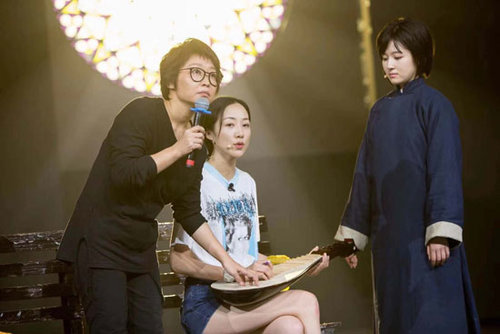 Liu Tianchi (L1) provides guidance for the acting of two actresses.[cyol.com]
A distinguished teacher of the Central Academy of Drama (CAD) has been committed to promoting acting, teaching and creation for over 20 years in order to cultivate more outstanding actors and drive the development of this profession.
Recently, Liu Tianchi has become renowned for her excellent guidance on acting in the TV show I am an Actor, which received high praise from audiences.
After graduating from CAD in 1995, Liu chose to be a teacher there due to her deep love for her profession and the university.
Liu went to Japan for further study a few years later. However, after returning to China, she found that the domestic show business had declined owing to a lack of outstanding actors and dramas.
In order to improve this situation, Liu established her own acting workshop and hired more than 30 professional teachers to provide performance guidance for students with an aim to cultivate professional young actors.
As of now, her workshop has opened nine training courses, recruited more than 180 trainees and helped more than 20 students successfully sign with management companies.
Moreover, it has helped train more than 100 actors for numerous media corporations and provided performance guidance for nearly 60 films and TV plays.
Furthermore, Liu's workshop has received tens of millions of yuan investment from the Sequoia China Seed Fund as part of the efforts to expand its influence. It is the first time she has introduced foreign capital.
As for her workshop's future planning, Liu said with a gleam of warmth in her eyes, "We shall continue to provide professional guidance for more actors and try to offer access to more people."
Next year, she will employ many more foreign teachers to join in the research and development of performing education.
"My dream is to make my workshop become a pure world with art and make greater contributions to this profession," she said.
(Source: cyol.com/Translated and edited by Women of China)