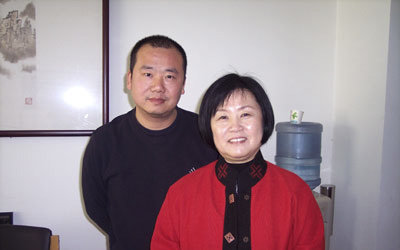 Sun Lili (R) [China Central Television]
A female Chinese acrobat has dedicated herself to promoting the development of the country's acrobatics for nearly four decades.
Sun Lili, 69, started to stage performances at the age of eight, and won the Golden Lion Prize in the National Acrobatics Competition in 1994.
From the perspective of most people, age could be a limitation for acrobats. Sun, however, made a breakthrough and became the oldest contestant to win the prize.
In the same year, Sun was appointed as the coach of several acrobats at the China National Acrobatic Troupe.
"It marked the end of my acrobatics career, which used to be the source of my happiness," she said.
In the following days, Sun was busy with passing on acrobatics knowledge to her students, and researching and developing new performances.
To look after the trainees, she even didn't go back home for a whole year.
Sun was strict in her work, but was kind and helpful in daily life. She often paid for the impoverished students' tuition and clothes with her own salary.
To her delight, over 90 percent of her students have won prizes in major competitions, and most of whom have become the main force of the China National Acrobatic Troupe.
Over the past several decades, Chinese acrobats have won some 16 Golden Clown Awards, the highest prize in the field. Hence, China is hailed as the "World's Acrobatics Gold Prize Nation."
In terms of acrobatics, Sun said: "The most important thing is not only perfect training, but also the spirit of innovation."
"China boasts a 5,000-year-old civilization, so there is no need to compete with other countries in this respect. We need creativity."
Being a top-level acrobatics expert and one of the world's top-ranking acrobatics judges, Sun is still working to train more acrobats for China, hoping to build the country into a leader in this field, according to media reports.
(Source: cctv.com / Translated and edited by Women of China)