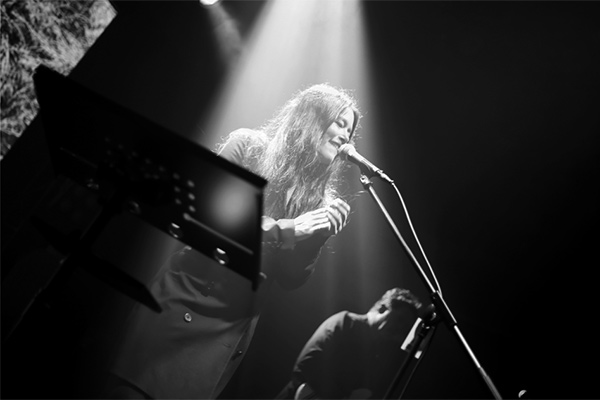 Guo Ding wrote a song with Rachael Yamagata for the latter's recent tour to China. [China Daily]
Ahead of her third tour of China which took place in November, New York-based singer-songwriter Rachael Yamagata sought to learn more about her destination by working with Chinese musician Guo Ding on a song.
The two musicians traded many emails regarding the lyrics and melodies before putting together the song It's Always The Little Things that was released on Nov. 23.
The simple, guitar-driven song is calm and slow, and tells about the bittersweet struggle that some people go through when they don't know if they should stay in a relationship even though they still love the other party.
"I'm so thrilled to have worked with Guo Ding and it is the first time I've collaborated with a Chinese musician," says Yamagata. "I fell in love with Guo Ding's rich voice as soon as I heard it."
"It's amazing how technology allows us to create on opposite sides of the world and then come together afterward," she adds, mentioning that she met Guo for the first time when she performed in Beijing on Nov. 25.
Talking about the idea behind the song, Yamagata says, "We are perhaps called by something within to separate and yet aren't sure if we should. I think this is a universal theme and has a heartache to it that felt powerful for a man and woman to sing together. I think Guo Ding has a depth to his approach as an artist and really cares about doing great work. He inspired me."
Guo says when the duo decided to write and perform a song together, they didn't rush into anything. "Through emails, we discussed the ideas, something very abstract and personal. Then we sent each other some lyrics and melodies, which touched both of us," says Guo, whose latest album, The Silent Star Stone, in 2016, won six nominations at the 28th Taiwan Golden Melody Awards, including Album of the Year, Best Mandarin Album and Best Mandarin Male Vocalist.
Born in Huaihua, Hunan province, Guo grew up in an environment filled with music as his father was a composer and his mother a dance teacher. In 1998, Guo came to Beijing to study music before graduating from the Beijing Contemporary Music Academy in 2005.
He listened to Yamagata's music on the internet and one of his favorite works is her song Heavyweight.
"We are singer-songwriters in our own rights. The song allows us to share emotions and hopefully we could sing the song together when Yamagata returns to China next year," adds Guo.
Born to a Japanese father and an Italian-German mother, Yamagata began her musical career as the vocalist for Chicago-based band Bumpus before pursuing a solo career in 2002. She presently lives in Woodstock and records her songs in her house, which is surrounded by trees.
Yamagata says that she has been interested in the country ever since she started touring China three years ago. She finds traditional Chinese music to be especially "romantic, expressive and spiritual".
"The tones and beauty of instruments like erhu and pipa are quite magical to me," she says, before adding that she plans to return to China with a full band next year.
"With my shows, I want to create a sense of being a guest at a party I'm throwing at my house — one that is full of the sharing of secrets, laughter and connection."
(Source: China Daily)