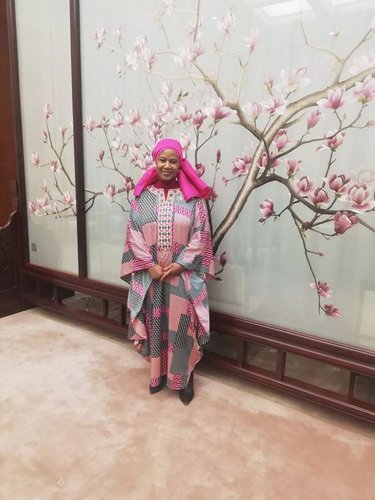 UN Under-Secretary-General and Executive Director of UN Women Phumzile Mlambo-Ngcuka [China Women's News]
UN Under-Secretary-General and Executive Director of UN Women Phumzile Mlambo-Ngcuka expressed praise for the improvements made in Chinese women's social status during a recent interview in Beijing, and said she wanted to learn more about the country.
Mlambo-Ngcuka also said UN Women hoped to further strengthen cooperation with China on poverty reduction.
At the invitation of the All-China Women's Federation (ACWF), Mlambo-Ngcuka visited China from December 12-16 for the first time after her reelection as the head of the UN organization.
Mlambo-Ngcuka said her visit aimed to deepen the friendly partnership between UN Women and China, especially with the ACWF, and enhance cooperation in many aspects.
She said she had focused her attention on poverty relief, South-South cooperation — the economic and technological cooperation amongst developing countries, the elimination of violence against women, and the mobilization of women's participation in public affairs.
Mlambo-Ngcuka explained that she would hold talks with the ACWF officials on how to better commemorate in 2020 the 25th anniversary of UN's Fourth World Conference on Women.
Mlambo-Ngcuka explained that the four-point proposals on promoting gender equality and women's all-round development worldwide made by President Xi Jinping at the 2015 Global Leaders' Meeting on Gender Equality and Women's Empowerment was of great significance and being implemented in China.
The official emphasized that she was delighted to see that China had promulgated its law on anti-domestic violence, and UN Women is willing to support the law's implementation.
Mlambo-Ngcuka said China can integrate the promotion of women's development and empowerment into the agenda of the South-South cooperation and encourage other countries to carry forward gender equality and women's growth through various collaborative programs.
When talking about future cooperation between UN Women and the ACWF, Mlambo-Ngcuka noted that the UN body would learn more about Chinese policies and experience, especially in the field of poverty eradication, and help other countries benefit from China's success.
Finally, Mlambo-Ngcuka said UN Women would work together with China to review the achievements of the past 25 years, make good analysis of role model cases, demonstrate the progress made by China in the implementation of relevant policies during the past two decades, and find more inspiring stories from the nation on the occasion of marking the 25th anniversary of the Fourth World Conference on Women.
(Source: China Women's News / Translated and edited by Women of China)