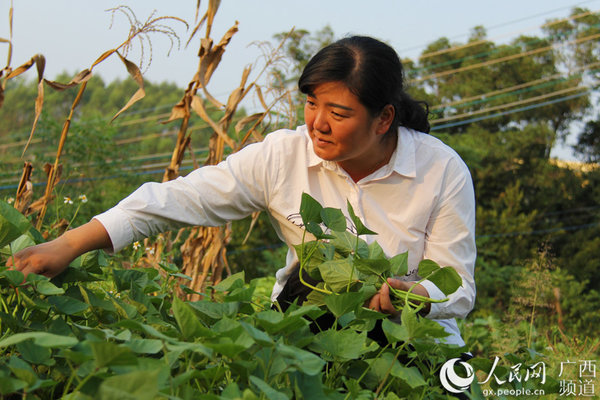 Yang Xiukai [people.cn]
A female official from Nanning, south China's Guangxi Zhuang Autonomous Region, has helped lift a local impoverished village out of poverty after working there for just 18 months.
Yang Xiukai, 40, is first secretary of the Communist Party of China Xinping Village Committee in Baiji Town in the city's Yongning District.
Before she was sent to Xinping in October 2015 to promote a national poverty alleviation campaign, Yang used to be head of human resources at the No.4 People's Hospital of Nanning.
Over the past one and a half years, she has brought about drastic changes to the poverty-stricken rural region.
Finding out Reasons for Villagers' Poverty
One year ago, Xinping was still amongst the district's 30 villages classified as "impoverished". Up to 730 of its 3,460 residents, or 163 out of its 774 households, lived below the bread line.
Local villagers regarded the first Party secretary as a "golden key" to a richer life. But when seeing that Yang was a woman, many of them showed her the cold shoulder.
"I understood villagers' reaction. Actually, it was not difficult to let them accept me," she recalled.
Changing into casual flat shoes and jeans, and putting on a straw hat, she visited all the local homes one by one in a month.
What do villagers want to do most? Which families were the richest and poorest? Who had ideas to boost incomes? Who was the laziest? The conditions of the village were perfectly clear in her mind.
"Speaking objectively, people in the village are simple and hardworking," she said.
"Of the impoverished households, most entered poverty due to lack of information and financial and technical support; some were under the burden of educational fees or medical bills; and, a few did so because of laziness."
Introducing High-yield Rice Variety
Through investigation, Yang also found that local farmers mainly planted traditional rice varieties and sugarcane which yielded small financial returns.
To boost their incomes, she asked her friend at an agriculture enterprise to help find high-quality rice seeds suitable for their farmlands and gave them to farmers for free.
However, villagers had their concerns and did not agree to try the new strain right away.
To ease their worries she tested it on an idle land of 2,000 square meters, handling all farm work such as transplanting rice seedlings, fertilizing and clearing weeds on her own.
She harvested nearly 1,500 kilograms of rice that year. Plump and full of fragrance, her produce later sold out at a local agricultural fair.
Li Xinxuan used to be one of those poverty-stricken farmers in Xinping. After he changed to planting the new strain, his net annual income per unit of land has increased from less than 1,000 yuan (U.S.$ 140) to over 4,000 yuan (U.S.$ 580).
To further help his family shake off poverty, Yang arranged his wife to take up a public welfare post in the village. Last year, his family's income reached 5,680 yuan (U.S.$ 820).
Inspired by the successful case, other rice growers also followed Yang's advice.
Promoting Villagers' Housing Conditions
In addition, Yang helped villagers apply to the local government's dilapidated house reconstruction fund.
In late 2016, Liu and his wife moved into a new residence that they could call their own. In the past, they had to share a house with his four brothers and the in-laws, with each small family living in a room of less than 15 square meters.
Except Liu, 39 other households also moved into their new residence.
In December 2016, the autonomous region government carried out an assessment of Xinping and removed its "impoverished village" title.
Partner with a Local Enterprise in Poverty Relief
"Poverty relief without industrial support is like water without source," Yang said.
After consulting villager leaders, she decided to partner with Guangxi Kairong Agri-Tech Company to build a demonstration base for the planting of a local variety of orange.
She encouraged villagers to rent their land to the firm to realize unified planting, management and sales.
"The land still belongs to me. In addition to rent, I can also work for the corporation and I get a bonus at the end of each year," said a villager surnamed Shi.
"I no longer need to worry what to grow, how to plant it and whom to sell it to."
Agricultural enterprises are characterized by long cycle and slow returns, and Yang's tenure in the village is only two and half a years.
Someone tried to persuade her to introduce factories with faster returns so she can see them within her tenure.
"The central Party committee sent me here to carry out targeted poverty alleviation. 'Targeted' not only means to boost villagers' income through projects fitting for local conditions but to stand high and take a long view," she answered.
"I can't do things that obtain economic benefits at the expense of the environment."
Calling for Migrant Workers to Return and Join Village Development
Meanwhile, Yang called for local youth who worked in cities to come back and start businesses, introducing favorable policies and providing entrepreneurial funding for them.
"Xinping's development can't proceed without talents," she said.
Xiang Jiankang, 37, was the village's first migrant worker to return to set up his own business in response to Yang's advocacy.
He recalled that his childhood pursuits were all related to starvation."I climbed trees to take eggs from birds' nests or caught fish in the river; this was how we filled our starving stomachs," he said.
At 18, he along with his fellow villagers, went to the south China province of Guangdong to seek better employment opportunities. His payment was low in the beginning but was enough to meet his basic living needs.
Due to his hard work, he bought an apartment in the urban area and got married.
"Each time I came back to my hometown, I felt a strong sense of security deep in my heart. My roots were here," he said.
"Yang gave me a lot of support. She helped me set up my cattle cooperative and apply government projects, loans and relevant certificates."
Seeing the positive changes happening in Xinping, more and more young people are now coming back, say locals.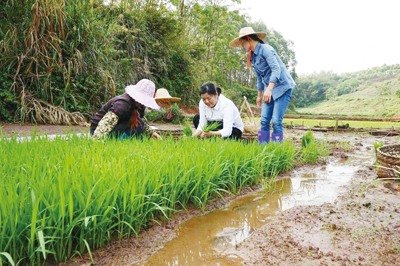 Yang Xiukai (R2) works on a rice farm. [China Women's News]
Yang Xiukai [people.cn]

Yang Xiukai (R) visits a disaster-hit area. [people.cn]
Yang Xiukai (L) visits a villager. [people.cn]
(Source: China Women's News/Translated and edited by Women of China)