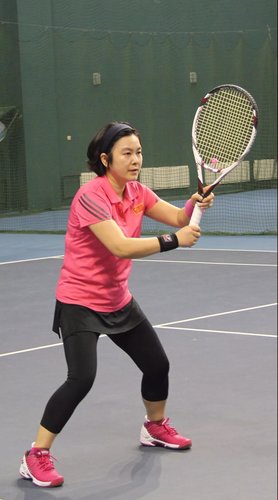 Hua Chunying playing tennis. [Xinhua]
Foreign Ministry Spokesperson Hua Chunying participated in the 2018 Public Servant Cup Tennis (small) Group Competition for the central government departments, which was held at the National Olympic Sports Center recently.
In 2013, Hua, who had never received tennis training, first attended the training sessions of China's Central Government Departments Tennis Association's volunteer organization along with other tennis enthusiasts from the foreign ministry at the Olympic Sports Center.
Since then, she has attended their training sessions every weekend, as long as she is not working, which has laid a solid foundation for her tennis skills.
In 2015, Hua joined the volunteer team of the association and began to participate in tennis matches.
Her level, as well as her love and pursuit of tennis, is improving by practicing day by day.
"When I am on the court, I'm able to totally be myself and to think about nothing. The process of focusing on the game is also a process of releasing stress. Every time I play, I gain something and my skills are constantly improving," said Hua.
"My goal in playing is to continuously improve and constantly surpass myself. I've made some new friends, maintained my health and developed a positive spirit by playing tennis," Hua added.
Playing tennis is the only way for Hua to relax. She describes her daily life like this, "If I'm not working, I'm on a tennis court or at home."
Hua is always healthy and bright in the eyes of her friends although she's under a great deal of pressure at work.
She once had a press conference every day for five weeks, resulting in health problems.
Hua recalled, "At that time, my body was so tired that I even had difficulty breathing. For several times, I immediately took a break after finishing the press conference, and my husband would take then me to acupuncture treatment at night."
It was this experience that made Hua understand the importance of physical health. It also strengthened her determination to play tennis.
Her husband and daughter give her strong backing and support her so much in playing tennis. They are also enthusiasts dedicated to tennis.
Hua laughed and said, "My wish is that the whole family can play tennis together. Whenever I see other families playing tennis together, I'm envious."
Every time Hua arrives at the Olympic Sports Center and sees everyone actively engaged in exercise, she is very excited.
"Health is the indispensable prerequisite for the overall wellbeing of people. I hope everyone can start participating in sport projects, improve their physical fitness, and contribute to building a harmonious society and building a healthy China," Hua said.
(Source: Xinhua/Translated and edited by Women of China)