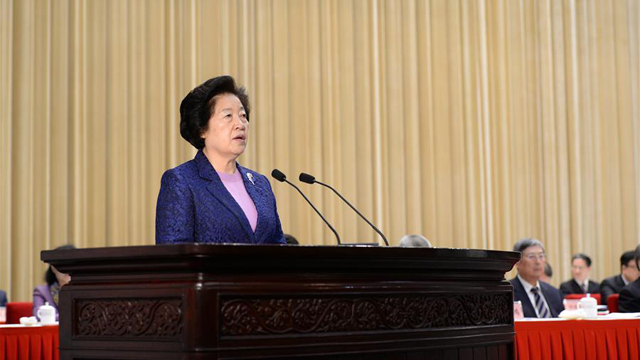 Sun Chunlan attends the 70th anniversary of the establishment of the China Democratic National Construction Association in Beijing in December 2015. [CCTV.com]
Member of the Political Bureau of the Communist Part of China (CPC) Central Committee Sun Chunlan has pursued her career as a high-ranking official for decades.
Sun has been a member of the CPC Central Committee five times and has gained much political experience through her work.
40 Years in Liaoning
Sun is from Raoyang, north China's Hebei province. When she was 15, she went to Anshan Industrial Technology School in neighboring Liaoning Province to study machinery.
In February 1978, she entered the Anshan Chemical Fiber Wool Textile Factory and was promoted to Party Committee Secretary of the factory in 1986.
Sun turned to political career in 1988 after working in the corporate sector for 19 years. She was elected to the Standing Committee of the Liaoning Provincial Party Committee in 1995.
She was also made secretary of the Dalian Municipal Party Committee in 2001 and at the same time served as deputy secretary of the Liaoning Provincial Party Committee .
In November 2005, Sun was promoted to the rank of chief official at provincial and ministerial level. During her tenure at the All-China Federation of Trade Unions, she supervised the drafting of the Labor Contract Law, which was passed along with the Property Law during the annual legislative meeting in 2007.
She went to southeast China's Fujian Province in 2009 and took over as secretary of Fujian Provincial Party Committee.
In 2012, she took office in Tianjin. Then she was elected member of the Politburo. This set a record in which two women were elected to the Politburo at the same time, and made her the first female high-ranking official to be promoted to the Politburo from the post of provincial Party committee secretary.
Sole Female Member of the Politburo
In October 2017, Sun was elected as a member of the 19th CPC Central Committee. It was the fifth time that she had entered the Central Committee of the CPC. She was an alternate member of the 15th and 16th Central Committee and a member of the 17th and 18th.
(Source: CCTV.com/Translated and edited by Women of China)