Chinese Premier Wen Jiabao (R) greets Hu Yamei, honorary president of the Beijing Children's Hospital, on his visit to her home in Beijing on Aug. 6, 2009. [Xinhua]
Hu Yamei, born in 1923 in Beijing, is a well-known specialist in the treatment of leukemia in children, and has saved many patients' lives. Hu's outstanding contributions to pediatric medicine won her election in 1994 as member of the Chinese Academy of Engineering.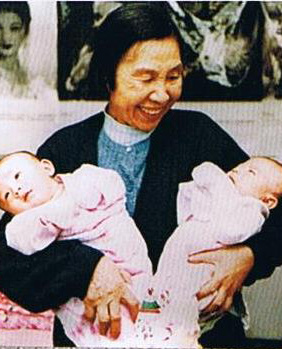 Hu Yamei [File photo]
Professor Hu Yamei has worked in Beijing Children's Hospital for 48 years. She is the only academician from the Chinese Academy of Engineering in the field of pediatric medicine. Hu specializes in the treatment of pediatric leukemia, and has cured more than 700 children.
In the 1950s she distinguished Chinese children's normal blood cell indicators and set preventive and control measures for children's nutritional anemia. In the 1960s, her research into infant diarrhea halved the mortality rate of malnourished children to 10%.
In 1976, Hu began specializing in pediatric leukemia, at that time a terminal disease, and Histiocytosis X. Over a period of 20 years, the efforts of Hu and her research group achieved a rise in the survival rate of patients with incurable pediatric leukemia to 74% -- second only to Germany and the US. By the end of 2000, she had cured more than 700 children, among whom 311 have survived more than eight years, 200 have gone on to college or work, 22 have married, and 17 have given birth to healthy babies.
To minimize the side effects of treatment, Hu gives her patients IQ tests at regular intervals and adjusts the chemotherapy dose to make sure that the children will survive and also live healthy lives. There has been a big party every year at Beijing Children's Hospital since the first in 1979, which Hu organized, for children with leukemia. It helps them build confidence in their treatment and hope for the future. Now 80, Hu goes to visit child leukemia patients every week.
Hu's achievements in the treatment of pediatric leukemia have earned her nine successive elections as deputy to the Beijing People's Congress, and two as deputy to the CPC National Congress. She has also been awarded the titles of March 8th Red Banner issued by the women's federation and Expert with Outstanding Achievements by the Beijing government, and also the May 1st Labor Medal.
Hu Yamei, now 86, was among the four elderly scientists who have made prominent contributions to atomic and medical research that Premier Wen Jiabao personally visited on August 6 to convey his National Day greetings.
In 2003, Hu proposed establishing a leukemia treatment center in Beijing. The government approved and adopted her proposal, and the center is now under construction.
Hu said she was delighted to hear that construction of the center, which will provide a better treatment environment and hence a greater chance of recovery for sick children, is in rapid process.
(Sourse: Xinhua/Translated by womenofchina.cn)