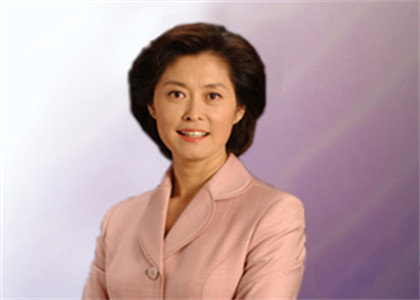 CCTV anchor Jing Yidan [CCTV.com]
Jing Yidan, a popular host at state broadcaster China Central Television (CCTV), is expected to release her autobiography in early May, according to a newspaper report.
The anchor also confirmed that she is soon to be retiring, in the report on April 21 for West China City Daily, a newspaper based in southwest China's Sichuan Province.
Jing gave a lecture at the Communication University of China, the cradle of China's broadcasters and TV hosts, on April 20. It was already hinted that she would retire at the end of April, causing a stir on the Internet as many viewers regard her as having a strong sense of responsibility and a distinctive broadcasting style.
Jing said she would continue to do research, teaching and writing, and participate more in public welfare activities after she steps down.
In her new book, to be published by Changjiang Liberal Arts Press, a major Chinese publisher of bestsellers, Jin will share with readers her 27 years of experience working at CCTV and her views on heated issues in China's society.
She will also devote a chapter to anecdotes about her colleagues such as Bai Yansong, Cui Yongyuan and Shui Junyi, all household name CCTV hosts.
The launch of the book is planned to be held in Peking University around May 10, according to the publisher.
Jing was born in Harbin, capital city of northeast China's Heilongjiang Province, in 1955. She graduated from the Beijing Broadcasting University (the predecessor of the Communication University of China) with a master's degree in 1986 and worked as a teacher there. Jing began her career as anchor at CCTV in 1988. Since then she has hosted several of the channel's famous, and landmark news programs including "Focus Report", "Oriental Horizon" and "News Probe".
(Source: West China City Daily/Translated and edited by Women of China)