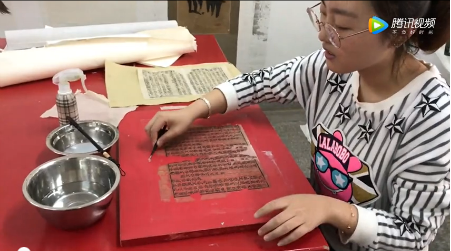 Wang Ting restores a page of an ancient book. [Tencent Vedio]
A group of student antique restorers from Nanjing, capital of east China's Jiangsu Province, are dedicating their youth to guarding the wisdom of the ancients.
Wang Ting: Giving New Life to Ancient Books
Wang Ting is a junior at Nanjing University of the Arts (NUA) majoring in appreciation and restoration of cultural relics.
Her work includes removing bookworm secretions, washing paper and filling missing and broken pages, among other tasks.
Upon standing in front of her restoration table she becomes serious and scrupulous about every detail as if conducting surgery.
In her eyes, ancient books are like her patients.
"It takes me a day or even several days to repair a page. Each restoration action can't be redone, so I need to be extremely careful," she introduced. "Any improper operation would cause secondary damage to these relics."
Wang recalled her great passion for ancient books started from her childhood and has increased with every passing day.
"My father often bought ancient books at a local ancient cultural street when I was a child. When I entered university, I chose restoration as my major without hesitation," she said.
"Ancient books make history come alive and I'm willing to devote the rest of my life to them."
Wang also added that she would pursue master's study to improve her restoration skills.
Zhang Hui: Uncovering Historical Memories During Porcelain Restoration
At NUA's porcelain restoration room, Zhang Hui was repairing a vase whose upper part had broken into eight pieces.
"There is much to learn from restoring the original appearance of broken porcelains," she said.
Wang introduced that she found her knowledge system insufficient and returned to school after working on ceramics repair for some time.
"Skills alone are not enough to become an outstanding restorer. Knowledge of assorted disciplines including drawing, chemistry, physics and biology are also quite necessary," she said.
Wang told journalists her reason for going into the business was not only to extend the longevity of antiques but to interpret the deeper information hiden in them.
"Porcelain contains lots of codes of history and memory. Repairing and restoring are also processes of observation and discovery," she explained.
Zhang Ruohan: Wakening Sleeping Treasures
"Restoring antiques tests a person's patience a lot," said Zhang Ruohan, an undergraduate majoring in painting restoration at Nanjing Vocational Institute of Intangible Heritage in the city.
"It usually takes me three to four months to repair a painting due to the complicated procedures," she introduced.
"Weather and light affect my work a lot. Sometimes, I can't make the necessary colors for one or two weeks. But once I've made them I'm overwhelmed with delight."
Zhang's work makes her feel that persistence is hard but worthwhile.
"Only a patient heart with full concentration can waken a sleeping treasure," she says.
(Source: Guangming Daily/Translated and edited by Women of China)