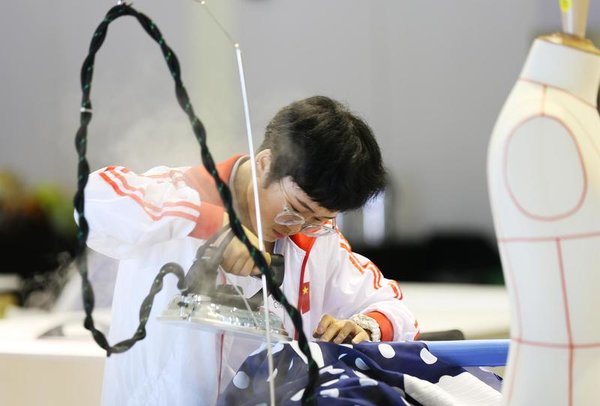 Hu Ping competes in the fashion technology section in the 44th WorldSkills Competition. [China Daily]
After an 18-hour contest against 30 competitors from around the world, 21-year-old Hu Ping won the gold medal in fashion technology at the 44th WorldSkills Competition in Abu Dhabi, United Arab Emirates. She cut her cloth well within the stipulated time and perfectly matched a pattern.
Hu has been interested in handicrafts, especially making clothes, since she was a child. After graduating from junior middle school four years ago, she enrolled at the Beijing Industry and Trade Technician College to study costume design and production. She learned how to select fabrics for apparel, and techniques such as 3-D cropping, patternmaking and sewing production, paving the way for her success.
Hu's design teacher, Yang Yu, worked in the apparel industry for 15 years. With a deep understanding of the needs of the business and the technical challenges involved, she teaches practical skills.
"I hope to teach students what the market and industry really need. We hope to cultivate garment technologists who know both design and production. They can partner with the designers and put the design concept into detail-oriented clothes," Yang says.
The approach signals a new era in China's vocational education. According to a report delivered to the 19th National Congress of the Communist Party of China in October, the Party will "improve the system of vocational education and training, and promote integration between industry and education and cooperation between enterprises and colleges".
China has the world's largest vocational education system, with 12,300 colleges offering about 100,000 majors. Together these institutions have almost 27 million students, who will become the backbone of the modern manufacturing, strategic emerging and modern service industries.
Hu learned as much through work placements at apparel companies as she did in class. After discussions with designers, she went through the whole process of choosing fabrics, pattern-making and placing orders with the production department, and came up with her own products.
"Efficiency in garment layout and keeping a neat work top - these details test professionalism and craftsmanship," Hu says.
Wang Jianbai, director of the Light Industry Branch of the Beijing Industry and Trade Technician College, is interested in the integration of industry and education. Over the years, the school has formed alliances with well-known garment companies such as Rose Studio Haute Couture, Hongdu Clothing and Aimer, to jointly train students.
Tailored training fills talent gap
"We make teaching plans with these enterprises. During the course, they send designers and technicians to offer instruction and evaluation. Some enterprises set up scholarships in our schools; some set up programs to enable students to go directly to the company after they graduate," Wang says.
China's garment industry is disadvantaged by lack of creative designers and a shortage of technicians who can turn ideas into products.
"We are not training traditional sewing workers, but cultivating all-around talented professionals who know both design and production," Wang says.
"I believe more students like Hu Ping entering the job market will help promote the transformation and competitiveness of China's garment industry."
According to research into China's labor market jointly released by Tsinghua and Fudan universities, China is gradually transforming its industry base from low-end manufacturing to the production of quality value-added products, which calls for more highly skilled industrial workers.
Joint guidance on the development of China's manufacturing skills from the Ministry of Education, Ministry of Human Resources and Social Security, and Ministry of Industry and Information Technology says China is expected to face a shortage of 3 million skilled workers to operate robots and high-end numerical control machines by 2020.
Xing Hui, director of the Vocational Education Center of the National Academy of Education Administration, believes the transformation and upgrading of manufacturing poses new challenges for China's vocational education.
"In some vocational schools, the education methods and curriculums are not able to meet the demand of upgrading manufacturing," Xing says.
Some vocational schools are working intensively with enterprises and some businesses are investing in vocational schools to build skills pools.
Liuzhou Vocational Technical College has established close ties with Guangxi Liugong Machinery, a major Chinese construction machinery maker. Together they set up Liugong Overseas Workers Class to nurture skills for the company's overseas development.
More than 300 graduates serve its overseas markets, especially those involved with the Belt and Road Initiative.
They also set up the Liugong-LVTC Global Customer Experience Center, which integrates functions such as training, teaching, professional skills appraisal, innovation and professional technology exchanges, hoping to nurture construction machinery skills.
Data from the Ministry of Education shows that in 2016, total investment in vocational education amounted to 405.1 billion yuan (US$60 billion), up 73.1 billion yuan from 2012, or an average annual rise of 5.5 percent.
The central government has invested nearly 70 billion yuan in programs to improve key vocational schools and promote industry integration.
Xing sees vocational schools and enterprises jointly make teaching plans and developing products. Some schools have set up master class studios. They hire frontline technicians and management personnel from enterprises to come and teach.
"This brings new opportunities for the development of vocational education in China and infuses new vitality into the reform of vocational education," Xing says.
(Source: China Daily)