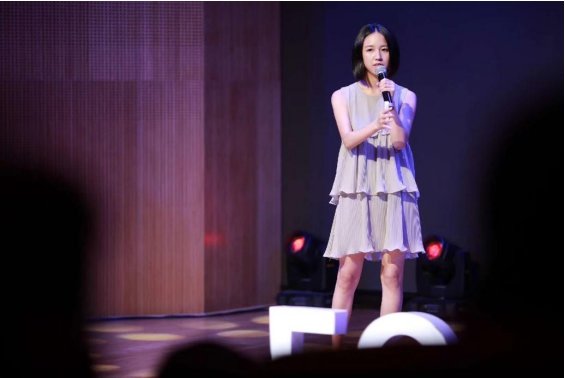 Long gives a speech on stage. [btime.com]
Young teacher Long Jingqing, from central China's Hunan Province, has been supporting the education of school children in mountainous areas of Fenghuang County, Hunan, for the past several years.
Since 2011, Long has constantly improved educational projects in rural Fenghuang by designing courses on music, arts, sports and other subjects.

In addtion, she also provided rural students with courses on morality, sex education and psychological health, which are helpful for children's overall education.
Long hopes that through her efforts, youngsters can become more enlightened, better protect themselves and be more confident in the future.
Moreover, Long once held a charity dinner at Harvard University to raise funds for children in the mountainous areas in west Hunan. Over these years, she has travelled to 13 cities around the world with an aim to attract public attention to Chinese rural children and raise money to support their education.
Under Long's influence, some 1,000 volunteers participated in the activity in support of her cause, and scores of donators helped children with one-to-one aid or in other ways.

Meanwhile, in order to better help more children in the mountainous region, she enrolled in a postgraduate program at the Social Work Institute of Columbia University in the U.S., and she has applied what she learned to teaching after returning to China.
Through the Chinese reading app Fun Headlines, which initiated a campaign to encourage positive energy, Long was selected as a Positive Energy Star candidate because of her work in the rural area.
(Source: btime.com/Translated and edited by Women of China)