From April 1, 2010, an amended regulation regarding applying and using a driving license came into force, softening the regulations concerning the terms governing a driver's physical condition.
Specifically, the new rule says that after being equipped with supporting facilities, applicants with disabilities in their lower limbs, fingers or having hearing problems are also allowed to apply for a driving license.
The new regulation was well-received. However, behind all the shouts of joy, a few people know that Zhang Haidi, chairperson of the China Disabled Persons Federation and a CPPCC member, had proposed the amendment up to ten years ago.
All her efforts in prompting the acceptance of the proposal should not be forgotten.
  
Zhang Haidi told her story to a reporter at Xinhua News Agency.
A Broken-winged Bird with a Flying Heart
"When I was kid, traveling on bus would be a happy moment for me, not to say 'flying' on more efficiently-equipped sedans, which was actually beyond my wildest imagination then. For a kid with a disability, there is always an intense longing for 'dynamic movements'," she told the reporter.
"Sometimes, even a colorful and flowing imagination can compensate for the physically challenged body; as I once said, our 'wings' are broken but our hearts would still like to fly."
In 1980 Zhang Haidi acquired an electric wheelchair which provided greater mobility. Before that, Zhang had been using a hand-made one with four wooden wheels. "I could not move it myself, and if I wanted to go anywhere I had to ask for other people's help," she recalled.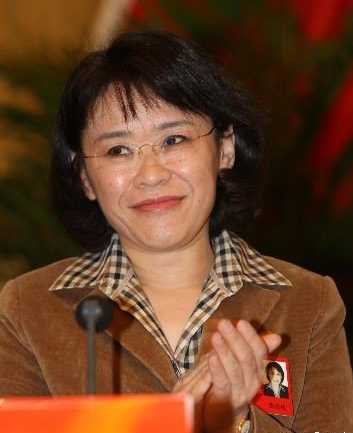 Zhang Haidi attends the closing ceremony of the fifth national conference of the China Disabled Persons Federation on November 13, 2009. [cnsphoto]


The old-fashioned hand propelled wheelchair was big, heavy and tiring to use. Even so, according to Zhang, in 1985, a group of people with lower lime disabilities used such wheelchairs to travel all the way from Shaanxi Province to Beijing. Zhang told the reporter that she was deeply moved by their spirit.

"For such an incredibly long journey, their hands and arms must have hurt so much," she said.

"All the hard work was just to prove that they could make it."

Zhang Haidi also told the reporter about her trip to Japan in 1988 which had a great influence on her and actually inspired her to begin her campaign.

"One day, I was informed that the owner of a factory comprised mostly of disabled workers would like to show me around his factory," Zhang said. After boarding his sedan which had been sent to pick her up, she was asked to buckle-up and use the safety belt. "He told me that he might drive fast," Zhang recalled and informed the reporter that the warm-hearted factory owner was also suffering from spinal injuries just like her.

Zhang was surprised by the fact that he was allowed to drive in his country. And when he began to speed along the highway, Zhang could not help enjoying the free flying feeling and realized that the limited physical powers of disabled people could be compensated by fast-moving automobiles to some extent.



Faith in Promoting the 'Dream' for Disabled People

In 1998, Zhang Haidi took up the post of CPPCC member. "The CPPCC is a venue where the voices for the disabled group could be represented and discussed. Compared to my fulltime job as a writer, this job would offer challenges and the power to change things," She said.

In 1999, Zhang put forward the proposal for disabled people to drive motor vehicles. In 2000, Zhang raised the proposal once again and then again the following year. For the next ten years, Zhang never gave up the dream and persisted in pushing forward her proposal.

"In 2005, I went to Heilongjiang Province for a teaching demonstration of cars modified and designed for the disabled. There I quickly learned how to handle these modified cars and this activity further confirmed my faith in promoting the 'dream' for disabled people," she said.

During the rapid development of our society, the widespread use of the automobiles has finally become a reality. And for some disabled people, their living standard has also increased to the point where they too can afford to purchase a car. So the call by disabled people to be allowed to drive has become intense.

"In my opinion, we should take it easy and believe in our government and society. Believe that the central government and the State Council would consider our situation and develop better regulations for us."

According to Zhang, in recent government reports, various programs to help the handicapped are proposed and discussed, which clearly illustrated the emphasis placed on their specific individual development. Zhang believes that for the disabled, more rights will be realized in the near future.

Liberation of the Mind for the Disabled

Zhang says that in recent years, the Paralympics Games and the nationwide awards for excellence amongst those with disabilities have all helped build stronger self-awareness for the disabled.
Allowing handicapped people to drive motor vehicles would also be huge liberation of the mind for all these people. For those who are healthy, they would have to abandon their prejudices towards the handicapped; and for those handicapped themselves, they would be given an opportunity to liberate their oppressed mindset.

Such changes could embody a real caring attitude from the government, and also serve as an indication for social progress.

In 2007, the Standardization Administration of China issued a series of national standards for auxiliary devices for automobiles designed for the disabled. And the standard was put into force in March 1, 2008.

The same year, the Ministry of Public Security cooperated with the China Disabled Persons' Federation holding several theme seminars and collecting, assorting and filing relevant regulations and laws in America, Germany and other countries to conduct comprehensive research in relieving physical requirements for drivers.

The day of April 1, 2010 will be memorable, since from that day the disabled were finally entitled to apply for a driving license.

(Source: Xinhua / Translated by womenofchina.cn)