Wei Lingling poses for a photo.[For Women of China]
Wei Lingling is a researcher at the Institute of Environment and Sustainable Development in Agriculture, under the Chinese Academy of Agricultural Sciences (CAAS). She is also president of AgriGarden, a high-tech agricultural company under CAAS. Wei not only cultivates high-quality plants in a highly productive way, she also promotes a new concept of living to the public.
"Industrialized planting is a mode of planting in modern agriculture. Industrialized fruit and vegetable planting is widely used in developed countries. Different from traditional planting, industrialized planting is an efficient, intensive planting mode. Fruits and vegetables are planted in environmentally controlled greenhouses or buildings, and the plants are supplied with accurate nutrient solutions. This mode helps decrease plant diseases and pests, and it helps protect plants from 'pesticide pollution.' The yield of the plants is several times, even dozens of times more than the plants that are grown on farmland," says Wei.
Early Years
Wei's involvement in agriculture was not planned; she majored in petroleum in university, and she worked for a petrochemical corporation after she graduated from university. Later, she passed the graduate-admission examination, and she was enrolled by CAAS. She majored in agriculture at CAAS. It was a turning point of her life.
"I was upset when I visited a dirty, smelly chicken house for the first time. I even thought about quitting school. However, I was attracted by the beautiful flowers when I visited a butterfly orchid planting base. I realized that things related to agriculture could also be beautiful . My tutor often received letters from farmers who asked us for help regarding agricultural technologies. I thought it was crucial that we commercialize agricultural-research achievements. So, I decided to start a business in the field of commercializing agricultural scientific and technological achievements," recalls Wei.
A Chinese American cooperated with CAAS to establish AgriGarden, an industrialized agricultural company, in 2002. Wei became the assistant general manager. At that time, she was unsure what role she could play in the field of industrialized agriculture. However, the Chinese American left China the next year, after the SARS (severe acute respiratory syndrome) outbreak. Wei became the company's general manager.
At that time, few people looked after the plants in the greenhouses at CAAS. Wei worried about the plants, and she often took care of them. Of the plants, a cucumber stem grew crazily, and it nearly covered the whole ground. Finally, the stem produced hundreds of cucumbers. The incident was even reported in one newspaper as an unheard-of fantastic story.
"One day, some people from Shouguang, a city in eastern China's Shandong Province, came to CAAS to find me. An international vegetable science and technology expo was held in Shouguang annually. They wanted to buy the technology used to cultivate the cucumber stem, and I earned my 'first bucket of gold' in this way. I realized how valuable agricultural science and technology was," says Wei.
Later, Wei recognized another business opportunity for her company. At that time, many people constructed greenhouses. However, most of them did not earn money through the greenhouses, as they did not know how to manage the greenhouse. Wei was employed to reconstruct a glass house in the rural area in Beijing. Formerly, the glass house was used to plant vegetables. She transformed it into a garden where customers could enjoy their leisure time. They could pick vegetables and eat green food, and they could enjoy the beautiful scenery in the glass house. The glass house has attracted many customers since then. The company earned more than one million yuan (US $149,254) through the reconstruction.
Taking the Lead
Wei's company has offered agricultural scientific and technological services to clients, and it has helped clients plan agricultural zones. Many people and companies ask her for help. Now, the company is a leading enterprise in the industrialized agricultural sector in China.
Wei not only cultivates high-quality plants in a highly productive way, she also promotes a new concept of living to the public. Wei and her team designed a device, and they called it "a family's plant factory." They displayed the device during Shanghai World Expo in 2010. The device attracted the attention of many visitors to the expo. Families are able to eat safe, green vegetables that grow in the device. The plants can also provide oxygen to the families through photosynthesis.
In 2016, Wei worked with several of her friends to open an innovative restaurant in Zhongguancun, a high- tech hub in Beijing. It is the first urban, farm-style restaurant in China. She hopes to promote her high -quality vegetables among middle-class families. The restaurant only uses vegetables that have been picked within four hours. Some vegetables grow in the restaurant's indoor planting area (containers placed on shelves). The vegetables can be cooked directly, soon after they are harvested from the planting area.
Wei and her colleagues have researched industrialized planting in recent years. Wei won the National Science and Technology Progress Award, in 2017, for her development of an LED lighting-system, and for her participation in a lighting-environment regulation and control project. Her project helps vegetables and fruits grow in any environment, even in a basement. Wei was named a national March 8th Red-banner Holder earlier this year."I will shoulder a heavier burden in the future. For me, what I need to do is help promote market -oriented commercialization of more agricultural research achievements, and to benefit more people," says Wei.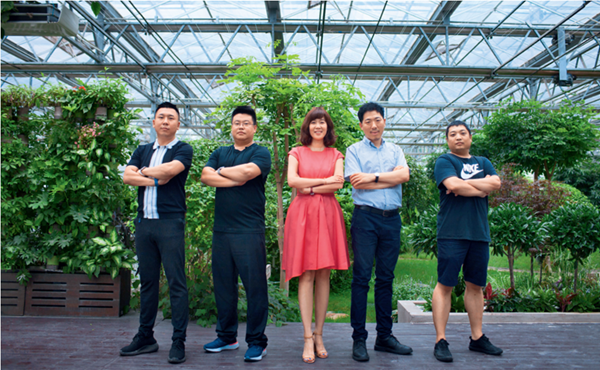 Wei Lingling (middle) poses for a photo with her colleagues.[For Women of China]
(Women of China)