President Hu Jintao and other Party and State leaders meet all the deputies to the Ninth National Women's Congress in the Great Hall of the People.
The Ninth National Women's Congress was convened in Beijing on August 22-26, 2003, with 1,260 formal deputies and 110 specially invited deputies present. It was the first national women's congress held in the new millennium.
Gu Xiulian presented a report entitled "Unite and Inspire Women from All Walks of Life Nationwide to Contribute to the Construction of a Well-off Society by Using the 'Three Represents' as a Guiding Principle."
The main tasks of the congress are to raise the great banner of Deng Xiaoping's Theory, use the "Three Represents" as a guiding principle, thoroughly study and put into practice the spirit of the 16th CPC National Congress, sum up experiences and development in women's work since the Eighth National Women's Congress, set goals and tasks for the development of Chinese women's cause in the next five years and elect new leadership of the ACWF.
Chen Muhua and Peng Peiyun were elected Honorary Presidents, and Gu Xiulian was elected President.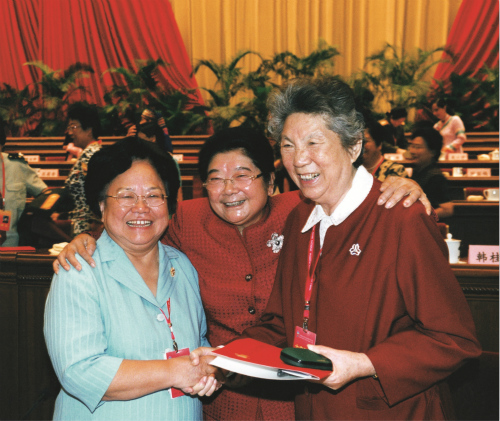 ACWF leaders Chen Muhua (1st from right), Peng Peiyun (1st from left) and Gu Xiulian (center) at the Ninth National Women's Congress