An attendant, wearing a Tibetan costume, welcomes guests with hada.[For Women of China]
Women, who make up 65 percent of Tibet Hotel's employees, are indeed holding up "half the sky" of the enterprise's business. The hotel's key concept is spreading the Tibetan culture, which includes helping to promote the Tibet Autonomous Region's development. To achieve those goals, the hotel's staff have tried their best to improve the services they provide to guests.
In March this year, a group of women employees from Tibet Hotel was awarded, by ACWF, National March 8th Red-banner Unit. Tibet Hotel was the only hotel in Sichuan Province to receive that award in 2018. Also in March, Chen Rong, the hotel's general manager, received the Sichuan Provincial March 8th Red-banner Holder award, presented by Sichuan Women's Federation.
Given the diligent work of and great efforts made by its women employees, Tibet Hotel has received many honorable titles and awards. As the traditional Chinese saying goes, "three women can give an outstanding performance on stage." On the grand "stage" of the Tibet Hotel, women employees play their roles in developing the hotel's business, helping boost the local service industry and helping to promote a positive energy in society.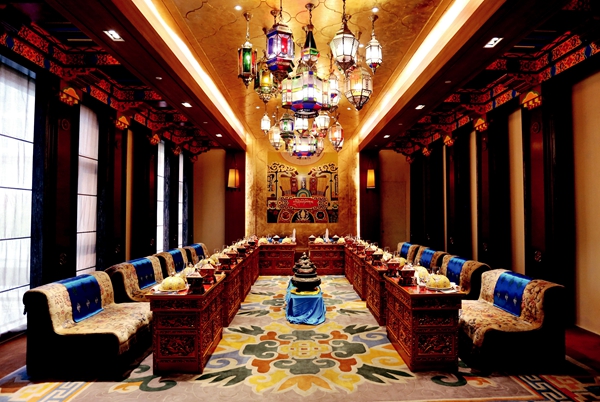 A banquet hall, in which traditional Tibetan food are served [For Women of China]
Being a Pioneer
Chen, general manager of Tibet Hotel, is responsible for leading the hotel's employees. She has worked in the hotel service industry for more than 20 years. As a woman leader, she attaches great importance to perfecting the details of services provided by the hotel. She hopes the hotel can be a beautiful and cozy place, which gives its guests gentle and comfortable feelings.
How can one become a competent pioneer, who plays her role in helping lead the development of the hotel service industry? That is a question Chen often ponders. "Generally speaking," she says, "women who work in the service industry are patient, and they pay much attention to the details of their daily work. From providing basic services to making administration rules, women's good practices and the experiences they have accumulated, in their daily work, have contributed to the development of the service industry. Nowadays, the overall standard of hotel services, including basic accommodation and catering services, has been raised to a high level. To be a pioneer in the hotel service industry, we must highlight the charm of our unique culture when we provide services."
To achieve innovation in and the progress of the hotel's business, Tibet Hotel has combined Tibetan cultural elements with the services it provides.
'Home-Like' Services
Tibet Hotel is like a window, through which the Tibetan culture is introduced to guests, from home and abroad. Chen says the hotel's interior designer, Jean-Philippe Heitz, has integrated the Tibetan cultural elements into designs of the hotel's rooms and facilities. In Tibet Hotel, there is a specially built corridor, which reflects classic scenes along Barkhor Street, an old street surrounding the Jokhang Temple, in Lhasa (capital of Tibet Autonomous Region). The hotel also offers Tibetan tea, incense, music, food and a Tibetan-style spa.
Providing "home-like" services is a goal shared by all of the hotel's employees. The hotel requires its employees to greet and welcome their guests according to the reception etiquette of Tibetan people. When they meet their guests, the employees always greet
them with "Tashi delek," a Tibetan expression with an auspicious meaning. When guests arrive at the hotel, attendants, who wear Tibetan costumes, welcome the guests with hada (a piece of silk used as a gift for greeting) and sweet tea. Tibetan tea is provided in the guests' rooms. When the guests enter the hotel's restaurant, attendants greet them by playing Tibetan instruments and presenting them with colorful hada.
At Tibet Hotel, guests can try on Tibetan costumes, listen to folk music, taste typical Tibetan foods and try therapies that contain traditional Tibetan medicine.
Auspicious, Warm Environment
Chen says the employees do their best to create an auspicious and warm living environment for their guests. The guests appreciate the charm of Tibetan culture, and they are deeply touched by Tibetan people's spirit and traditional customs.
"We believe harmony brings about happiness. By providing services and organizing a series of cultural activities, we promote harmony between different ethnic groups, we share Tibetan people's dreams and passions with our guests, and we pass on hospitality, warmth and happiness," Chen explains.
The honorable title of National March 8th Red-banner Unit has urged Chen and her team to do a better job of sharing Tibetan culture in their daily work. They hope to build Tibet Hotel into a "home," which has beautiful and fragrant flowers, pure hada, warm Tibetan tea and holy prayers' wheels.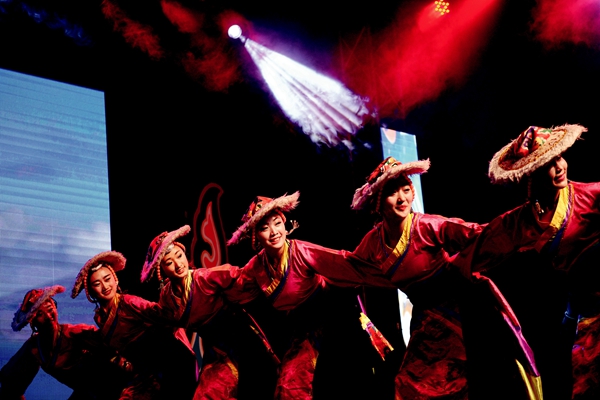 A traditional Tibetan dance performance[For Women of China]
(Women of China)