The Chinese government, women's federations and entrepreneurs organize training sessions and workshops to help women living in poverty-stricken areas. [Women of China]
This year, 2018, will be an essential year for the Chinese nation to win its poverty-alleviation "battle, and for the country to take a giant step toward a prosperous, promising future. To help women in poverty-stricken areas across China earn a better living, the people's governments and women's federations, at all levels, as well as female entrepreneurs, continue to organize training sessions and workshops to improve women's craft-making skills. By selling their handmade crafts, these women are not only able to make money, but also can inherit and promote traditional Chinese craft-making techniques to the world. In this edition, Women of China is highlighting several projects, launched by women's federations and/or female entrepreneurs, and which combine poverty alleviation with the protection of Chinese cultural heritage.
Embroidery Project Brings Hope to Impoverished Women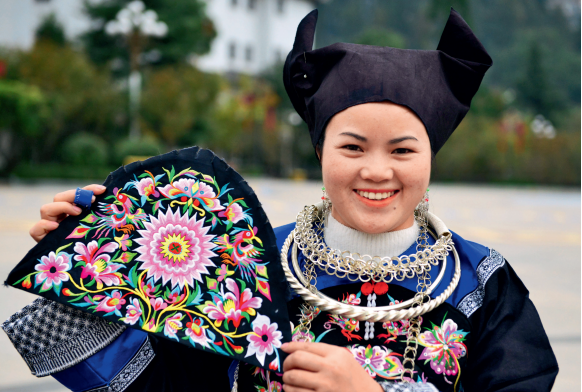 The government of Guizhou Province initiated an Embroidery Plan to help local women find jobs and escape poverty. [Women of China]
People from various ethnic groups inhabit SW China's Guizhou Province. The locals' ancestors created the ethnic groups' colorful folk cultures and varied craft-making skills.
However, the popularity of the traditional craft-making skills, including embroidering, weaving and encaustic printing, has been in decline in recent years. Crafts with ethnic characteristics are now rarely seen in daily life. Guizhou is a province with many impoverished people; in fact, more than 3.72 million impoverished people live in rural Guizhou. More than 2.13 million of those people are women and children.
The government of Guizhou Province initiated a project, Embroidery Plan, in July 2013. Since then, the government has allocated 15 million yuan (US $2.31 million) to the project per year. The project is intended to help protect the traditional craft-making skills that are on the verge of
being lost. It is also intended to help impoverished women improve their craft-making skills and find jobs in or near their homes, and to help them escape poverty. The project also assists small and micro enterprises that process and/or sell handmade crafts.
"We established a file for the impoverished women in Guizhou. In 2016, nearly 10,100 women in the file escaped poverty. A woman who grasps comparatively good techniques in embroidering can earn nearly 30,000 yuan (US $4,615) per year. That is five times more than the average income of a farmer in Guizhou. We plan to mobilize 600,000 women in the craft-making industry until 2020, and to guide 1.5 million women to escape poverty," says Yang Ling, President of Guizhou Women's Federation.
Most of the people in Layou, Bailie and Bainai villages in Rongjiang, a county in Qiandongnan (a Miao and Dong autonomous prefecture in Guizhou) are people of minority groups, including the Miao, Dong, Shui and Yao ethnic groups. Nearly all of the families in the villages have spinning wheels, and all of the women are skilled in embroidering, homespun-weaving and encaustic painting. A team, composed of employees from the province's women's federation, began to promote the embroidery project, in 2015, in Layou, Bailie and Bainai villages.
The team mobilized women in the villages to make a living by selling their handmade embroideries and homespun cloth. The members also took photos of the handmade crafts, and they helped market the crafts in big cities in Guizhou, including Guiyang and Kaili. That made it possible for the women to receive orders from companies in the cities, and, in turn, to earn a living by making crafts at home. Employees of the companies visited the villages and taught the women how to design embroidery patterns that would meet market requirements.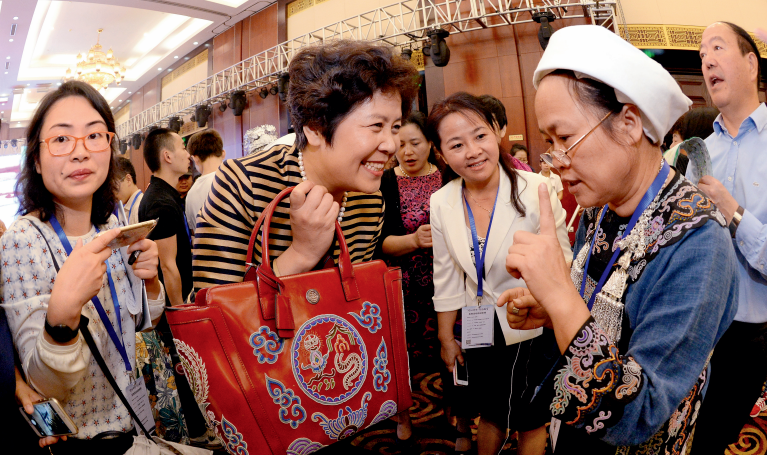 Yang Liu, Member of the Secretariat of All-China Women's Federation, communicates embroider from Guizhou Provingce. [Women of China]
The members also organized two embroidery-training sessions, to help the women improve their embroidering skills. More than 130 women from 19 towns in Rongjiang participated. They learned how to embroider, design the patterns and market their embroideries.
Now, it is common for women in rural areas in Qiandongnan to get together and embroider outside of their houses, to finish orders from clients in big cities. "In the past, the traditional craft-making skills were only techniques used by women of minority groups (for personal, non-profit projects) in remote areas in Qiandongnan. Now, they can earn a living by using their craft-making skills. The project, Embroidery Plan, has mobilized left-behind women and migrant women workers who have returned home to find jobs or start businesses in or near their homes. The project has helped them increase their incomes and escape poverty. It helps protect the folk culture, promote traditional craftmaking skills to more people, and pass on the culture and skills to future generations. It also helps mothers return home to work and accompany their children, and to prevent elderly people from being lonely," says Chen Xiaoqiong, President of the Women's Federation of Qiandongnan Miao and Dong Autonomous Prefecture.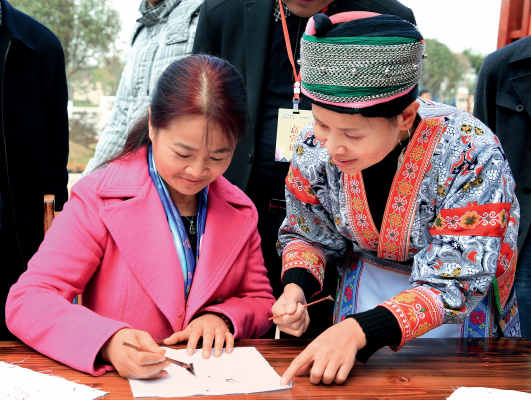 Yang Ling, President of Guizhou Women's Federation, tries dyeing. [Women of China]
"In the past, our women of the Miao ethnic group embroidered only to make beautiful clothes. As a result of the project, our embroideries have become our families' magic weapon for becoming rich," says Jiang Laoben, a woman in Baibei, a village in Rongjiang.
Lai Shuqin, an ethnic Dong woman in Guzhou, a town in Rongjiang, has benefited from the project. "Previously, I migrated to Guangzhou (capital of southern China's Guangdong Province) for work. I left my children at home. I always worried about them. Now, I stay at home, and I am a member of the project's craft association. I not only accompany my children, but I also earn money by embroidering at home," says Lai.
Many skilled craftswomen speak highly of the project. "In recent years, many young people in rural areas have migrated to big cities for work. Few young women are willing to embroider in the villages. I worry that the embroidering skills of our ethnic group will be lost in the future. The project, initiated by the province's women's federation, helps protect and promote our Miao embroidering skills. I will teach the techniques to more young people. Our folk culture and craft-making skills cannot be lost," says Ou Junmei, a Miao ethnic woman in Zhaihao, a town in Rongjiang.
Some women in Rongjiang are not satisfied with cooperating with the companies. They are trying to establish a broad sales channel, and some are now operating online shops, through which they sell their handmade embroideries and dyed, homespun cloth. "Our high-quality embroideries, homespun cloths and folk costumes and accessories sell well. We can sell them via our online shops at a good price," says Yang Chunyi, an ethnic Miao woman in Chejiang, a township in Rongjiang.
Yi Women Embroider Better Lives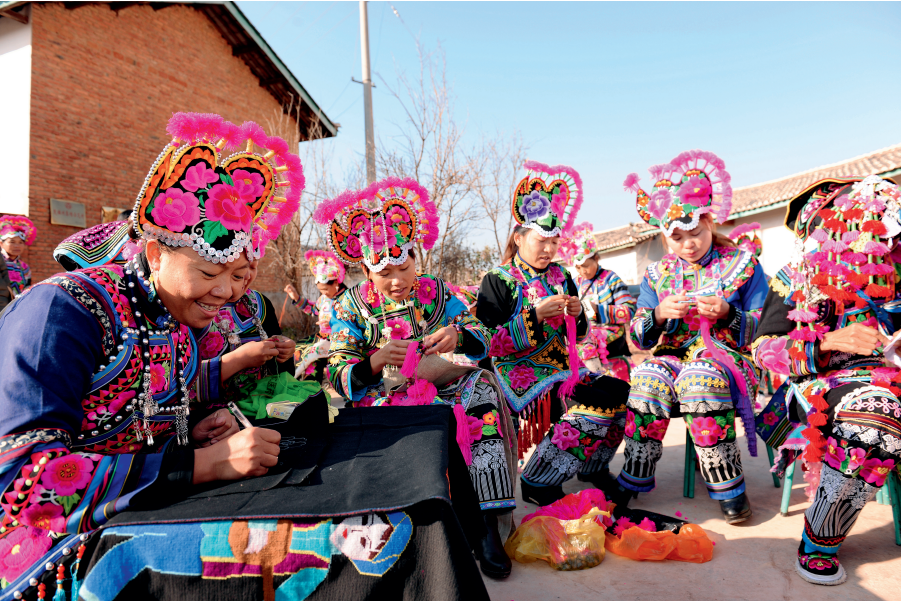 Handmade Yi embroideries have also exported to other countries. [Women of China]
People of the Yi ethnic group are known for their traditional, handmade embroideries. Yi women use wool, silk and/or various types of thread to create beautiful embroideries. Yi embroideries are used as crafts or to decorate clothes, shoes and bags.
Li Jiyan, a Yi woman, lives in Aoniben, a village in Lianchi, a township in Yongren (a county in Chuxiong, in SW China's Yunnan Province). Li is widely considered one of the top 10 outstanding women embroiderers in Yongren. Li in 2002 attended a training session, organized by the Women's Federation of Yongren County, to study advanced embroidering skills, color arrangements and pattern designs to help her family earn more money. She soon became a well-known embroiderer in her village. She has since marketed her embroideries in other towns inhabited by Yi people. Li has received orders from clients in her hometown and from other regions of China. To help other women earn money, Li asks residents to help her finish her orders. She helps design patterns for them, and she teaches them how to embroider.
A project, to promote women's participation in the development of the local cultural industry, was initiated in Yongren in April 2012. The project, supported by the United Nations Development Program, China Women's Development Foundation, China International Center for Economic and Technical Exchange and Mary Kay (China) Cosmetics, helps women of minority groups escape poverty and improve their social status.
Through the project, the women receive various assistance, including help in improving their craft-making skills, in expanding sales channels and providing access to small loans. Li is a beneficiary of the project.
A Yi embroidery association, led by Li, was founded in Lianchi Township in June 2013. "The association has more than 200 women members. The members of the association create more than 200,000 Yi embroideries per year, and the total sales per year exceeds 8 million yuan (US $1.23 million). Most of the members are from impoverished families. They have earned more money and lived better lives by selling Yi embroideries," says Li.
"In the past, we made a living by planting potatoes. We earned nearly 2,000 yuan (US $308) per year. The local government offered free embroidering training sessions to women embroiderers. Now, embroidering is our county's important industry. Our handmade Yi embroideries have also been exported to other countries, including Japan, Canada and the United States," Li adds.
Project Helps Migrant Mothers Return Home
The local women in Juxi are skilled in weaving huadai. [Women of China]
Juxi is an ancient village in Pan'an, a county in Jinhua, a city in East China's Zhejiang Province. It has a history of nearly 900 years. Most of the villagers in Juxi are descendants of Confucius. Confucianism and traditional Chinese culture have exerted great influence on the locals. The homespun-weaving skills are well-preserved in the village. The local women are skilled in weaving huadai (patterned belts).
Zheng Fenlan, a female entrepreneur and honorary leader of Juxi, initiated the "craft village" project in Juxi in March 2016. She established a homespun-weaving base, under her handmade, homespun-product brand, in the village. She employs the elderly villagers to make homespun products. Orders from big cities, including Beijing, Hangzhou and Shenzhen, are sent to the village. Several hundred elderly people have benefited. The project has made it possible for several women, who had migrated to cities for work, to return to the village. They can earn several thousand yuan per month, just by making homespun products.
A three-year project, assisting women escape poverty by making crafts, was initiated in Juxi, in October 2016, by the All-China Women's Federation, the All-China Women's Hand-knitting Association and the Taobao Foundation, an affiliate of the Red Cross Society of China. Juxi is one of the three demonstration villages under the project. The foundation has invested 5 million yuan (US $769,231) to offer free craft-making training sessions to impoverished women. The project is intended to assist 2,000 impoverished women in rural areas and women with low incomes in urban areas around China. It helps impoverished women learn how to make crafts and find jobs, and to help them escape poverty and live better lives. It also helps mothers return home to work and accompany their children, and to prevent elderly people from being lonely.
(Source: Women of China)