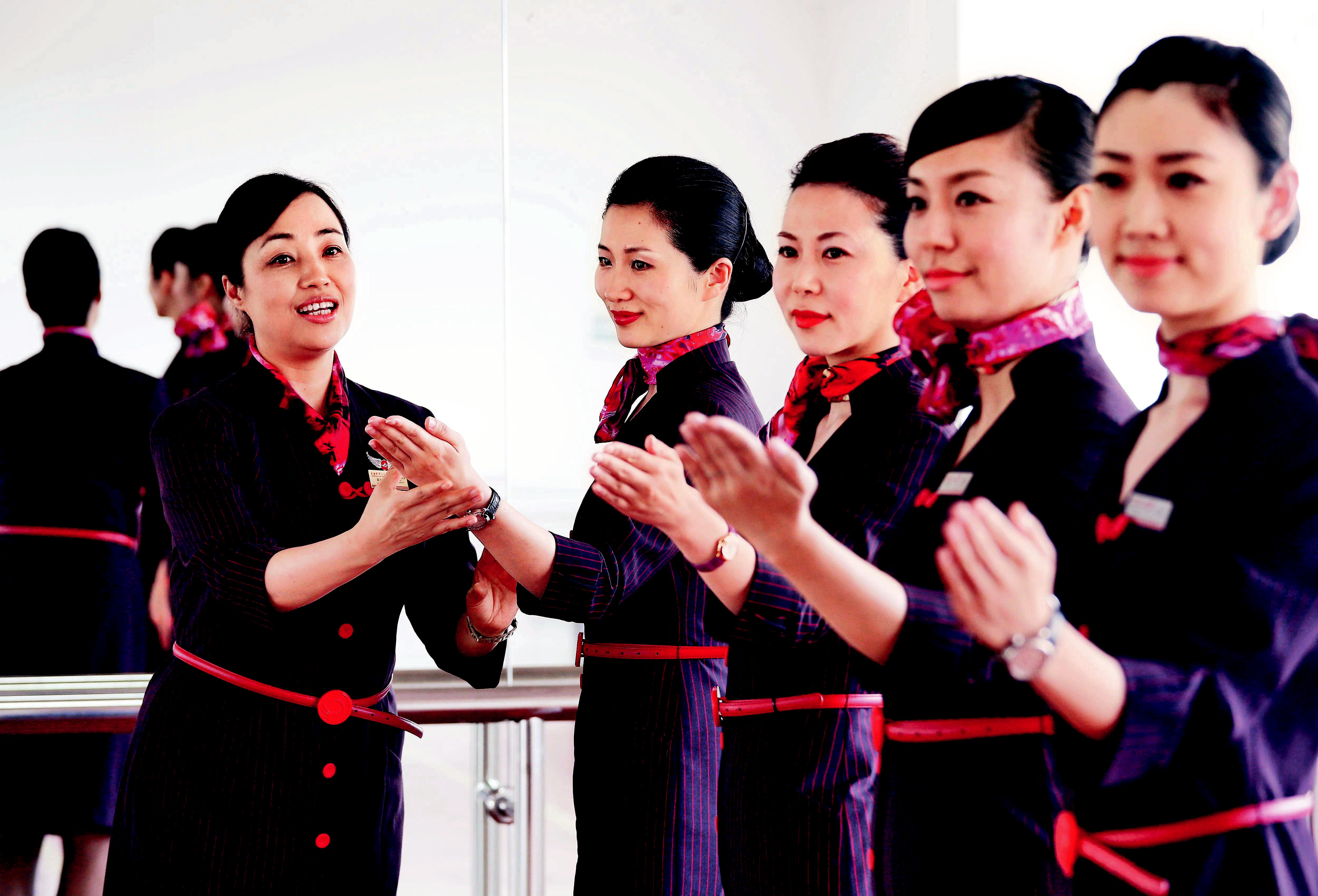 Wu Eryu is at work.[For Women of China]
Wu Eryu is head of the Wu Eryu Crew, under the Cabin Service Department of Shanghai Airlines. She is one of the first women flight attendants, who were once-laid off women textile workers (in Shanghai), to be recruited by the airline company (in 1995). During the past two decades, she has spared no effort in pursuing perfection in her work. Impressed by her heartwarming services, many passengers have offered positive comments to Wu. The passengers have said Wu was their most favorite flight attendant.
"I truly love my job, as I devote all of my talent to my company, to achieve my self-realization here," Wu said, during the conference to commemorate the 20th anniversary of the Establishing "Civilized Women's Posts" campaign. The All- China Women's Federation (ACWF) hosted the event on April 22, 2017. Wu spoke on behalf of Wu Eryu Crew of Shanghai Airlines, which was named one of the national-level "civilized women's posts." As the fifty-something flight attendant shared her experiences in working for the company, many viewers were impressed by her beauty and charm.
Mother's Influence
"My mother has had a deep influence on my life. My mom had worked, as a lathe operator, for a Shanghai-based textile mill for 31 years. She has set a good example for me in working and studying hard … in respecting the elderly and maintaining harmonious relationships with family members, and staying on good terms with neighbors," says Wu.
"I began learning, from my mom, how to cook when I was seven years old. At nine, I knitted my first sweater. I hardly appreciated my fruitful result when my mom unraveled the sweater. She said the sweater was too small, and she asked me to redo the work. I learned, through the bitter experience, that I should spare no effort in pursuing perfection in whatever I do."
Wu often recalls her experiences in working in a Shanghai-based textile mill. Most of the workers in the mill were women. With experienced workers' help, Wu gradually formed the habit of working conscientiously and carefully.
New Lease on Life
China began adjusting the structure of the textile industry in the 1990s, and many women textile workers were laid off from their jobs. Wu was one of those women. In 1994, officials of ACWF and Shanghai Women's Federation persuaded leaders of Shanghai Airlines to recruit flight attendants from the laid-off women workers.
On March 8 (International Women's Day), 1995, Wu received her acceptance letter from Shanghai Airlines. Within a short time, many media outlets reported on the airline company's employment of 18 laid-off women textile workers. The reports caused a sensation throughout the country.
Wu never expected she would become a flight attendant, especially at the "advanced age" of 32. At that time, most airline companies in China recruited female flight attendants who were aged 18- 24. The shift in Wu's career marked a turning point in her life. She vowed to devote herself to her work, to prove the value a once-laid off women worker.
Cabin's Hostess
Wu will never forget how excited she was when she took her first flight on August 1, 1995. Defining her role as the "cabin's hostess," she has done her best to tend to passengers' needs and safety during the past two decades. As a result, countless passengers, from different parts of the world, have been impressed by Wu's bright smile and excellent service. When Wu saw a man punch the fuselage cover one day,
she said, with a smile, "Sir, you have great strength. Do you practice qigong ?" Wu's humorous words caused the man to feel ashamed because of his rude behavior.
Given Wu's remarkable achievements in her work, she has received many awards throughout the years. For example, she has been named the National May 1st Labor Medal and a National Model Worker.
Shanghai Airlines in May 2000 established the Wu Eryu Crew, the first of its kind in China's civil aviation system. The crew is composed of more than 100 flight attendants, most of whom are women.
Under Wu's leadership, the crew during the past 17 years has received accolades and special titles, including the National May 1st Labor Medal and the National March 8th Red-banner Pacesetter Collective.
During the past 17 years, the crew has cultivated many outstanding women flight attendants. Based on their work experiences, the crew has compiled Wu Eryu Service Rules. The crew has constantly upgraded the rules, to meet passengers' ever-changing needs.
Wu during the past decade has trained women flight attendants, to help them improve their service skills. She has also donated 7,000 yuan (US $1,045) to the crew, to establish a fund to reward outstanding attendants.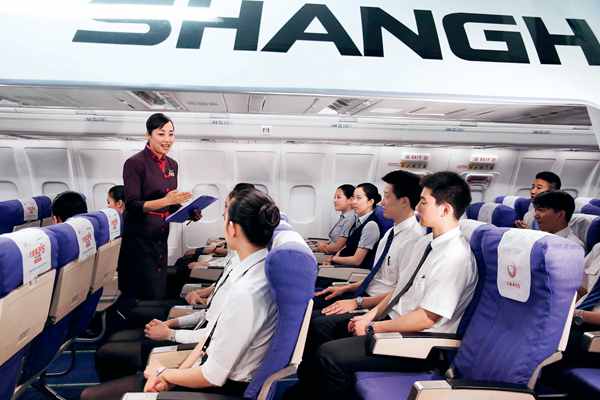 Wu Eryu trains flight attendants.[For Women of China]
Greater Self
Wu, who has been working hard during the past two decades, is emotionally attached to Shanghai Airlines. As she is going to retire next year, she treasures every opportunity to serve passengers during the flights.
"I hope young flight attendants will stay positive toward life, and work in a practical, down-to-earth style. I hope the youngsters will spare no effort in pursuing perfection, so they will provide excellent services to passengers," says Wu.
Wu was a hit with viewers when she wore a white Shanghai cheongsam during the CCTV (China Central Television)'s 2017 Spring Festival (on January 28) gala. Many viewers were impressed by Wu's elegance and beauty, in part because she was a National Model Worker.
"It is true that a model worker devotes much of his/ her time and energy to his/her work, but he/she should develop a healthy lifestyle. For example, he/she should develop healthy hobbies," says Wu. "After I retire … I'll attend courses to study dance and tea art. I will also participate in public-welfare activities."
Wu believes a woman should make an effort to better herself, so she will have unique charm. For example, a woman should exercise regularly to stay fit and beautiful, and a woman should work hard to gain more experience and become mature. She should also make persevering efforts to improve her work, so she can realize her potential.
"I enjoy working with my crew," says Wu. "When one is absorbed in working with his/her teammates to achieve a goal, he/she will forget all about his/her pains and suffering. When the team eventually achieves the goal, the team, as the greater self, will gain benefits."
Wu cares little about fame, wealth and/or personal gains and losses. "Each time I learned my apprentice or a master worker, who taught me service skills, was promoted to a higher position, I felt happy for him/her. When I help others succeed, I feel the power of a greater self," says Wu.
"As the Chinese saying goes, 'Suffering is a blessing in disguise.' Therefore, I should be grateful for the bitter experiences that I have endured, as they have helped me grow in maturity and confidence."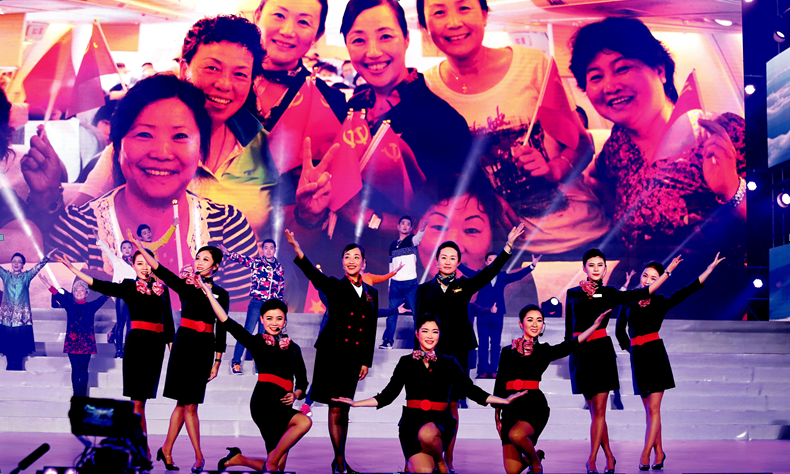 During the party to celebrate the 60th anniversary of China Eastern Airlines, parent company of Shanghai Airlines.[For Women of China]
Smiling while serving a passenger[For Women of China]
(Women of China)