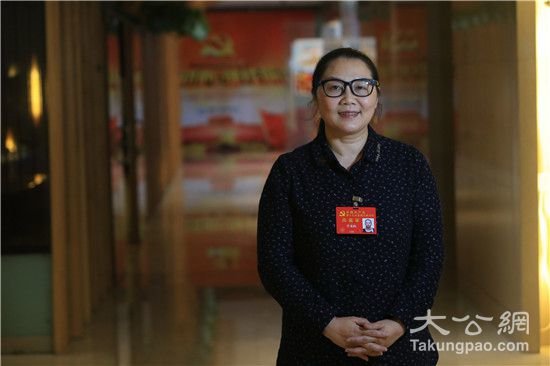 Li Longmei [takungpao.com]
A sound development of special education for physically-impaired children is not only related to institutional guarantees but also to expectations from the public and the pledges given by the Central Committee of the Communist Party of China (CPC) and the Chinese government.
Headmaster of Chongqing Special Education Center Li Longmei, who is also a delegate to the 19th National Congress of the CPC, made the comments during a recent interview.
She felt heartened when General-Secretary of the CPC Central Committee Xi Jinping emphasized in his report that special education should be developed further at the opening session of the latest Party congress, which was held in Beijing from October 18 to 24.
Li noted that special education had enjoyed a parallel growth with social and economic development in the past five years. She continued that special education will have a bright future in the next five years as the recently concluded key Party session established a blueprint for it.
Taking Chongqing Special Education Center as an example, its funds have been secured since it was covered under an educational scheme for rural students in compulsory education several years ago. The average fund for each student has increased from 1,500 yuan (U.S.$ 243.4) in 2011 to 10,000 yuan (U.S.$ 1,562.5) at present.
Apart from modern teaching facilities, many schools for physically-impaired children in the southwestern city have been renovated or had campuses rebuilt.
Meanwhile, physically-impaired children have received more and more financial assistance during their studies in special schools. In addition to an annual subsidy of 800 yuan (U.S.$ 125) for their accommodation, they also have access to a monthly living allowance of 400 yuan (U.S.$ 62.5) and free musical instruments to meet their interests.
Li said that the relentless care and support from the CPC and governments have ensured her school's remarkable progress in its education for the past several years.
Around 240 blind students from Chongqing Special Education Center have been accepted into university and over 300 of their classmates are living independently with new skills. Furthermore, the school's musical troupe has given a performance at the National Centre for the Performing Arts, Beijing Concert Hall and Chongqing Grand Theatre.
According to Li, who has been working in the area for 16 years, the mission for workers in special education like herself is to transform the lives of physically-impaired children and their families in a positive direction, help them acquire some techniques and skills conducive to future life, and become beneficiaries of the development of social civilization.
Prior to the conclusion of her interview, Li pledged that she would work with her colleagues in their daily work to ensure all physically-impaired children have equal access to quality education and a beautiful life.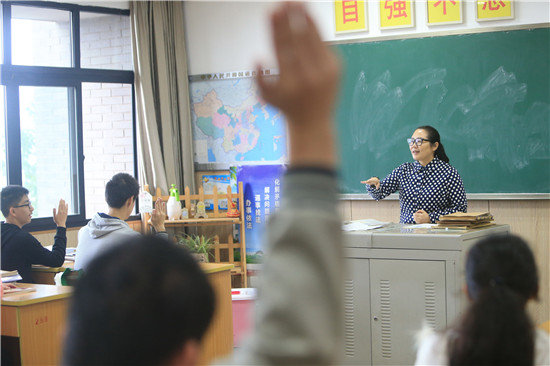 Li Longmei (F) teaches her students in a class. [takungpao.com]
Li Longmei (R) guides a physically-impaired student to run around the playground. [takungpao.com]
(Source: takungpao.com/Translated and edited by Women of China)