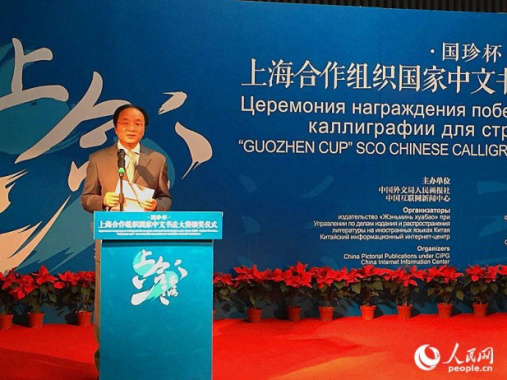 Wang Gangyi delivers a speech at the ceremony. [People.cn]
China International Publishing Group (CIPG), China.com, and China New Era Corporation organized a ceremony in Beijing on May 19 to honor outstanding works from the Shanghai Cooperation Organization (SCO) Chinese Calligraphy Contest.
The competition took place over the last six months and attracted a total of 2,000 people from countries such as India, Kazakhstan, Kyrgyzstan, Pakistan, Russia, Tajikistan, Uzbekistan, Belarus, Azerbaijan, Armenia, Cambodia and Sri Lanka.
The event aimed at creating a strong cultural atmosphere for the upcoming SCO Summit and enhancing the traditional friendship between the people of the participating countries.
Around 40 individuals and groups received awards. Prizes in the Best Organization category went to students from Russia and Kazakhstan.
Ruslan Tulenov, a Kazakhstan student who studies in China, won Second Prize for his hard-tipped calligraphy of Chinese essayist Xi Murong's poem A Flowering Tree.
Due to his rare blood type of Rh-negative trait, which is commonly known as "panda blood" in China, he insists on donating blood every year to help Chinese patients.
In 2013, Tulenov was praised as a "messenger of China-Kazakh friendship" by President Xi Jinping during his visit to Nazarbayev University in Kazakhstan.
At the ceremony, several officials from different countries all delivered speeches respectively.
Wang Gangyi, deputy director of the CIPG, extended a warm welcome to all contestants. In his opinion, calligraphy is like silent music or a dance on paper.
The competition was a positive move by the CIPG to spread Chinese culture, and promote cultural exchanges between China and other countries, Wang said.
The deputy secretary-General of the SCO stated that cultural exchanges and cooperation are a major driving force of the SCO, which can unite the member countries.
The contest not only deepens people's understanding and love of Chinese calligraphy, but also promotes the SCO's national cultural exchanges to a new level, said the official.
The Russian ambassador to China congratulated the winners through a video, saying that, "I hope you will continue to improve your calligraphy skills to the level of ancient and modern calligraphers in the near future."
Tajikistan's ambassador to China participated in the contest with a calligraphy work of six characters meaning long live the friendship between China and Tajikistan. He said: "I believe this contest will help consolidate the relationship of culture, history between China and the countries along the Belt and Road."
At the event, over 60 calligraphy works were displayed including the works of the winners of the contest and the works of six SCO ambassadors' to China, as well as several created by well-known Chinese calligraphers.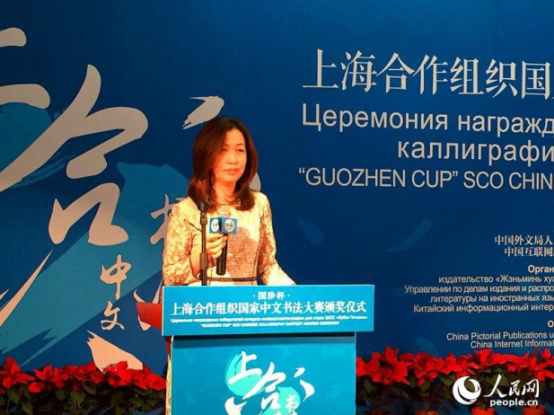 SCO Deputy secretary-general Aizada Subakozhoyeva delivers a speech at the event. [People.cn]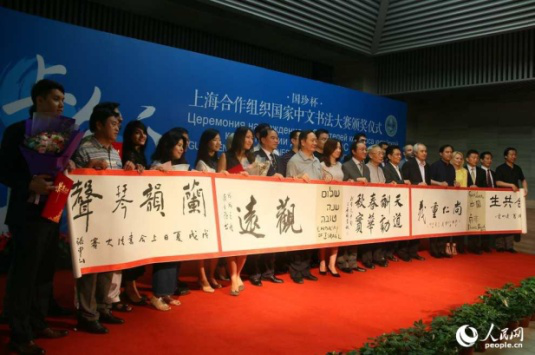 Winners of the contest [People.cn]

(Source: people.com.cn/Translated and edited by Women of China)