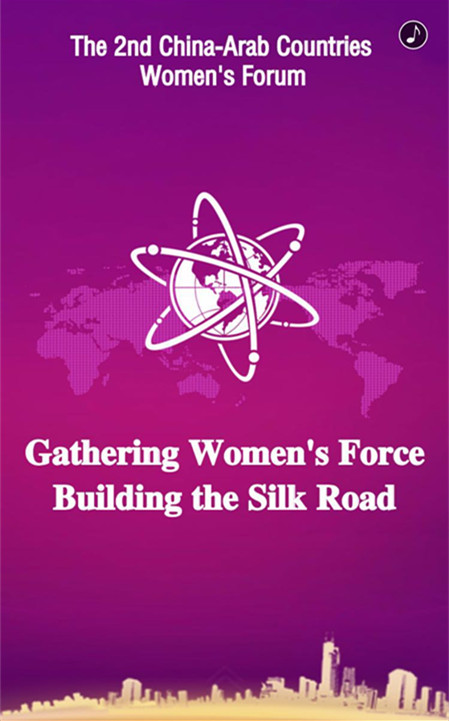 Click the photo to see our H5 presentation of the Forum and witness the opening of a new chapter of friendship between Chinese and Arabian women!
To implement the 2016-2018 Action Plan of the China-Arab States Cooperation Forum and to promote women's communications and cooperation under the new circumstance, the 2nd China-Arab Women's Forum was successfully held in China.
Dates: September 19-20
Place: Beijing
Number of Participants: 150+
From: 18 countries & LAS
Grand Reunion
The 2nd China-Arab Women's Forum, highlighting the theme of "Gathering Women's Force, Building the Silk Road," convened on the morning of September 19 at Beijing International Hotel.
Shen Yueyue, Vice-Chairperson of the Standing Committee of the National People's Congress and President of the ACWF:
"Let us join hands to promote the 'Silk Road Spirit,' gather women's force, strengthen people-to-people bond and enhance communications and cooperation. Let us make efforts together for the Chinese Dream and the prosperity of Arabian countries, and to create a 'Community of Shared Destiny' and promote world peace and development."
Song Xiuyan, Vice-President and First Member of the Secretariat of the ACWF:
"Women's exchange and cooperation represent an indispensable component of people-to-people communications under the Belt and Road Initiative. The convening of this Forum is in accordance with Chinese and Arabian people's wishes for frank dialogue. The Forum establishes a broader platform for enhancing mutual learning between Chinese and Arabian women."
Opening Ceremony
Zhang Ming, Vice-Minister of Foreign Affairs, China
Jean Oghassabian, Minister for Women's Affairs, Lebanon
Falema Al Mehrzi, Women's Union, UAE
Enas Sayed Mekkawy, Director-General of Women, Family & Children, LAS
Topics
Women's Empowerment and Policy Support
Empowering women and promoting women's full participation in socioeconomic development on an equal footing are the only way to achieve sustainable human development and prosperity.
Zhang Xiaolan, Vice-President and Member of the Secretariat of the ACWF, delivers a speech during the First Plenary Session and introduces great achievements of Chinese women's development.
Mu Hong, Director-General of the Liaison Department of the ACWF, chairs the First Plenary Session.
Sharing Policies and Achievements
Lebanon: Make State strategy to achieve gender equality
Egypt: Take various measures to guarantee women's rights in all fields
Jordan: Women play important roles in different sectors of society
Iraq: Call for women's higher participation in cabinet
Oman: Women make great progress in both home and abroad
Algeria: Raise women's status and strengthen women's roles in society
Morocco: Implement the government's gender equality plan
Women's Contributions to Building the Belt and Road
As an important driving force for socioeconomic development, women should play their roles in building the Belt and Road and sustainable development and interconnection in all countries.
Representative of Kuwait chairs the Second Plenary Session
Women and B&R Initiative
Xinjiang Women's Federation: 11 million local women work diligently at their posts
Lebanon: More women to realize dreams under B&R Initiative
Saudi Arabia: Enhance women's contributions to development of economy and thoughts
Sudan: Women's organizations' exchange supports B&R Initiative
Somalia: Women with rights for development are pillars for urban development
Oman: Women play well their roles in society and B&R Initiative
CAWE: Chinese, Arabian women have wisdom for building the Silk Road in 21st Century
Women and Cultural Inheritance
The culture needs innovative and creative transformation, and women of China and Arab countries should also further promote cultural inheritance and integration.
Representative of Jordan chairs the Third Plenary Session
Sharing Good Practices
Beijing Women's Federation
Palestine
Kuwait
Morocco
Tunisia
Egypt
Yemen
Chinese Academy of Social Sciences
Friendly Exchanges
The Forum successfully concludes.
Reception
A Wonderful Night
Participants to the Forum learn about Chinese women's development in an all-round way.
Watching the Photo Exhibition of Chinese Women's Achievements
Visit
Smart City IoT presentation at Huawei's exhibition center in Beijing
Experience traditional crafts making at EVE Group
The Forum's fruitful achievements open a new chapter of friendship between Chinese and Arabian women!
Co-produced by
Liaison Department, ACWF
Network Information Publicity Center, ACWF