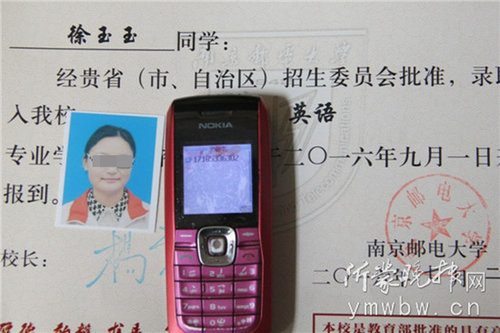 Xu Yuyu's letter of admission. [ymwbw.cn]
The Ministry of Education issued a warning for students advising them to watch out for financial scams on its official website on Wednesday.
The Ministry cautioned that, when organizations or persons offer financial aid to students, they will not ask them to conduct interactive operations on an ATM or online. If they do, students should first consult with teachers and local educational authorities, and students should never transfer money without first checking.
The warning comes as a university student died of a heart attack after falling victim to a scam in east China's Shandong province.
The 18-year-old student Xu Yuyu was about to attend university but died after being swindled out of 9,900 yuan (1,500 U.S dollars) which she planned to use for her tuition fees.
According to media reports, Xu Yuyu's mother received a phone call on August 18 from someone claiming to be from the education authority and in charge of giving out scholarships. The person asked if she had a child about to attend university and she passed the phone to her daughter.
In the phone call, Xu Yuyu was told to transfer her tuition fees to the scammer's account within the same day, and that only by doing so would she receive the 2,600 yuan scholarship plus the original tuition fee deposited to her account.
However, shortly after making the payment, Xu discovered it was a scam as she discovered the scammer's phone number had been disconnected.
Xu felt very ashamed and went home and cried hard to her mother, according to media reports.
The report said she later went to the police station with her father to report the scam and on the way home she fell seriously ill and fainted.
Her parents took her to the hospital that night and then three days later she died of a heart attack.
The university where the student was about to enroll, Nanjing University of Posts And Telecommunications, states that besides sending out a letter of admission, no one at the university had contacted Xu and offered her a scholarship.
The university's publicity officer Xu Lei said university staff are required to keep students' personal information confidential in accordance with university regulations and professional ethics.
She said the scammers called the girl's mother and how they obtained her phone number is still unknown.
Xu also said that along with letters of admission, the university also includes warnings against scams.
Media outlets revealed Xu came from an underprivileged family, and her family had to work hard to save the money for her tuition fees.
Xu's case is not unique.
A sophomore from southwest China's Chongqing Municipality is also reported to have been swindled out of 6,100 yuan (around 916 U.S dolars) on Wednesday by a text message asking her to change her flight ticket on an ATM. The text message claimed to be from the airlines she was about to take.
The cases have put telecommunication fraud and personal information leaks under the spotlight.
It is reported that the number that called Xu's mother begins with 171, a phone number usually ambiguous with regards to real name and address and mainly run by virtual operators.
Such numbers have become the favorite of telecommunication fraudsters, warned the police authority.
To cope with rampant telecommunication fraud, suggestions are being made to revise the legislation against such crimes. Telecom operators are also being prompted to strengthen virtual operator regulations and step up efforts in implement a legal-name phone number system.
Many classmates of Xu also said that they had received similar phone calls, triggering many to wonder, who leaked the students' information and how many students have fallen prey to such fraudsters?
A recent court decision ruled that 6 people were sentenced to prison for illegally obtaining and peddling over 2 million students' and their parents' information in Beijing, according to CCTV reports.
Apart from sending advertising text messages to these victims, the group also peddled the information online as cheap as half a fen (0.0015 U.S. dollar) for one piece.
Personal information leaks, rife in our life, aids swindlers in spotting their prey. Such leaks threaten people's property and safety in numerous ways. Harsher punishment against information leaks is also being advised.
(Source: CRIENGLISH.com)