Fans of traditional Chinese garments visit the exhibition. [For China Daily/Jiang Dong]
A special exhibition displaying vintage Chinese garments was held in the Kuwaiti embassy in Beijing on June 5 to enhance cultural exchanges between the two countries.
Dozens of exhibits dating back to over 200 years come from collection of Bi Hong, a Beijing-based fashion designer and private collector focusing on ancient Chinese garments.
Some of the exhibits were once owned by the imperial family of the Qing Dynasty (1644-1911), while others were once used by aristocrats and different social classes.
Exquisite antique fashion pieces and accessories were also on display.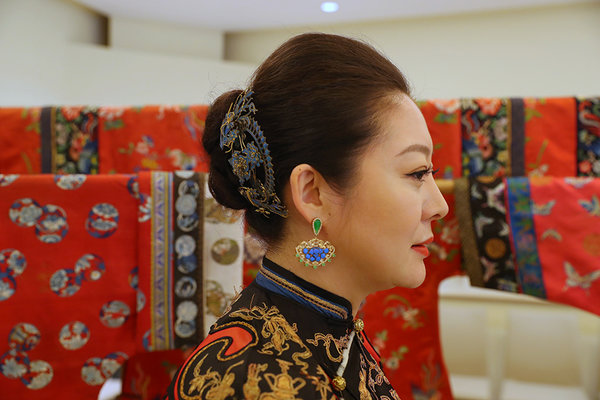 Bi Hong introduces her collection of ancient Chinese garments. [For China Daily/Jiang Dong]
Bi began collecting the pieces in 1997 and has about 1,000 garments from the Ming (1368-1644) and Qing dynasties, and almost 10,000 woven textile pieces from those eras.
"The craftsmanship, colors, patterns and materials reflect Chinese aesthetics, which emphasizes grace and serenity," says Bi.
To mark the friendship between China and Kuwait as well as echo the Belt and Road Initiative, some traditional Kuwaiti garments were also presented at the event.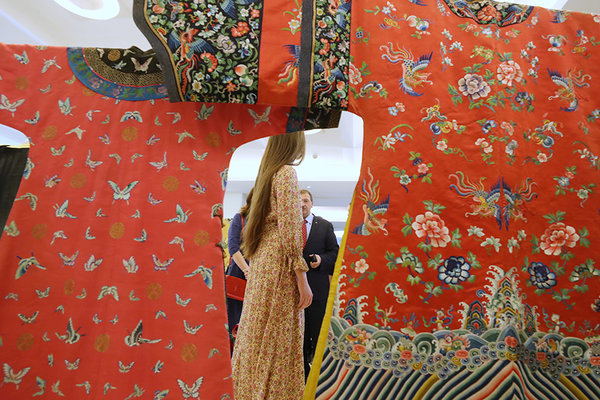 Foreign diplomats in China visit the exhibition. [For China Daiily/Jiang Dong]
Bi, who is a frequent guest lecturer at Minzu University of China and Beijing Institute of Fashion Technology, is devoted to studying the Chinese fashion history as well as its global promotion.
The exhibition was visited by Sameeh Essa Johar Hayat, the ambassador of Kuwait to China, and diplomats from other countries based in Beijing.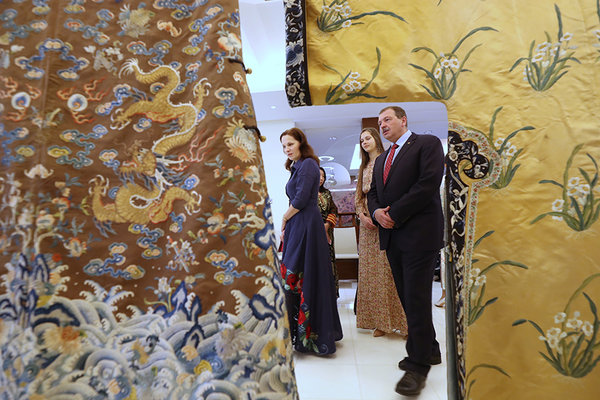 Foreign diplomats in China visit the exhibition. [For China Daily/Jiang Dong]
Bi Hong introduces her collection of ancient Chinese garments. [For China Daily/Jiang Dong]
(Source: China Daily)