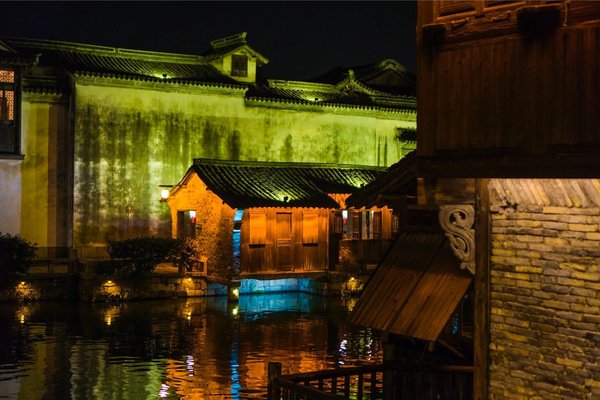 A night view of Wuzhen [CGTN]
Wuzhen in east China's Zhejiang Province is, in many regards, an unusual place. Before heading there for this year's World Internet Conference (WIC), I knew that it was an ancient water town, a filming location for many movies and TV series, and also host to one of the world's most important gatherings on the Internet.
I had never really understood why, of all the possible places in China, Wuzhen had been chosen to host the world's biggest names in innovation and technology. Why not Shenzhen, or even nearby Hangzhou? The Internet wasn't the first word that came to mind when I thought of Wuzhen, a small but beautiful town that dates back some 1,300 years.
It's also my first time back in Zhejiang Province in five years. It's a special place for me – I studied Chinese here, travelled around and saw back in 2011 and 2012 how quickly cities like Hangzhou, Ningbo and Jiaxing were developing. Five years on, I was eager to know what had changed.
Back to my first question – why Wuzhen? The WIC has clearly put this little town on the map, and it's impressive at first hand to see the quality of the hotels, restaurants and infrastructure in the area, ready to host both top-level dignitaries and swathes of tourists in the summer months.
Attendees to the WIC are whisked to and from venues on electric vehicles, which bypass the ancient town and drive through groves of osmanthus trees amid the sound of birdsong.
Free WiFi covers the entire area, and I'm struck by how much we already take this for granted – just a few years ago, getting free, seamless Internet access in just one building was impressive enough. It just shows how quickly online technology has developed in China, and how fast people get accustomed to it in their lives.
On first impression, Wuzhen's embrace of technology was a bit disconcerting. The interactive screens, electric vehicles and instant, rapid access to the Internet everywhere made it feel a bit too much like Disneyland. I felt that Wuzhen should be a portal back into the past, that its history should be protected and the town would be better off if it was untouched by the 21st century.
But after a couple of days here, I grew to understand. Sure, Wuzhen is very old – but that doesn't mean it belongs in the past. Thanks to the Internet, a place like Wuzhen has a future. Its people and its businesses can look ahead with optimism, spurred on by online technology.
The tourists spend their money with their smartphones, learn about Wuzhen's culture from connected information spots around the town, and instantly tell the world through social media just how beautiful this place is.
Wuzhen provides a model that the rest of the world can learn from, when it comes to development, tourism and embracing the future to protect the past.
Being in Wuzhen for only a few days, I can't exactly say there have been big changes in Zhejiang Province since I was last here, and for me, that was reassuring.
It's great to see that the friendly people haven't changed, the food is still just as delicious, and that lovely Zhejiang dialect hasn't gone away either. Rapid development and technology may change the way we live our lives, but that doesn't mean our cultures have to change too.
(Source: CGTN)